Council established to boost Taiwan-India exchanges
The Taiwan-India Cooperation Council (TICC), a private organization with participation from businesses, the government and academics, was established yesterday in Taipei, with Democratic Progressive Party (DPP) Chair-man Yu Shyi-kun elected as its first chairman.
The council aims to act as a bridge to promote economic exchanges and broader cooperation on bilateral interests between Taiwan and India.
Yu said that the council's founding grows out of the government's "Go South" policy, which was proposed during Yu's tenure as premier.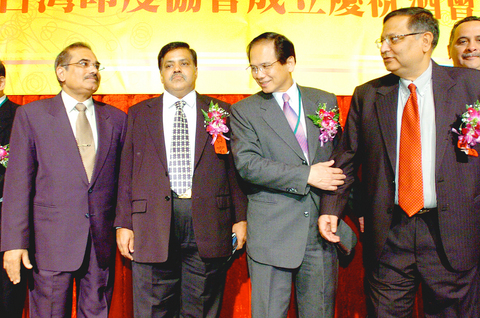 Democratic Progressive Party Chairman Yu Shyi-kun, second right, along with his Indian guests, yesterday pose for a photograph after the establishment of the Taiwan-India Cooperation Council, a private organization with participation from business, the government and academics.
PHOTO: SEAN CHAO, TAIPEI TIMES
The policy emphasizes India as an ideal investment destination for Taiwanese businesses and as a way to decrease their reliance on the China market alone.
"India is seen as having the best potential among the four golden `BRIC' [Brazil, Russia, India and China] countries. Besides, Taiwan and India's collaboration in software and hardware and India's overall economic takeoff will provide even more opportunities for Taiwan-India economic and trade cooperation," Yu said.
Yu said the idea to promote closer Taiwan-India exchanges is in line with the Indian government's "Look East policy," which overlaps with Taiwan's "Go South Policy."
Brigadier Arun Sahgal, the deputy director of India's United Service Institution, who formerly served in India's defense department, attended the council's founding ceremony yesterday. He said the council provides a channel for India to reach out to East Asia, a policy the Indian government has been working toward in recent years.
"India's `Look East Policy' engages mostly with Southeast Asia, but India is looking for much greater engagement with East Asia. It is in this context that our relationship with Taiwan is extremely important. We would like to use our new-found confidence and new-found economic development model to engage to a much greater degree with Taiwan," Sahgal said.
Commenting on the possibility of extending cooperation beyond economic matters, Sahgal said "as our economic interests in Taiwan increase, we'll be [more] interested and involved in the security and stability of the region."
Sahgal added that India would certainly pursue more strategic dialogue with Taiwan as its exchanges increase.
"Once we have the trade, we'll develop our interests in the security and safety of Taiwan to protect our own trade," he said.
Dilip Amarnani, a businessman and director of Taipei's Indian Overseas Compatriot Association, said yesterday that an important business opportunity that India offers, in contrast to China, is its strong middle-class market comprising 300 million citizens -- a convincing point for Taiwanese businesspeople, who wouldn't have to seek other export markets as much as they have to do with their operations in China.
"When the Taiwanese go to China, they are going to produce goods to export. You are not sure whether you'll find a market there. But in India, you already have a market within India itself. You don't have to look around for other markets," Amarnani said.
The amount of Taiwan-India bilateral trade reached US$1.93 billion in 2004, which is five times more than the 1990 bilateral trade figures.
The bilateral cooperation projects are mainly in the high-tech sector. There are now more than 1,000 Indian engineers in Taiwan.
Comments will be moderated. Keep comments relevant to the article. Remarks containing abusive and obscene language, personal attacks of any kind or promotion will be removed and the user banned. Final decision will be at the discretion of the Taipei Times.