Despite hardships, foreign workers stay on in Taiwan
HARD-KNOCK LIFE Though the nation's 300,000 foreign workers suffer loneliness, low pay, exploitative bosses and shady brokers, Taiwan is still their land of opportunity
Sanukorn Chanchana works 70-hour weeks at a minimum-wage job, but when his contract expires in May, he intends to sign up for another three-year stint far from home and family.
Chanchana, a sturdy 48-year-old man from Chiang Rai in northern Thailand, is one of 300,000 foreign workers who have left behind grinding poverty -- and familiar surroundings -- for the privilege of earning NT$15,480 (US$484) a month -- before deductions -- in Taiwan.
The former rice farmer, who has worked here for eight years, makes it clear that working abroad means big sacrifices.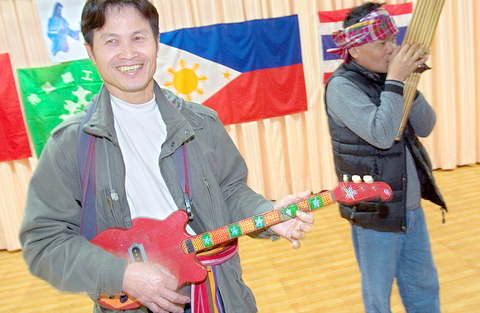 Sunakorn Chanchana, 48, right, plays a stringed instrument as a fellow countryman identified as Sakson plays a flute on Wednesday in Jhongli. Chanchana, a native of Chiang Rai in northern Thailand, is one of 300,000 foreign workers who have foregone familiar surroundings for the privilege of earning NT$15,480 (US$484) monthly, before deductions, in Taiwan.
PHOTO: AP
"Most of all, I miss my wife and my two children," he says. "It's hard to be away from them. But I'm earning money that I send back home, so I've learned to live with their absence."
Chanchana and his counterparts from Indonesia, the Philippines and Vietnam are part of a worldwide wave of migration of workers from poorer lands to richer ones.
In Taiwan, as in other developed economies, they provide a significant boost to domestic industry by working in jobs that locals shun -- or accepting wages locals would laugh at.
Chachana's recent stint as textile factory machinist paid less than half the going rate for a Taiwanese worker.
But the money that the nation's foreign workers earn adds up quickly. Even without overtime, they send home more than US$1 billion a year -- cash that often makes the difference between subsistence and modest comfort for their families.
Still, life as a foreign worker is a struggle, marked by loneliness, unfamiliar food and customs, and worst of all, unscrupulous employers and job brokers, who sometimes reduce pay packets and benefits to pad their own pockets.
In Jhongli (中壢), foreign workers from Thailand, Vietnam and the Philippines gather at the Hope Worker's Center, a Catholic-sponsored refuge. They discuss prospects for finding reasonable work in safe environments.
Many are temporarily unemployed after company bankruptcies or other problems with employers.
All hope to have new jobs in weeks.
Outside the center, Thai restaurants and overseas telephone exchanges dot the landscape, providing lifelines for the town's sizable foreign worker community.
Last August, mostly Thai workers in Kaohsiung rioted against poor living conditions, triggering the resignation of Council of Labor Affairs (CLA) chairwoman Chen Chu (陳菊).
Analysts say the scandal set off by the workers' action was a major reason for the poor showing by the Democratic Progressive Party in last month's municipal elections.
Father Bruno Ciceri, an Italian Roman Catholic priest who has spent 20 years ministering to foreign workers in Asia, says the Taiwanese labor system is fraught with abuses due to the brokerage system's inherent unfairness. The government has accepted the system as the best way of regulating workers' lives.
Brokers take a fixed amount from a worker's monthly pay, set by law at NT$1,500 to NT$1,800, depending on how long the worker has been in the country.
In exchange, the broker helps the worker procure residence documents and file tax returns, and find alternative work if necessary.
However, Ciceri says, in many instances brokers take more than the allotted amount, and forego their obligations to workers.
"There are brokers who charge NT$8,000 to NT$10,000 during the first eight months of employment," he said. "There are brokers who charge workers NT$2,000 for bedding when you can pick it up in the market for NT$100. The system is quite unfair."
Ciceri says that the rules established by the CLA provide adequate protection for foreign workers, but chides the council for alleged ineffectiveness.
"The CLA is supposed to be protecting the foreign workers, but in fact it is not," he said.
An official at the CLA's Foreign Workers Section denied Ciceri's claim.
"If there are incidents of exploitation, workers can come to us for help," said the official, who asked not to be named because she is not an official spokeswoman.
The council's spokesman declined to comment.
Interviews with foreign workers paint a mostly favorable picture of employment conditions.
Chachana said he was "more or less" satisfied with his treatment at his last place of work in Taoyuan County, just west of Taipei.
"We slept on bunk beds, five or six people in a reasonably large room," he said. "With overtime I was making about NT$20,000 a month, and after deductions for health care and broker's fees and taxes I was able to send a little less than half of that home. It wasn't bad at all."
Another foreign worker, 27-year-old Pham Thi Xim from Vietnam's Ninh Binh province, said she was well-treated while working as a caretaker for an elderly woman.
"It was very hard work," she said. "But the money helps my family. I will stay as long as I can."
Comments will be moderated. Keep comments relevant to the article. Remarks containing abusive and obscene language, personal attacks of any kind or promotion will be removed and the user banned. Final decision will be at the discretion of the Taipei Times.