Lee says China fears democracy
Former president Lee Teng-hui (李登輝) on Thursday made his first speech of his US trip, saying that the greatest threat to the Chinese regime is not from Taiwan, but from China's democratization.
Lee said that the challenge was in giving power back to the Chinese people, for then they may question the rationality and legitimacy of the communist authoritarian regime's existence.
Alaska Governor Frank Murkowski had lunch with Lee and members of the World Affairs Council (WAC) at the Hotel Captain Cook in Anchorage, where he stayed yesterday.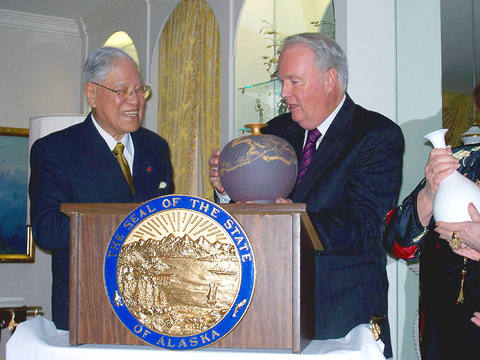 Former president Lee Teng-hui, left, gives Alaska Governor Frank Murkowski a vase as a gift yesterday.
PHOTO: LEE HSIN-FANG, TAIPEI TIMES
Lee gave a public speech on Taiwan and the Asia-Pacific's democratization.
Lee said that the establishment of democratic systems and values was a challenging reform for Taiwan, which continues to face China's bullying and intention to annex Taiwan. China is uneasy about Taiwan's democracy, Lee said, simply because such democratic achievements serve as an example for the Chinese people and even the entire Asia-Pacific region. Such achievements represent the hopes and future of democratization in the region, he added.
Lee also recounted the process of Taiwan's democratization during his more than 12-year presidency, stressing that the support of the international community was a key factor, and that the US had played the most important role during this process -- including during the 1996 missile crisis and the presidential election in 2000.
Thanks to international and US support, and the Taiwanese people's pursuit of democracy and their faith in being their own masters, Beijing was forced to restrain itself, Lee said.
Lee reminded the outside world that the true intention of China's threat to attack Taiwan by force under its fake purpose of unification was actually to cover up the irrationality and fragility of its authoritarian rule, which was highlighted by Taiwan's democratization.
Lee urged the US to help Taiwan break free of its international isolation, so that it can build normal relations with neighboring countries and become a full member of international society.
He said that Taiwan is fighting for peace and stability in the face of China's military threat. For the continuance of Taiwan's democracy, the US has to stand up in East Asia in order to uphold human rights and democracy, he said.
Comments will be moderated. Keep comments relevant to the article. Remarks containing abusive and obscene language, personal attacks of any kind or promotion will be removed and the user banned. Final decision will be at the discretion of the Taipei Times.