Protesters swamp Google
MAP FLAP Taiwanese expatriates gathered in front of the company's Silicon Valley headquarters to voice their support for the nation's sovereignty
Scores of Taiwanese expatriates residing in the Silicon Valley area swamped the headquarters of the search engine giant Google on Tuesday in a display of support for Taiwan as a sovereign country.
Although Google Inc removed its reference to Taiwan as a "province of China" from its Google Maps service over the weekend, the expatriates decided to gather in front of Google's headquarters in Silicon Valley to make known their support for upholding Taiwan's sovereignty.
Google' made the change to its map service listing after the Ministry of Foreign Affairs and Taiwanese living in the US voiced concerns about the reference.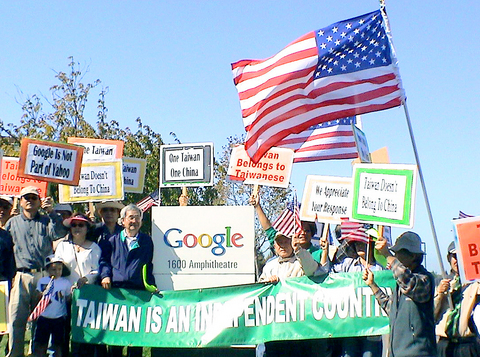 Overseas Taiwanese demonstrate outside the headquarters of Google in California's Silicon Valley on Tuesday.
PHOTO: CNA
The protesters waved banners that read "Taiwan is an independent country" and "one China, one Taiwan."
After receiving a letter of concern from the Taipei Economic and Cultural Office in San Francisco -- the de facto Taiwanese consulate -- last Thursday complaining about Google Maps service's reference to Taiwan as a "province of China," Google removed the reference from the service on Sunday.
Reports from Taiwan have said that Taiwanese authorities and legislators were up in the arms over the Google Maps description of Taiwan as a province of China. The reports also said that Taiwan's liaison offices in the US had been asked, since Sept. 19, to convey Taiwan's concern and indignation to Google about the matter, but that the requests had "fallen on deaf ears."
One of the protesters, Hung Shun-wu (洪順五), a former national assembly member representing the Democratic Progressive Party, expressed his appreciation to Google for listening to the Taiwanese public's call "to present the facts as they are."
Saying that Taiwan is an independent state, Hung said that while striving to boost its business expansion in China, Google's services should also portray the truth, such as the political reality of Taiwan.
also see story:

Comments will be moderated. Keep comments relevant to the article. Remarks containing abusive and obscene language, personal attacks of any kind or promotion will be removed and the user banned. Final decision will be at the discretion of the Taipei Times.