Ma, Wang hold first post-election meeting
PARTY POLITICS The KMT's chairman-elect sat down with his defeated rival for 50 minutes to resolve some of the bad blood stirred up by their hard-fought campaign
Legislative Speaker Wang Jin-pyng (馬英九) finally got together for a chat with Chinese Nationalist Party (KMT) chairman-elect Ma Ying-jeou (王金平) yesterday.
For the first time since the KMT chairmanship election, Ma said that he would respect Wang's wish to step down as one of the party's vice chairman. Ma said he "temporarily respects" Wang's decision, but the job would be held open for him.
Wang did agree, however, to take up the job of the president of the presidium of the KMT's Central Evaluation Committee.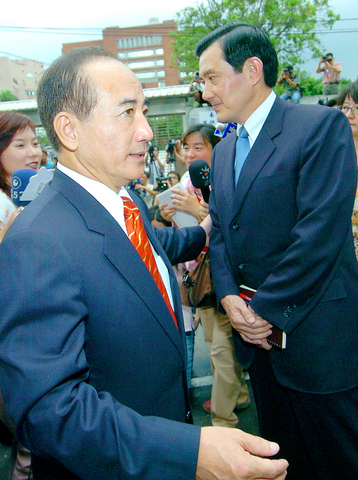 KMT chairman-elect Ma Ying-jeou, right, meets with Legislative Speaker Wang Jin-pyng at the Speaker's Lodge in Taipei yesterday. During their talk, Wang again turned down an offer to stay on as senior vice chairman of the KMT. Ma later told reporters that the job will remain open.
PHOTO: JIAN RONG-FENG, TAIPEI TIMES
The two men met for 50 minutes behind closed doors at Wang's official residence on Chungching S Road.
Afterwards, they told reporters that they had agreed to cooperate on controversial legislation and other topics, such as the arms-procurement budget, the flood-control bill and confirmation of President Chen Shui-bian's (陳水扁) choice for Control Yuan members.
Ma said he took advantage of the meeting to explain four items believed to have sabotaged relations between the two men during the election and contributed to Wang's defeat.
Ma said that the "black gold" remarks made by his campaign office were not targeted at Wang, but were meant to emphasize the party's long-term commitment to combat "black gold" politics.
He said that he had never doubted for a second that Wang is a strong opponent of independence.
Ma said that the issue of alleged fake party members in the Yunlin chapter had nothing to do with Wang because the chapter was later punished for its negligence in handling the matter.
Regarding vote-buying allegations, Ma said that there was no evidence to prove that Wang's campaign office was involved in any way.
Apparently still upset by the vote-buying allegation, Wang said the accusation on the day of the election was groundless and false.
"I told Ma that the footage run repeatedly on TV that day was similar to the coverage of the March 19 election-eve assassination attempt," he said, referring to last year's shooting of President Chen Shui-bian (陳水扁) and Vice President Annette Lu (呂秀蓮).
Wang said that he has never asked Ma to apologize for anything but misunderstandings must be straightened out. He said that he would do his best, as a party member, to help Ma in the future.
"I think his apologies are addressed to the wrong person," Wang said, adding that "We should just put bad feelings behind us and move on."
Describing their talk as "amicable," the two men agreed that the meeting marked the beginning of a more cooperative relationship.
Both, however, refused to discuss the 2008 presidential election.
"Let's talk about it in 2007," Ma said.
Earlier yesterday, Wang told a radio program host that he did not expect another KMT member to challenge Ma to be the party's presidential candidate. He also said that it had never crossed his mind to seek the presidency.
Ma later said that Wang still stood a chance at running in 2008 because the chairmanship election does not guarantee the party's nomination for the presidential election.
Comments will be moderated. Keep comments relevant to the article. Remarks containing abusive and obscene language, personal attacks of any kind or promotion will be removed and the user banned. Final decision will be at the discretion of the Taipei Times.