Bilingual comics tell nation's history
The first-ever set of bilingual comics dealing with Taiwan's history were released and placed on the Internet yesterday, allowing people from around the globe to understand Taiwan.
"During this time when Chinese-language education is popular, this set of Chinese and English books will allow many Chinese who do not know the language to know Taiwan," Overseas Chinese Affairs Commission Minister Chang Fu-mei (張富美) said yesterday.
The 10-book set of color comics, called A History of Taiwan in Comics (認識台灣歷史), are the result of two years of work by the commission and the Council of Cultural Affairs.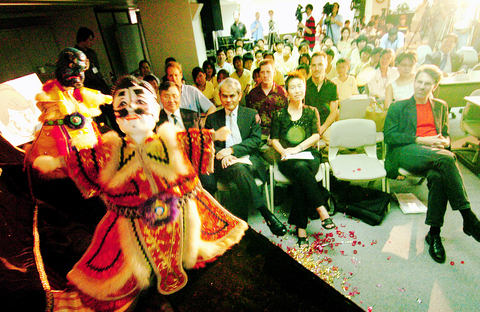 Audience members enjoy a traditional puppet show during a press conference in Taipei to promote the release of a 10-book set of bilingual comics on Taiwan's history.
PHOTO: CHIANG YING-YING, TAIPEI TIMES
Speaking about the books yesterday, National Taiwan University history professor Wu Mi-cha (吳密察), planning coordinator for the project, said that the set had been based on the A History of Taiwan (漫畫台灣史) graphic novels released six years ago.
While the books use pictures to explain Taiwan's history to readers, Wu said, the content is much richer in its description of Taiwanese history than that of current history books.
As a result, Wu said, the books could be used to make up for the deficiencies in current educational materials.
The most difficult part of creating the books, Wu added, was researching the clothing that was worn.
To enhance accuracy, for example, the book's illustrators would rely on black-and-white photos of Aborigines taken by Westerners during the 19th century. For earlier periods where no such pictures were available, the illustrators had to use their imagination to make an educated guess at the clothing of the time, Wu said.
To promote the books, the Ministry of Foreign Affairs and the commission have bought 2,000 sets of A History of Taiwan in Comics to give to overseas departments.
The comics can be viewed online through the commission's Web site at edu.ocac.gov.tw/local/history_of_taiwan/index.htm.
Comments will be moderated. Keep comments relevant to the article. Remarks containing abusive and obscene language, personal attacks of any kind or promotion will be removed and the user banned. Final decision will be at the discretion of the Taipei Times.