Students march against pollution
AWARENESS Calling for eco-friendly policies, scores of environmentally conscious students marched from Chiang Kai-shek Memorial Hall to the Presidential office
To mark World Environment Day, a group of university and college students chanted "No pollution! We want to survive!" yesterday in Taipei to raise public awareness to environmental issues.
The students from National Taiwan University, Tung Hai University and other universities and colleges gathered at Chiang Kai-shek Memorial Hall. Some of them went shirtless to show their determination to protect the nation's environment.
Wu Hung-chun (吳鴻俊) of the Transworld Institute of Technology, wearing a banner reading "We want to survive!" on his bare chest, said more than 200 students were marching to arouse society's awareness of the importance of the government's environmental policy.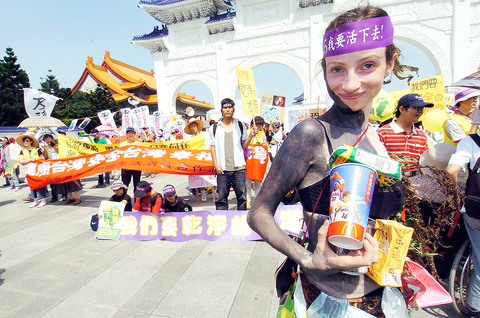 Christina MacFarquhar, front right, a volunteer of the Wild at Heart Legal Defense Association, shows her self-made ornaments made of discarded bottles and cans in front of the CKS Memorial Hall yesterday during an environmental protection campaign. The event was held by international environmental groups. MacFarquhar called on the public to take care of the environment.
PHOTO: GEORGE TSORNG, TAIPEI TIMES
Wu and his schoolmate Chang Chia-sheng (張家盛), also shirtless, called on people not to focus on their bodies. Instead, people should pay attention to environmental issues that have long been ignored, they said.
As the students marched toward the Presidential Office, members of the public joined them. They hoped the activity would draw 1,000 participants.
They appealed for environmentally friendly policies, clean water sources, safe food and water, recyclable energy, unspoiled mountains and forests, and values fashioned through self-awareness.
World Environment Day is one of the principle means by which the UN stimulates awareness of the environment and enhances political attention and action.
This year's World Environment Day theme is "Green Cities" with the slogan "Plan for the Planet." The UN Environment Program (UNEP) said World Environment Day is an event for the people, with colorful activities such as street rallies, bicycle parades, green concerts, essay and poster competitions in schools, tree planting, as well as recycling and clean-up campaigns.
The main international ceremony for World Environment Day 2005 will be held in San Francisco.
Comments will be moderated. Keep comments relevant to the article. Remarks containing abusive and obscene language, personal attacks of any kind or promotion will be removed and the user banned. Final decision will be at the discretion of the Taipei Times.