Protection against the united front requires a united Taiwan
As a former adviser to the late general secretary of the Chinese Communist Party Hu Yaoban and himself a party memeber for 37 years, senior advisor to the president Ruan Ming knows all-too-well Beijing's nature and its aim of eventual unification with Taiwan. Ruan sat down with "Taipei Times" reporter Huang Tai-lin and gave his insight on opposition party leaders' trip to China and how Beijing aims to use these meetings to its advantage
Taipei Times: Chinese Nationalist Party (KMT) Chairman Lien Chan (連戰) has concluded his controversial trip to China, a visit which was perceived by many as one that played into Beijing's hands. Based on your observations and understanding of China's united front strategy, what is your take on Lien's visit?
Ruan Ming (阮銘): I don't think Lien is simply a pawn of China's unificationist aims, I think by meeting with the leadership, he himself has practically become a tool of the CCP's united front scheme.
The other day President Chen Shui-bian (陳水扁) said Lien's trip helped in "befitting his role as opposition party leader." In my view, I think Lien has done very well in acting as China's subordinate party representative in Taiwan.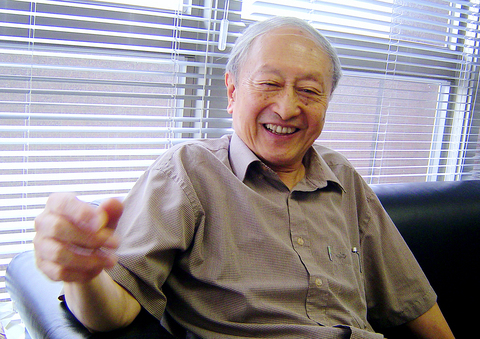 Senior President Policy Advisor Ruan Ming gestures as he makes a point during his interview.
PHOTO: TAIPEI TIMES
China practices a system where multiple parties cooperate under the leadership of the CCP. They are the so-called "eight democratic political parties." These subordinate parties all abide by three rules: accepting the CCP's leadership, adhering to the same views as the CCP, and assisting the CCP in its united front strategy to further the goal of unification.
The first among these eight "political parties" is the Chinese Nationalist Party Revolution Committee. Its mission is to use on Taiwan tactics that are a part of the united front strategy. It has not achieved much during the past 50 years, but, Lien's trip outperformed it.
The media reported that Lien spoke of the Republic of China [ROC] while in China. But when I read reports more carefully, the ROC he spoke of was actually the early ROC when it was in power. Lien said that Sun Yat-Sen (孫中山) was a revolutionary pioneer who created the first democratic country in Asia -- the ROC. Such rhetoric was in line with the CCP's version of history, which acknowledges Sun Yat-Sen as a revolutionary and the CCP's predecessor. Sun's ROC was the ROC of the past, but the ROC which China says was destroyed in 1949.
Let's look at Lien's speech at the Peking University. In the latter half of his speech he highlighted the "Chung hua min tzu" (the Chinese people). When Lien spoke of present situation, he did not mention Taiwan's freedom or democratic achievements -- only the "Chunghua min tzu," and nationalism. Such talks falls in line with the current position of [Chinese President] Hu Jintao's (胡錦濤) CCP.
In China nowadays, no one believes in Communism or Marxism any more, so Hu's regime instead engages in nationalism and "Chung hua min tzu" -- examples of which were well demonstrated during the anti-Japanese protests that took place not so long ago. Lien's speech at Peking University echoed China's "Chung hua min tzu" nationalism.
The KMT chairman in the past also used to speak of "one China under the Constitution" and everyone thought he meant the Constitution of ROC. This time it was apparent that the constitution he spoke of in his speech at Peking University was the Constitution of People's Republic of China (PRC).
In his speech Lien said that "there are democratic elections in designated areas [in China]," and that "the Constitution mentioned the right to property as a basic human right. I believe all these are correct historical directions."
Lien was mentioning Hu's Constitution, which he amended last year to add in protection of private property as a basic human right.
Taiwan is a democratic system while China is a communist dictatorial system. This is what [late Straits Exchange Foundation chairman] Koo Cheng-fu (辜振甫) said when he met with [chairman of China's Association for Relations Across the Taiwan Straits] Wang Daohan (汪道涵) in 1993 in Singapore, and when he met with [former Chinese president] Jiang Zemin (江澤民) in Shanghai in 1998.
While meeting with Jiang in 1998, Koo made two points. The first related to national sovereignty -- that one side of the Strait does not belong to the other side. The second points was that democratic and communist systems are vastly different.
Jiang then said to Koo: "we have democracy too, we hold elections." Koo replied to Jiang that a democratic system requires opposition parties.
So the difference between the two sides of the Strait lies not on the issue of unification or independence but on competing systems. The controversy over the issue of unification or independence in reality does not exist; what exists is the conflict between a free democratic system and a dictatorial communist one.
In the agreement reached between Lien and Hu, "both parties unanimously agree on basis of the `1992 consensus' and are against Taiwan independence." Lien himself even made clear the need to "join the communists to work against Taiwan independence."
In other words, Lien basically overruled the two points Koo had made. Instead, Lien followed Hu's lead, praised the communist system and slandered Taiwan's democracy as mere populism.
Thus, the KMT can be called the CCP's vassal party -- and its leader does the job of a subordinate party leader very well.
TT: What do you think was in Lien's mind as to the purpose of his visit to China? What did he gain?
Ruan: The purpose of Lien's China visit was just as he said, "to league together with the communists to work against Taiwan independence."
Some say Lien was duped by China's trickery, but this isn't true. As the old Chinese saying goes: "The weasel who pays New Year's greetings to the chicken is up to no good." Lien is the weasel, wanting to be in join with the other weasels in China to eat Taiwan -- the chicken -- alive.
In the past, Lien was often seen as harmless, but now we see his true face. In China, he had let out his true emotions, which had long been suppressed while in Taiwan. He has never been so high-spirited in Taiwan as he was in China during his trip.
In Taiwan, he spoke of "one China is the ROC" and that "the 1992 consensus is one China with each side having its own interpretation."
In China, Lien didn't make his own interpretation "one China." Hu Jintao did. Hu said that one China is the PRC, and Lien didn't rebut him.
TT: What's your view on the five-point "vision for cross-strait peace" agreement reached between Lien and Hu?
Ruan: Their so-called five-point plan, founded on the "1992 consensus" that both the CCP and the KMT agreed to oppose Taiwan's independence.
Given that Taiwan and China are of two different governmental systems and are antagonistic toward each other in light of the missiles China has pointed at Taiwan, enactment of its "Anti-Secession" Law, it is amazing that there was no discrepancies of points of contention in the statement released by Lien and Hu.
TT: As far as Lien's China trip goes, would it then be correct to say that Hu is the biggest winner?
Ruan: Absolutely.
The US and Japan are opposed to [the law] and in Taiwan, we had the protest on March 26 against the law which the whole world witnessed.
But now the whole world bewildered and has no clue what Taiwan is doing or where it stands. Many are wondering why after it staged a massive protest against the Anti-Secession Law that now its key political leaders are all making trips to China and endorsing the law?
The Anti-Secession Law pushes for unification by peaceful means and by non-peaceful means. Peaceful means involve the united front strategy to disunite Taiwan's political system and then take control of it.
Aside from the law, the recent anti-Japanese protests in China turned off many countries since they were opposed to the use of violence in protests. Lien's visit to China shifted attention of the world's media, and now everyone is talking about historic meeting between the KMT and the CCP and the formal end of hostilities.
To China, Lien's visit was tantamount to showing support for Hu's leadership and his oppression of voices within China calling for democracy. Take Peking University professor Jiao Guobiao (焦國標) for instance. Prior to Lien's visit to China, Hu had Jiao thrown out of the school for criticizing the CCP's Publicity Department.
[Former US President] Clinton, considered one of the most pro-China presidents, still talked about democracy and human rights during his visit to China. He had then said that China is on the wrong side of history in terms of democracy and human rights. Yet here we see Lien speaking not about democracy but nationalism and puffed up about communism.
Lien claimed its five-point agreement with Hu paved the way for cross-strait peace. But the thing is that there are two kinds of peace: genuine and false.
Democratic peace is the genuine peace. To seek peace under a totalitarian system only results in war and disaster. For instance, in 1973, then-US secretary of state Henry Kissinger and Le Duc Tho, a member of the Vietnamese Communist Party's Politburo, negotiated a ceasefire between the US and North Vietnam, for which they were awarded the Nobel Peace Prize the following year.
After that however the North Vietnamese broke the peace agreement and by 1975 had captured all of Vietnam.
All communist countries are dictatorships. If you want peace within it, you need to conform to its ways, hence, it is like peace through slavery. And peace through slavery always results in bloodshed, as we saw in the 1989 Tiananmen Square massacre, when the students called for freedom.
TT: People First Party (PFP) Chairman James Soong (宋楚瑜) departed for China on Thursday. Do you think it is possible that President Chen might meet with Hu should Soong propose such a meeting?
Ruan: I think it is China's plan, by using Lien and Soong, to draw Chen into the ring to recognize the "1992 consensus." Recognize it means you accept the "one China" principle. If Chen did, he could sign some kind of midterm agreement with China to maintain the cross-strait status quo for, say, 30 to 50 years. I don't think Chen will be so foolish as to agree to something like this.
Such an agreement is what the Clinton administration had in mind, when it tried to get Lee Teng-hui (李登輝) to make a deal with the CCP. But Lee squarely refused such a proposal.
If Chen recognizes the "1992 consensus" and signs an agreement, Taiwan will be doomed and war will definitely follow, because the people of Taiwan will not accept it. Chen should therefore understand this. If he doesn't, then his legacy will be that of a historical sinner.
Frankly, Lien and Soong have no qualifications to "sell out Taiwan" and be historical sinner because Taiwan does not belong to them, but to its 23 million people. Bu if Chen signs such a treaty in his capacity as president, he would be the one responsible for bringing catastrophe to Taiwan.
Such an agreement basically ties the "one China" principle around your neck.
In Jiang's eight-point proposal on the "Taiwan question," the first step is to sign a so-called midterm agreement with Taiwan to maintain the cross-strait status quo for 30 to 50 years. The second step in his plan is unification.
Should Taiwan sign such an agreement, the 30 or 50 years would be no more than a transitional period before it is unified with China. Signing the agreement is tantamount to putting a person sentenced to death in prison for 30 to 50 years before actually executing him.
Today, Taiwan is an independent country. It will no longer be if it agrees to the such agreement.
TT: President Chen said he is in favor of establishment of a military confidence-building mechanism in the Taiwan Strait. What do you think of this?
Ruan: There is one prerequisite in establishing a military confidence-building mechanism. You and I recognize each other an independent state, and we both have no intention of attacking each other. The establishment of a military confidence-building mechanism is therefore needed to prevent any military misjudgments.
But China, in this case, has so obviously stated its desire to attack if necessary and has a law codifying the use of non-peaceful means against you. What then is the point of a military confidence-building mechanism? Agreements of this nature do not apply to cross-strait relations.
TT: Some people are concerned that President Chen might fall unwittingly into China's united front trap. What are your thoughts on this? As a policy advisor to Chen, have you spoken to the president on these issues?
Ruan: I think Chen should have someone around to remind him of this threat. I can't help it if he doesn't listen to my view. I haven't met with the president for almost a year now.
I think national security agencies should do more in-depth research on the CCP to learn more of an understanding of it.
TT: What's your opinion of Hu now that he is the Chinese president?
Ruan: Hu's stance toward Taiwan is obvious, as was showed in the Anti-Secession Law. He wants to resolve the "Taiwan issue" by 2020 and will attack if Taiwan doesn't surrender.
So in view of the situation, Taiwan should be united as a nation and ally itself with other democratic countries. But what we see now is that our relations with the US are not so good. In the past, you wanted even the lousy weapons it would sell you, but now, the US wants to sell Taiwan quality weapon, but we don't want them.
It seems that all is now going in accordance with China's liking and Taiwan is not guarding its freedom.
Hu is more aggressive and more willing to take risks. This was true before he was the president, but now Hu is even more aggressive. I don't think it is possible that he will walk the path of democracy.
The key to beating China's united front strategy is a united Taiwan and sound diplomatic work with democratic members of the international community.
TT: Some have said the Chen administration has been too cooperative with the pan-blue camp. Do you agree with this?
Ruan: Yes. As a president, Chen should not talk too much. And when he does talk, it should be on important issues that carry serious weight.
The government has its priorities wrong. In terms of Taiwan's situation, the number one priority should be its domestic affairs, then diplomatic affairs and then cross-strait affairs.
Only when you manage your domestic affairs well can you win the respect of the world. The problem with the government now is that it doesn't attend to matters it supposedly says it does, and attends to others that need not be.
Publication Notes
Background:
* Born: July, 3 1931, in Shanghai * Education: Bachelors from Yenching University, Beijing * Career: Presidential policy advisor; adviser in the Taiwan Research Institute's strategic and international studies department * Experience: Visiting scholar at various US universities, including Harvard, Columbia, Princeton and the University of Michigan; advisor in the 1980s to then secretary-general of the Chinese Communist Party (CCP) Hu Yaoban; deputy director of the CCP's Central Party Academic Theory Research Office (1977-1982); sent to Ningxia for "laogai" (勞改, the Chinese gulag) (1969-1973); director-general of the CCP's Publicity Department's Cultural Revolutionary Committee (1961-1967). * Notable experience: Joined the CCP at the age of 15; expelled from the CCP in 1983 and left China in 1988 after the defeat of Hu Yaoban's reform program; gained ROC citizenship in 2000. * Publications: "Hu Yaobang on the Turning Point of History" (歷史轉折點上的胡耀邦) 1994; "Deng Xiaoping: Chronicle of Empire" (鄧小平帝國) 1994; "Essays on the Character of the Communist Party of China" (中共人物論) , 1993; "Democratic Taiwan vs. Communist China" (民主台灣VS共產中國) 2001.
Comments will be moderated. Keep comments relevant to the article. Remarks containing abusive and obscene language, personal attacks of any kind or promotion will be removed and the user banned. Final decision will be at the discretion of the Taipei Times.