Neihu makes bid to be WHO `Safe Community'
GLOBAL CONCEPT The neighborhood is one of four in Taiwan that hopes to win the designation when an Australian WHO assessor visits this month
Late this month, a World Health Organization assessor from Australia will visit four Taiwanese communities which hope to be designated "Safe Communities" by the WHO. The four communities are Neihu in Taipei, Feng-pin in Hualien, Tung-shih in Taichung, and Alishan in Chiayi County.
The effort is part of the Cabinet's major new plan to create safe communities in Taiwan, which includes community security, social welfare efforts, medical treatment and cultural education. The plan aims to create 5,000 to 10,000 healthy communities within a decade.
A local Chinese-language newspaper reported yesterday that Neihu District Director Wu Kun-hung (吳坤宏), director of the local branch office Huang Chia-lu (黃嘉祿), Weng Fu-lai (翁福來),chairman of the Association for the Promotion of Neihu's Safe Community and a Healthy City and Wu A-ming (吳阿明), head of a team of consultants, made a final effort to raise public awareness by parading through the streets of Neihu.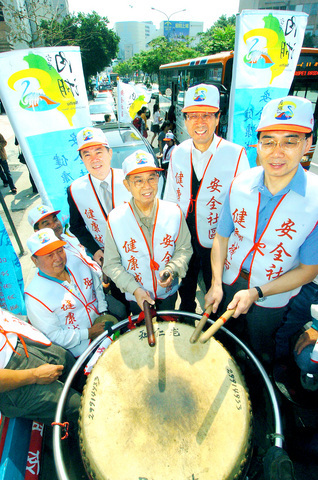 Neihu District Director Wu Kun-hung, right, and Liberty Times (sister newspaper of the Taipei Times) Chairman Wu A-ming, third right, bang the drum during a parade in Neihu yesterday to build public awareness about the Safe Community concept. They are accompanied by Weng Fu-lai, chairman of the Association for the Promotion of the Neihu Safe Community and a Healthy City, second right, and Huang Chia-lu, director of the Neihu branch office, fourth right.
PHOTO: FANG PIN-CHAO, TAIPEI TIMES
According to the report, Wu A-ming said that designation as a Safe Community could not be achieved by the efforts of a few people alone, and that the only way to succeed was to bring together authorities, businesses and residents in a joint and sustained effort.
He added that one way for Taiwan to step onto the international stage was to do so through communities, and the effort in Neihu could be made an example both for Taipei City as a whole and other countries. He also said that Neihu's experience could be further extended to Japan and other neighboring countries.
Since 2003, Neihu residents have joined in the effort to improve their community, beginning with small details and a transformation of attitudes. One example of this was a blind elderly woman who had non-slip tiles laid on her bathroom floor to minimize the risk of injury.
Other examples given were the addition of night lights at the MRT construction site to minimize accidents, having restaurant staff advise drinking customers not to drive and helping them call for taxis, and having department stores broadcast security and fire prevention information on their in-store TV sets.
TRANSLATED BY PERRY SVENSSON
Comments will be moderated. Keep comments relevant to the article. Remarks containing abusive and obscene language, personal attacks of any kind or promotion will be removed and the user banned. Final decision will be at the discretion of the Taipei Times.