Pan-greens urge public to march
TAKE TO THE STREETS The DPP and the TSU called on all Taiwanese to join in a demonstration to express opposition to China's `anti-secession' law
The public should take to the streets on March 26 to vent resentment over China's "anti-secession" law, leaders of the Democratic Progressive Party (DPP), the Taiwan Solidarity Union (TSU) and pro-independence groups said yesterday in response to the law passed by China's parliament.
"The scenario we were most worried about happened," DPP Chairman Su Tseng-chang (蘇貞昌) said yesterday morning after China's National People's Congress (NPC) passed the law.
"China not only passed that law but also retained the words "non-peaceful" which indicates the manner China will take to deal with Taiwan," he said.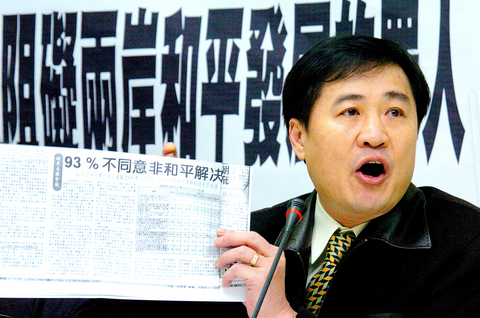 Democratic Progressive Party (DPP) Legislator Chen Chin-chun yesterday calls on party leaders to immediately hold a summit to discuss China's passing of an ``anti-secession`` law during a press conference held by the DPP's legislative caucus.
PHOTO: SEAN CHAO, TAIPEI TIMES
"The so-called anti-secession law does not conform to democratic trends at all." Su said. "As many as 93 percent of Taiwanese people are opposed to the law. Why is it that China cannot respect the will of the 23 million people of Taiwan, while it claims it has to respect the will of its 1.3 billion people?"
"I urge every citizen in Taiwan to make sure they join in the massive march on March 26 to show our antipathy to that law," Su said.
Su made the remarks yesterday morning after going to the Hong Shee Villa in Taoyuan County to visit former president Lee Teng-hui (李登輝) to seek his support for the March 26 march.
According to Su, Lee promised to participate in the march and will ask the Taiwan Solidarity Union (TSU) to help mobilize supporters to take to the streets in Taipei on that day.
However, while speaking with Su, Lee suggested that President Chen Shui-bian (陳水扁) not take part in the march on account of his status as president.
When asked whether Chen would join the march, Su said that Chen had publicly urged the public to participate and that people could expect him to be there.
The TSU's head commented further on Lee's suggestion.
"It is somehow strange for President Chen to walk on the street in his capacity as head of state," TSU Chairman Shu Chin-chiang (蘇進強) said later in the afternoon. "I think former president Lee's suggestion was made out of goodwill and it might be more appropriate for the heads of civil groups to lead people to launch a demonstration."
Shu also stressed that the TSU would not spare any effort in supporting the DPP's march.
Later yesterday afternoon, Su visited Tai Pao-tsun (戴寶村), president of the Taiwan Association of University Professors (TAUP) and Legislative Speaker Wang Jin-pyng (王金平) to invite them to join the march.
Tai agreed to attend, while Wang said he would choose one of the activities to be held on March 26, since China's legislation was unacceptable to every Taiwanese citizen, including those in the Chinese Nationalist Party (KMT).
"We [the KMT] will first voice our opposition against China's legislation at the rally on Saturday that aims to ask for the truth about the March 19 shooting incident," Wang said.
Comments will be moderated. Keep comments relevant to the article. Remarks containing abusive and obscene language, personal attacks of any kind or promotion will be removed and the user banned. Final decision will be at the discretion of the Taipei Times.