Recycled lanterns illuminate the night at Tainan festival
GOOD USE Thousands of recycled objects were used to make lanterns to usher in the annual Lantern Festival and remind the public to recycle waste
Tainan, with its rich cultural history spanning back to the Ming Dynasty, will celebrate this year's lantern festival in the spirit of contemporary environmentalism. Tens of thousands of recycled objects have been transformed into more than 50 lanterns to remind the public of the importance of recycling.
This year's celebrations in Tainan will be held at Anping Port, one of the city's historical tourist attractions, from tomorrow until March 6. Hundreds of lanterns will be lit up simultaneously tomorrow evening. During the festival, a three-minute light show will be held every half hour.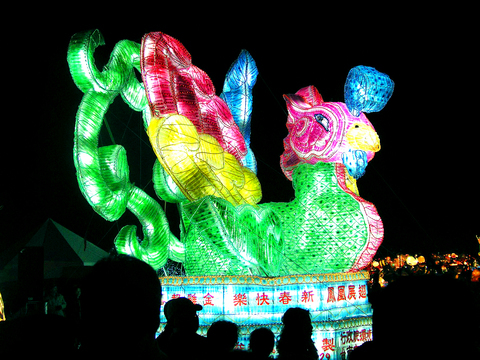 An environmentally-friendly lantern called ``Phoenix Spreads its Wings,'' made out of 100,000 recycled plastic bottles, is displayed after it was lit by Environmental Protection Administration chief Chang Juu-en and Tainan Mayor Hsu Tain-tsair yesterday.
PHOTO: TSAI WEN-JU, TAIPEI TIMES
According to the Tainan City Government, of the roughly 900 lanterns on display, more than 50 were produced from recycled materials.
Environmental Protection Administration (EPA) head Chang Juu-en (張祖恩) and Tainan Mayor Hsu Tain-tsair (許添財) yesterday lit up the "environmental lanterns" at the port.
"I believe that the environmental spirit of recycling will influence millions of tourists at the lantern festival. The EPA aims to build a zero-waste society in Taiwan. Effective recycling will be our first step to reduce the amount of household waste," Chang said.
The 8m-high main recycled lantern, called "Phoenix Spreads its Wings," was made from 100,000 recycled bottles. Environmental officials said that the phoenix was chosen because it represents rebirth. According to local authorities, the used bottles were collected by city residents working together since last October.
Environmental officials said that the lanterns were made from a total of 110,000 used bottles, 1,200 CDs, 120kg of waste paper and advertising fliers, 50kg of metal cans and other materials, including oyster shells, dried driftwood and unwanted furniture.
Chang said that a recycling network connecting residents, local environmental bureaus, recycling retailers and the EPA was established in January, 1997. Currently, the network recycles bottles, metal cans, tires, batteries, abandoned vehicles and other materials.
However, Chang said that consumers should do more to promote recycling, as mixing recyclable materials with regular household waste places an unnecessary burden on waste incinerators and sometimes leaks toxic chemicals into the environment.
The Tainan City Government estimates that 3 million tourists will visit this year's Lantern Festival. The city's environmental bureau has arranged an environmental team composed of 175 workers to keep the environment clean during the festival.
During the festival, a folk street fair will be held on main streets in Anping, which has been decorated with blessing lanterns. Officials said that tourists will be able to participate in traditional folk activities by playing with traditional toys or observing master craftsmen producing handicrafts.
Comments will be moderated. Keep comments relevant to the article. Remarks containing abusive and obscene language, personal attacks of any kind or promotion will be removed and the user banned. Final decision will be at the discretion of the Taipei Times.