Lee keeps his eyes firmly on the future
Since leaving office in 2000, former president Lee Teng-hui has dedicated his time to promoting Taiwan's democratization, as well as helping to build a sense of national identity. Lee sat down with Taipei Times reporter Huang Tai-lin in Taipei last Friday and shared his thoughts on Taiwan's international situation as well as the domestic political environment following last month's elections
Taipei Times: What were your impressions of Japan during your recent visit there? What do you think should be done to enhance bilateral ties and further mutual understandings? On what issues do you think Taiwan could strengthen its cooperation or interaction with Japan to cope with China's ambition in the Asian region? \nLee Teng-hui (李登輝): Taiwan-Japan relations are close though it does not seem that way on the surface. On how to enhance bilateral ties, I think it is best to do more rather than saying much. \nAlthough the Japanese media dubbed my recent trip as "a journey of silence," it was significant, however, and it was an indication that Taiwan-Japan relations are in good shape. \nDuring my visit to Japan, I visited the tomb of Japanese author Ryutaro Shiba on Jan. 2, during which I spoke a little bit to the media, expressing my gratitude for the kind care given to me by the Japanese government, its people and Taiwanese expatriates there. \nAlthough the visit was short, it allowed me a chance to substantially experience the people's way of living there and Japanese culture -- the result of which was fruitful. \nMy message [to reporters in Japan] had two points: one was that Japan has held fast to its traditions despite the remarkable achievements it has made on the path of progress. The second point was that Taiwan-Japan relations remain stable. \nJapan has really developed a good deal during this past 60 years. Yet it did not forget its traditions. That was the one thing that made the deepest impression on me during my visit. \nWhile it might sound contradictory to have tradition and progress co-exist, this is not the case. The significance is that by appreciating tradition, progress departs from within -- and finds something innovative from it, and thus pedals forward in the course of pursuing advancement. \nHow did Japan get through years of having its government and people pushed around by the US and China? During those times, the Japanese government had no say in its policies except in the area of developing its economy, which later rose to become the world's No. 2 economic giant. \nAs for Taiwan, the questions "Who am I?" "What is Taiwan?" and "What road and what direction are we to take?" are important questions we need to address ourselves. \nDuring my visit to Japan this time, I witnessed the remarkable progress Japan had made during these past 60 years. For instance, its services are very good. \nTake its Sinkansen [bullet train] as an example. You wait on the platform as the Sinkansen arrives, you see its car doors stopping precisely where the marks are indicated on the platform. When you ride on it, it is so steady that you barely notice the train is moving. When you visit its restroom, you note its cleanliness and tidiness. \nAll these seem like minor points yet they demonstrate the consideration and attentiveness with which the Japanese care for things and tackle problems. It shows their attention to detail. \nJapan, after 60 years or so of exercising restraint, is slowly starting to gain its potency when dealing with China. It used to exercise "kowtow diplomacy" when it came to dealing with China, but Japan is now slowly turning away from this. \nFor instance, prior to my visit, the Chinese ambassador to Japan, Wang Yi (王毅), used harsh words in his criticism against me -- China was exasperated by the fact that the Japanese government had issued me a visa. The Japanese didn't buy it, brushed it off and dismissed it. \nTT: What's your view on China's plan to enact an anti-secession law? What do you think of the timing of Beijing's push for this law and what might be its motives in doing so? What might be this law's effects and how could it possibly be brought into full play should it be enacted? How should Taiwan respond? \nLee: Taiwan is not part of China's territory. \nFor China, however, it is selling this law to those countries that recognized China's allegation that Taiwan is part of China, and telling them that once the law has been enacted, they should not object to Beijing's use of force against Taiwan. \nThis planned law is equivalent to the "Temporary Provisions Effective During the Period of Communist Rebellion" (動員戡亂條款) during Taiwan's martial law era. \nPossible effects of this planned law would be to intimidate Taiwan's people as well as to discourage them from speaking up and speaking out for Taiwan independence. \nHow should Taiwan respond to this law? Last February we had the 228 Hand-in-Hand rally [which drew at least 2 million people to form a chain protesting China's military threat and expressing their desire for peace.] This year, while we have yet to decide whether a similar event should be held, we can start by letting others know that Taiwan's people are against this law. \nWhile the content of the law is still unknown, I think the main purpose in China's announcing its plan to enact the law is to frighten Taiwan's people. \nTaiwan should not to always operate by reacting to whatever China does or says. \nWhat can be said, however, is that the government should be more careful in its dealings with China. Take the recent agreement with China on direct charter flights during the Lunar New Year holidays as an example. I wonder whether the mode of cross-strait links [allowing Taiwanese and Chinese charter flights to fly to each other's airports with a detour through Hong Kong airspace] is the best approach for international links across the Taiwan Strait. Wouldn't it save more flying time if these charter flights were to make a detour over Okinawa's airspace? Wouldn't it also be a better manifestation of international links across the Strait? \nThe people at the Mainland Affairs Council should remember not to fall prey to China's trickery when dealing with it. \nRather than always looking at what China does and then adjusting itself to accommodate, Taiwan should undertake a program that best serves its interests -- for instance, devoting its efforts to enhancing ties with Japan and the US. \nTT: What's your take on Taiwan's political situation in the wake of last month's legislative elections? You've said you support President Chen Shui-bian's (陳水扁) administration's call for reconciliation between the governing and opposition parties. What's your view on the Democratic Progressive Party's (DPP) idea of cooperating with the People First Party (PFP)? Do you think there is the need for a coalition Cabinet? \nLee: The results clearly suggest that the Taiwanese people are tired, weary of the seemly unceasing confrontation between political parties. \nStabilizing the political situation is the most important thing for the government to do so that the people can stop feeling apathetic and regain their enthusiasm for participating in politics. \nPresident Chen Shui-bian should avoid being a lame duck during the remainder of his term in office. Chen needs to take into account that if he becomes a lame duck during the remaining three-and-half years, it would draw criticism from the Taiwanese people, who expect major achievements from the eight years of his administration. \nShould that be the case, it would have an impact on the future development of a pro-Taiwan regime. \nFrom my perspective as a civilian, I look forward to reconciliation between the governing and opposition parties. \nIf one listens to the political talk-show programs these days, one would find that there are many grassroots DPP supporters who are unhappy with and disapprove of the DPP's cooperation with the PFP. This situation should be addressed. \nWhile there is the need for reconciliation, political ideology ought not to be compromised. \nTT: In your view, how should the administration foster good relations with the US in Chen's remaining time in office? \nLee: I personally think the main issue lies in the matter of "people." \nIn the past, during the [Chinese Nationalist Party] KMT regime, largely due to [former first lady] Soong Mayling's (宋美齡) personal relations with people in the US, KMT officials were in close touch with the US government and its officials. \nUS intellectuals, in general, harbored sympathy for China. The reasons date back to the time when China was swallowed up by imperialism. [The US advocated the Open Door policy under which all nations would have equal trading and development rights in China.] \nOfficials of the KMT regime were also proficient in publicity and in lobbying. \nI would say the selection of the right person for the job stands as the main issue in the nation's relations with the US. People involved with the Formosan Association for Public Affairs [FAPA -- the main Taiwanese congressional lobby group in Washington] are good but their abilities are limited. \nTaiwan could work to foster ties with the US in various ways, including communication between the governments, establishing private exchanges and strengthening interaction with US think tanks as well as legislative groups. \nCommunication is important, so that you don't leave the US government feeling that you don't tell them things, forcing them to revert to guesswork. \nInsufficient communication seems to be behind the recent bumps in Taiwan-US relations. \nJapanese Prime Minister Junichiro Koizumi has a good relationship with US President George W. Bush. If we could work to get Koizumi to put in a good word for Taiwan, it would be helpful to Taiwan. \nMy trip to Japan could be seen as a barometer of Taiwan-Japan-US relations. The fact that I made the visit this time suggested that these relations are on the right track. \nTT: You've mentioned that you want to visit Japan again so you can experience the journey of the famous "Okunohosomichi." Could you explain what is so special about the Okunohosomichi? \nLee: Before responding to this question, I would like to first talk about the Japanese samurai spirit. \nMy book Bushido Kaidai (武士道解題) [a commentary on the traditional samurai spirit] is now in its eighth printing in Japan and in some schools been used as syllabus material. \nSome may ask why I care about how developed Japan has become? The reason is that the stronger Japan becomes, the more helpful it is to regional stability in Asia. My book therefore was written to encourage the Japanese people to be more aware of their traditional spirit. \nOnly when Japan normalizes as a country is it helpful for Taiwan. \nThere are two things that differentiate the samurai's ethic from that of Chinese Confucian theory. One difference lies in the samurai's interpretation of death, and the other lies in their emphasis on the virtues of honor and sincerity. \nThe samurai's ethic starts from the awareness of death. Such realization of death is similar to that of Christian belief. Because the samurai believes that death is the end of everything, it leads him to have an attitude about life that seizes upon the time he is alive and to accomplish all he wants to do in his one and only lifetime. \nIt is for the same reason that the samurai, therefore, attaches great emphasis to his code of honor, whereas the Chinese theory puts more emphasis on the virtues of benevolence, piety and faithfulness and not so much on sincerity and honesty. Hence, a Chinese person's way of approaching matters sometimes seems hypocritical in that one's words and deeds are not in accord. \nChinese culture believes in reincarnation and transmigration. Its social development is therefore like one going around in a circle, while the samurai who believes that death marks the end of everything, is like one proceeding along a straight line. \nAlong the route of the Okunohosomichi, there are many temples in which haiku are chanted [by Buddhist monks]. \nI want to visit the Okunohosomichi because I wish to experience walking the same path taken by the Japanese master haiku poet Matsuo Basho [who produced a travel diary at the end of his journey known as Okunohosomichi]. \nTT: You've stated that your New Year wish is to strengthen Taiwan's sense of identity as well as speed up work on constructing a new constitution for the nation and changing the name of the country to realize the goal of democratizing and normalizing Taiwan. What ideas do you have in mind to promote this work? \nLee: Taiwan still lacks much in its sense of national identity. It appears that many people still regard capital being more important than ideals. \nIn the past two years, we hosted large-scale conferences to promote awareness of Taiwanese identity. But what we now realize is that the people who attended these conferences are already aware of the idea; it's people at the grassroots level who don't know. So this time we are contemplating a different approach. For instance, we will send graduates from the Lee Teng-hui School to go to the grassroots, to hold small-scale seminars in various townships, counties and cities. This will help carry our message faster as well as more deeply among the general public. \n"Who am I?" is what we need to ask ourselves -- our departure point. Identity is very important. \nTake the Hakka as an example. Because they are a minority in society, Hakka people are often afraid to admit to others that they are Hakka. This situation has only improved in recent years. \nAll talk and no action accomplishes nothing. We therefore need to do more substantial work at the grassroots level to strengthen identification with Taiwan. \nAs I've mentioned before, once the concept of Taiwanese identity is shared by 75 percent of general public, even the US couldn't say anything against it. \nTT: There have been news stories recently about the US and EU's demand for Asian currencies to appreciate. Do you agree with the idea that the NT dollar need not rise unless the Chinese yuan also rises? \nLee: There is no need for the NT dollar to rise in value unless China's yuan also rises. \nThe extremely undervalued yuan has become an advantage for China's exports. If demands are made only for the appreciation of other Asian currencies while the yuan is allowed to remain pegged to the US dollar, then the capital of Asian countries will be transferred to China, further strengthening China's role as a manufacturer of goods. This will be of absolutely no help to the US' deficit problems. \nA large percentage -- too large -- of overseas investments made by Taiwanese are in China. If Taiwan follows market trends and allows the NT dollar to appreciate along with other Asian currencies, then the movement of Taiwanese capital to China will be accelerated. The expansion of investment in China by Taiwanese businesses will in turn reduce domestic investment, further stifling Taiwan's economic growth. \nA strong yuan will increase operating costs of export-oriented Taiwanese contractors operating in China, nullifying their efforts to seek cheaper production. Some of these China-based Taiwanese businesses may then start coming back to Taiwan. \nTT: Any final words? \nLee: Although Taiwan is small, it is, however, about the right size to be ruled as a nation. A country like China is too big in terms of size. Therefore I believe that China be divided into seven parts. A central-power system is not good for China. If these parts could compete freely with each other, it might be good for China's progress.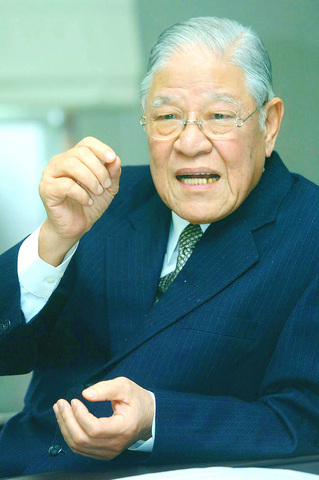 Former president Lee Teng-hui gestures to stress a point during his interview with the ``Taipei Times'' last Friday.
PHOTO: CHIANG YING-YING, TAIPEI TIMES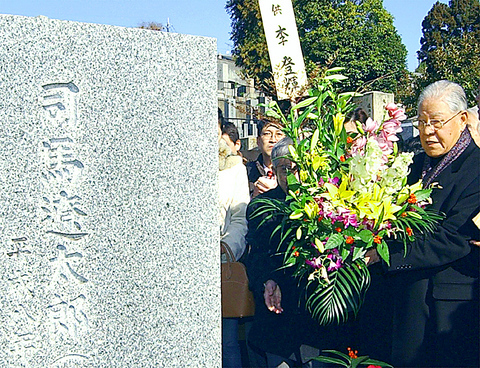 Lee offers flowers at the grave of late Japanese author Ryotaro Shiba at Nishihonganji temple in Kyoto on Jan. 2.
PHOTO: AP PHOTO/KYODO NEW
Comments will be moderated. Keep comments relevant to the article. Remarks containing abusive and obscene language, personal attacks of any kind or promotion will be removed and the user banned. Final decision will be at the discretion of the Taipei Times.