Taiwan joins peace group
Ten non-governmental organizations (NGOs) announced yesterday that they have joined the Global Partnership for the Prevention of Armed Conflict (GPPAC), an international civic movement aimed at promoting peace. \n"GPPAC is perhaps the largest peace-building organization in the world. Wars are usually initiated by a nation's government, which the people have no control over. How-ever, being the global citizens we are today, civilians should have a voice about wars," said Chien Hsi-chieh, executive director of Peacetime Foundation of Taiwan. \nThe anti-Iraqi war movement in 2003, Chien pointed out, was a good example of an anti-war movement that lacked in overall organization and structure, as most of the activities occurred online. \nAs a result, although the anti-war voices of civilians were strong, they had little impact on a government's decision to wage war. \nGPPAC was formed in response to the call by UN Secretary-General Kofi Annan in 2003 for a worldwide conflict-prevention community. \nOther groups that joined GPPAC include the Awakening Foundation, Taiwan Security Research Center, Taiwan Labor Front, Taiwan Environmental Protection Union, Alliance for Peace Homeland and Youth Rights Alliance. \nPhilip Yang (楊永明), director of Taiwan Security Research Center, said the movement did not harbor any diplomatic implications, but seeks peaceful resolutions between countries, with the current focus on military conflicts. \n"GPPAC operates according to the concept of `human security,' where the ultimate goal is not the security of a country, but the safety of individuals," he said. \nAccording to Yang, one example of a successful security movement promoted by NGOs was the anti-landmine campaign in 1997. Every country in the Northeast Asia region, with the exception of North Korea, has joined this movement. \nThis region alone, the 10 groups said, makes up one-quarter of world's population and encompasses several sensitive military issues and post-war problems such as the conflicts between the two Koreas, Pyongyang's nuclear threat, cross-strait relations, Japan-Russia territorial issues and the Tiaoyutai Islands dispute between Taiwan and Japan. \nAkira Kawasaki, a member of the executive committee of Japan's Peace Boat and a representative of GPPAC Northeast Asia region, said the security of one country affected the rest of the region. \n"It is like a chain reaction. For instance, if North Korea decides to ratchet up its military armament, then Japan is going to follow suit," he said. \nGPPAC representatives from Northeast Asia are scheduled to meet in Tokyo next month to set a regional agenda. According to Chien, cross-strait relations has been an off-limits topic at previous meetings with China's GPPAC members, but it might be brought up in future conferences. \n"We look forward to having a sit-down dialogue with China's civic groups to resolve cross-strait conflicts by peaceful measures," Chien said.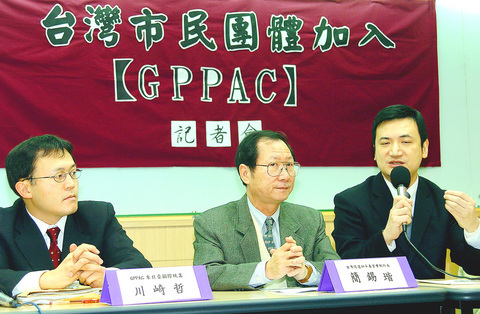 Philip Yang, director of the Taiwan Security Research Center, right, speaks at a press conference announcing that Taiwan has joined the Global Partnership for the Prevention of Armed Conflict (GPPAC). Akira Kawasaki, left, a Japanese representative of GPPAC, and Chien Hsi-chieh, executive director of the Peacetime Foundation of Taiwan, also spoke at the press conference.
PHOTO: GEORGE TSORNG, TAIPEI TIMES
Comments will be moderated. Keep comments relevant to the article. Remarks containing abusive and obscene language, personal attacks of any kind or promotion will be removed and the user banned. Final decision will be at the discretion of the Taipei Times.