Koo one of the nation's most important figures
ACHIEVEMENT Hailing from one of the most influential families in Taiwan, Koo Chen-fu excelled as an industrialist and helped build the framework for cross-strait relations
"With Koo's passing, we lose a well-respected proponent of peace. It is a great loss for both sides of the Taiwan Strait," Mainland Affairs Council Chairman Joseph Wu (吳釗燮) said yesterday while paying his respects to Koo Chen-fu (辜振甫) after he passed away. He was 88. \n"Acting as the Straits Exchange Foundation chairman, Koo took on the important task of cross-strait negotiations in 1990 with the establishment of the foundation, and in 1993 and 1998 he successfully opened an era of cross-strait dialogue," Wu added, highlighting Koo's achievements in the thorny area of cross-strait affairs. \nJust last month, Koo's three daughters and son, asked the public to submit pictures of their well-known father. Koo's eldest daughter, Koo Huai-chun (辜懷群), explained the family's documentary project in a statement, saying that her father had been not only a witness to history but a maker of history as well. \nIndeed, while Koo Chen-fu never officially held public office, he will be remembered as one of the nation's most influential civic figures. \nHe wore many hats: The nation's de facto envoy to China, high-profile business tycoon, associate of former President Lee Teng-hui (李登輝), presidential advisor and a renowned patron of Chinese opera and the traditional arts. His achievements also span a wide spectrum, from his success in establishing cross-strait negotiations to appearing on Forbes magazine's list of the world's richest people, and the reconstruction of the Novel Hall for Performing Arts in Taipei. \nBorn in Taipei and raised in Changhua County, the fifth son of a well-to-do merchant, Koo attended National Taiwan University (known as the Taipei Imperial University during the Japanese colonial period) to study politics. \nHis business career was given a jumpstart when his father died in 1937 while he was in his sophomore year in college, leaving the 20-year-old in charge of seven companies. \nKoo completed his degree in 1940 before pursuing graduate studies in Japan and later in the US. While Koo is known to be fluent in Japanese and English, he is also known for his stubborn insistence on Mandarin. \nAs a businessman, Koo proved to be insightful and successful, building a business empire of over 90 firms. \nWhen the Chinese Nationalist Party (KMT) claimed Taiwan after World War II, the Koo family had already established itself as one of the largest and most prominent families in Taiwan. They were known as the "Koos of Lukang" (鹿港辜家). \nDuring the KMT government's land reform project, the Koo family bolstered their assets, accepting stocks in exchange for land, a trade-off that eventually proved to be very valuable. He was later put in charge of Taiwan Cement Corp in 1973. \nIt was around the same time that Koo founded the Koo's Group (和信集團) and built it into one of Taiwan's top ten businesses. \nWhen the group split into two independent business groups in 2003, it controlled key units, such as Taiwan Cement, Taiwan Polypropylene, China Synthetic Rubber and KG Telecommunications Co, Chinatrust Financial Holding Co, KGI Securities, China Life Insurance and Chailease Finance Corp. \nHowever, Koo did not seem content with his success in the business world, and took steps to influence politics as well. One of his earliest stints in politics landed him into jail for 19 months -- but this did not deter him from returning to become a key figure in national affairs. \nKoo was jailed in 1946 on treason charges and was accused by the KMT of helping the Japanese ward off Chinese rule in Taiwan after Japan gave up control of China at the conclusion of World War II. \nHe later took refuge in Hong Kong before returning to Taiwan to marry in 1949. \nKoo later went on to become a member of the KMT central committee. It was in his role as ROC ambassador to China that Koo made his mark on history by becoming a bridge between two governments. \nWhile Koo held many prominent positions both in the business and political sectors, it was in his last position, that of the Chairman of the semi-official Straits Exchange Foundation, that he was most often associated with. According to his wife, Koo's last words before he passed away yesterday morning -- just days before his 88th birthday on Jan. 6 -- were about national affairs and the cross-strait impasse. \nTwice making international headlines for his role in ground-breaking talks with Chinese officials, Koo is credited with the thawing of cross-strait tension on more than one occasion. The first meeting with his Chinese counterpart, Association for Relations Across the Taiwan Strait chief Wang Daohan (汪道涵) -- later dubbed the "Koo-Wang talks" of April 1993 -- took place in Singapore and became a historic moment in cross-strait relations. \nWhile political differences were left untouched, the 1993 talks set the framework for cross-strait communication, setting the groundwork for a second meeting in 1998 and for various meetings on practical matters between the two organizations. \nIn 1998, Koo and Wang again made headlines with a second round of talks, this time in Shanghai. The meeting was hailed as a resumption of cross-strait dialogue after China completely cut off dialogue with Taiwan after former president Lee Teng-hui (李登輝) visited the US in 1995. \nChina had further drove home its point by testing ballistic missiles across the Taiwan Strait in 1996, leaving cross-strait relations at its lowest point ever. While cross-strait disagreements could not be altered, the Koo-Wang talks have come to represent a willingness to make contact and work through differences. \nThe celebrated friendship between Koo and Wang was a symbolic one that was loaded with historical significance, and even despite the illness that racked both men in recent years, cross-strait policy makers continued to call for another meeting between the two octogenarians. \nWhile Wang had promised to pay Koo a visit when the two had met in 1998, the meeting was put off many times. In truth, the Koo-Wang talks were more than just negotiations, they represented a meeting of gentlemen.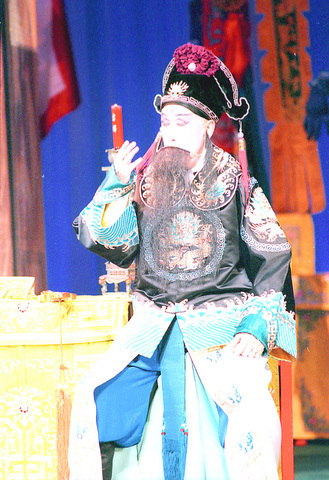 Straits Exchange Foundation Chairman Koo Chen-fu, a lover of Beijing opera, performs the role of Wu Tzi-hsu, a great statesman and soldier and the subject of many stirring operas. The photo was taken May 22, 1996 at the then newly constructed Novel Hall for Performing Arts in Taipei.
PHOTO: CNA
Comments will be moderated. Keep comments relevant to the article. Remarks containing abusive and obscene language, personal attacks of any kind or promotion will be removed and the user banned. Final decision will be at the discretion of the Taipei Times.