Top 10 Taiwan Stories: Two shots that divided the nation
2004 was a roller-coaster year for Taiwanese politics, with at least two bullets being fired amid firecrackers in Tainan heralding the beginning of one of the most polarizing periods in Taiwan's history. \nTaiwan failed to see a change of administrations during the presidential election on March 20. Defying wide-spread expectations of defeat, incumbent presidential and vice presidential candidates Chen Shui-bian (陳水扁) and Annette Lu (呂秀蓮) won Taiwan's third direct presidential election with a wafer-thin margin of 0.2 percent. They garnered 6,471,970 votes, compared to the 6,442,452 votes collected by rival presidential and vice presidential candidates Lien Chan (連戰) of the Chinese Nationalist Party (KMT) and James Soong (宋楚瑜) of the People First Party. \nExtenuating circumstances surrounding the election, however, set the stage for the political, judicial and social turmoil that characterized 2004. On March 19 at 2pm, Chen and Lu were shot but only lightly wounded, leading to the activation of a national security mechanism which the pan-blue camp later said prevented pan-blue-leaning servicemen from casting their votes. \nBitter about the loss, over 300,000 pan-blue supporters staged a week-long protest outside the presidential office after results were released by the Central Election Commission at 9:20pm on March 20. Violence over election results later broke out when a mob led by PFP legislators smashed their way into the commission's headquarters on March 28. \nAfter the protests subsided, the pan-blue camp insisted on holding a NT$60 million recount effort and filed two lawsuits seeking to annul the election and its results in April. Implying that the pan-green camp had staged the election-eve shooting, the pan-blue controlled-legislature pushed through a bill creating the March 19 Shooting Investigation Special Committee (三一九槍擊事件真相調查特別委員會條例), whose functions were declared unconstitutional by the Council of Grand Justices in December.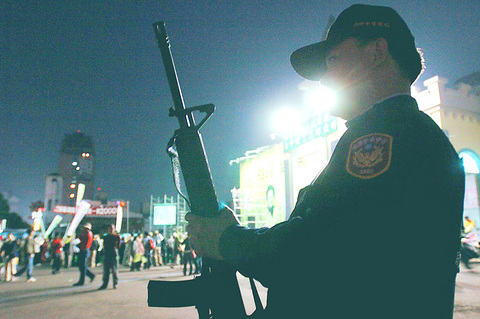 A police officer stands in front of a campaign office in Taichung City on the evening of March 19 after the National Police Administration announced it was heightening security at campaign offices nationwide. The increased security came as a result of the shooting of President Chen Shui-bian and Vice President Annette Lu in Tainan earlier that day.
PHOTO: SUNG CHIH-HSIUNG, TAIPEI TIEMS
Comments will be moderated. Keep comments relevant to the article. Remarks containing abusive and obscene language, personal attacks of any kind or promotion will be removed and the user banned. Final decision will be at the discretion of the Taipei Times.