Koos's legal experience helping DPP
JUSTICE The man who has been dubbed `the president's favorite lawyer' helped Chen and Lu defend their election victory against legal battles
Attorney Wellington Koo (顧立雄) has made a name for himself in the Democratic Progressive Party (DPP) by helping President Chen Shui-bian (陳水扁) and Vice President Annette Lu (呂秀蓮) win the pan-blue-initiated lawsuit challenging their re-election in March. \nKoo may reach the peak of his career again if Taiwan High Court Judge Cheng Ya-ping (鄭雅萍) rules in favor of the DPP again on Dec. 30, regarding another lawsuit launched by the pan-blue camp -- to ask the court to declare the presidential election a fraud. \nAmong DPP supporters, the Mainlander Koo is a unique figure, as his parents are both from Shanghai. But Koo, who was born in Taipei in 1958, has always regarded himself as Taiwanese ever since childhood. \n"My mother spent 20 years in Shanghai. It is natural that she would miss her friends and relatives there. For me, I was born and grew up here. Of course I am a Taiwanese," Koo said. \n"I love everything about Taiwan -- the language, the culture and the soil," he added. \nKoo joined the DPP's legal team after the pan-blue camp decided to file two lawsuits with the Taiwan High Court in the hopes that the presidential election result could be overturned. His work earned Koo the nickname of "the president's favorite attorney." \nOn Nov. 4, Taiwan High Court Judge Wu Ching-yuan (吳景源) ruled in favor of the DPP in the first lawsuit, in which the blue camp argued the court should suspend Chen and Lu's re-election victory. \nIf the High Court also rule against the blue camp's second lawsuit, Koo will have accomplished his job of defending the legality of Chen's re-election. \nKoo said he originally did not intend to take the job of defending the DPP in the lawsuits. He eventually decided to do so because DPP Secretary-General Chang Chun-hsiung (張俊雄) called his boss -- John Chen (陳傳岳) -- to request Koo's expertise. John Chen then asked Koo to take the job. \nKoo is a partner of the Formosa Transnational Attorneys at Law. John Chen and current Judicial Yuan Secretary-General Fan Kuang-chun (范光群) are founders of the law firm. They are also close friends of Chang. \nFan left the firm in 2001 to join the DPP administration. His first job there was as minister of the Cabinet's Council for Hakka Affairs. \nAlong with his fellow lawyers at the firm, Koo is famous for his logical thinking, fast responses and efficient work. \n"That is also why the Chen administration asked him for help," Attorney Su Chiao-hui (蘇巧慧) said. \nTo win the first election lawsuit, the most important thing was not about justice, according to Koo. \n"The most crucial fact is whether you can touch the judges' hearts," he said. "Everybody believes in their own version of justice. What is justice for you may not be justice for someone else. However, if you persuade the judges to believe your arguments, you will always win," he said. \nKoo was admitted to Taiwan's bar in 1983. In addition to a bachelor's degree in law from National Taiwan University, Koo also possesses a Master's degree in public service law from New York University (NYU). \nKoo said that while studying at NYU, he was inspired to support Taiwan's independence. \n"Studying abroad expanded my mind and I started to think about one question: Does Taiwan deserve better than what it has?" Koo said. \n"The ideal Taiwanese independence for me would be predicated on avoiding a war," he added. \nKoo's legal expertise includes copyright law, lawsuits between Taiwanese companies and foreign companies, international trade-related cases and consumer-related cases. \nIn addition, Koo is also a human rights activist and has been a member of the Taiwan Association for Human Rights since 2000. \nIn addition to practicing law, Koo has been a teacher of the subject. He was a faculty member of Chinese Culture University's Law Department from 1993 until last year. \n"He is a tough guy when teaching students or instructing junior lawyers," said his colleague Su. \nKoo was Su's instructor when she began to practice law. \nAccording to the young female attorney, Koo believes that a good lawyer must be accurate on almost everything. A factual error can be forgiven but a repeated error is not tolerable at all, she said. \n"Koo once said to me that a lawyer is responsible for the fate of his or her client. When a lawyer is dealing with a case, he or she must be very serious and careful," she said. \n"`Follow your heart' is the bottom line for each of my clients. That was what [Koo] told me," Su added.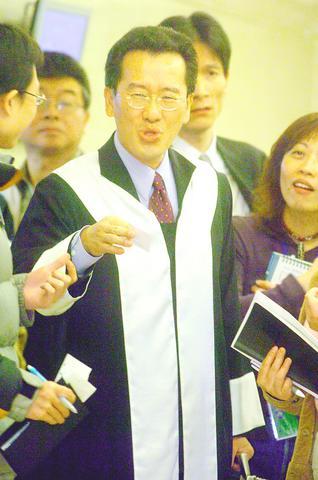 Lawyer Wellington Koo.
PHOTO: SEAN CHAO, TAIPEI TIMES
Comments will be moderated. Keep comments relevant to the article. Remarks containing abusive and obscene language, personal attacks of any kind or promotion will be removed and the user banned. Final decision will be at the discretion of the Taipei Times.