Survey backs sovereign and independent Taiwan
POST-ELECTION POLL In the wake of US President Bush's re-election, respondents were asked about US-Taiwan relations, US-China ties and cross-strait links
Over 70 percent of respondents in a recent opinion poll conducted by the Taiwan Thinktank say Taiwan is a sovereign and independent nation. \nThe survey results, released yesterday, indicate 14.5 percent of those polled believe Taiwan is not a sovereign independent nation, while 2.9 percent felt it was hard to say, and another 10 percent did not know. \n"The opinions of the people of Taiwan play an important role in the US-Taiwan-China triangular relationship ? The question now is how to handle a new Taiwan, a Taiwan with new problems and new opinions," said Lai I-chung (賴怡忠), director of foreign policy studies at the think tank. \nThe survey focused on reaction to US President George W. Bush's re-election, its impact on cross-strait relations and expectations for the next four years. The poll surveyed 1,076 people over the age of 20 nationwide in telephone interviews last Thursday and Friday. \nAccording to the think tank, the poll's results are within a 95 percent confidence index with a standard deviation of 3.04. \nThe think tank is generally believed to sympathize with the pan-green camp. \nAccording Lin Cheng-yi (林正義), director of the Institute of International Relations at National Chengchi University, if Taiwanese people had been able to vote in the US elections, they would have backed Bush. \n"54.3 percent believe that Bush's re-election will be helpful for cross-strait relations, while about 21 percent felt it would not be helpful. From this we see that between [US Senator John] Kerry and Bush, most wanted Bush re-elected," Lin said. \nNevertheless, most respondents would like to see the US reconsider its "one China" policy, given Tai-wan's unfair status under the policy. According to the poll, a total of 67.8 percent of respondents support a rethink of the "one China" policy, 6.5 percent did not and 16.2 percent said they did not know. \nThere was also overwhelming support for the normalization of ties with the US. Over 88 percent were in favor of normalizing ties and just 2 percent were opposed. \nCiting US Secretary of State Colin Powell's recent remarks on cross-strait relations, generally seen as a setback for Taiwan, Lin pointed out that the survey results indicated that a good portion of those polled felt that there was a chance the US would forgo ties with Taiwan in order to pursue better relations with China. \n"This is different from the traditional stance that is generally seen as overly dependent on the US. It probably has something to do with Powell's remarks," Lin said. \nTwelve percent felt the US would definitely "sacrifice" Taiwan in order to pursue cooperation with China, 30 percent thought it was possible, while 29 percent said it would not happen and 10 percent said it definitely would not happen. \nAs for President Chen Shui-bian's (陳水扁) proclamation that "The Republic of China is Taiwan, and Taiwan is the Republic of China" during his Double Ten National Day speech, 24 percent expressed enthusiastic support and 37.6 percent supported the statement. However, 12.5 percent totally disagreed with the statement and another 8.2 disagreed with it. Nineteen percent of respondents felt the statement was intended as a push for Taiwanese independence while 57.2 said the statement was a description of the status quo. \nAsked which political party would be best equipped to protect Taiwan's sovereignty, 27.9 percent said the Democratic Progressive Party, 13.3 percent said the Chinese Nationalist Party (KMT), 1.7 percent said the Taiwan Solidarity Union and 0.9 percent said the People First Party. However, 44 percent said they had no opinion. \nAsked if political leaders here should learn from the US presidential candidates and accept election results for the sake of social stability, 80.4 percent said yes, while 2.5 percent disagreed. \nHsu Yung-ming (徐永明), a researcher at the Institute of Social Sciences at Academia Sinica said similar opinion polls should be conducted periodically because of the impact current events have on such surveys. \n"It would send the clearest signal of public opinion in Taiwan to important international players -- and give a clear indication of the direction that Taiwanese public opinion is headed," Hsu said.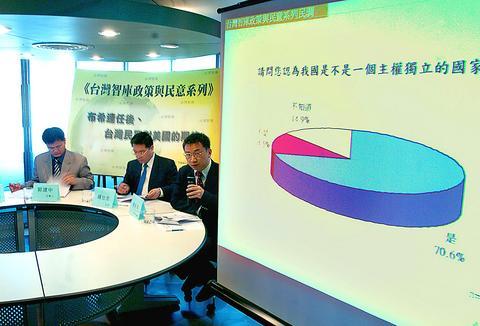 Kuo Chien-chung, of the Taiwan Thinktank, left, Lai I-chung, the director of foreign policy studies at the thinktank, center, and Hsu Yung-ming, a researcher at the Institute of Social Sciences at Academia Sinica, present the results of a survey on reaction to US President George W. Bush's re-election.
PHOTO: WANG MIN, TAIPEI TIMES
Comments will be moderated. Keep comments relevant to the article. Remarks containing abusive and obscene language, personal attacks of any kind or promotion will be removed and the user banned. Final decision will be at the discretion of the Taipei Times.