FTA push moves into high gear
BILATERAL AGREEMENTS Unhappy with the pace of trade liberalization taking place under WTO auspices, some experts want Taiwan to focus on trade accords
Taiwan is struggling to find ways of making free trade agreements (FTAs) with its trading partners, even as China and ASEAN are set to sign two landmark agreements this month establishing the world's largest Free Trade Area, which is scheduled to come into being by 2010. \nAn FTA is an agreement between two countries or among groups of countries aiming to establish a policy of non-intervention regarding trade between the nations involved. \nTariffs and non-tariff barriers to trade are usually removed or lowered, while each country maintains its own policy towards countries that are not part of the FTA. \nChinese Commerce Ministry spokesman Chong Quan (崇泉) announced last month that China and ASEAN members are expected to sign deals on trade and develop a dispute resolution mechanism this month. \nSince China and ASEAN began talks on a free trade accord in early 2002, and signed a framework agreement in November of that year aimed at phasing out tariffs, the government here has studied the impact of such a pact and how to respond to it. \nA study the Taiwan Institute of Economic Research (TIER) conducted for the Executive Yuan's Research, Development and Evaluation Commission on the subject forecast a less-than-optimistic future for Taiwan's economy after the China-ASEAN FTA comes into effect. \nAdopting the Global Trade Analysis Project model, the paper said that after signing the FTA and introducing zero tariffs, China and the ASEAN nations will enjoy increased GDP growth. \nChina's GDP will grow an added 0.57 percentage points and ASEAN countries' by an added 1 percentage point to 5.73 percentage points. Taiwan, barred from the trade zone, will suffer a decline in its GDP growth by 0.05 percentage points, which is equal to US$149 million, the study said. \nThe country's industries of apparel, leather, textiles, wood processing, paper and plastic and chemical products will be those that suffer most from a China-ASEAN FTA, the study found. \n"The WTO and APEC [Asia Pacific Economic Cooperation] are supposed to provide Taiwan fair market opportunities. However, the China-ASEAN FTA would put our products and industries at a disadvantageous position, because we lack an economic partnership with the [ASEAN] economies," said Jiang Kuang-shyr (江匡時), deputy executive secretary of the Bureau of Foreign Trade's FTA Task Force. \nAccording to the bureau, the Ministry of Economic Affairs (MOEA) was aware that signing FTAs would become an international trade trend as early as 1997. \nNevertheless, the government did not immediately start FTA talks with potential partners, because it feared the negotiations might disrupt the country's accession to the WTO. \nThe establishment of the China-ASEAN Free Trade Area may cause foreign investment in Taiwan to decline, said Wu Fu-cheng (吳福成), a TIER associate research fellow specializing in FTAs. \n"Most foreign investors will choose either China or ASEAN countries rather than Taiwan as their destination because of the zero tariffs," Wu said. \nMaterials and ingredients for processing can circulate in the trade zone more freely and with lower costs. Besides, as trade volume in the trade area grows, China and ASEAN nations' exports to the US, Taiwan's largest export market, apart from China and Hong Kong, will gain strength. \n"Facing competition from the China-ASEAN free trade zone, Taiwan's export to the US may shrink. We feel growing pressure from China and ASEAN in recent years," Wu said. \nTo avert the predicted impact, various government and private sectors have worked together seeking opportunities to have trade talks with Southeast Asian countries. \nLeading business associations like the Chinese National Federation of Industries (CNFI) and the Chinese National Association of Industry & Commerce (CNAIC) have been engaged in FTA talks with the country's major trade partners. \nGovernment officials reportedly brought up the FTA issue to Singapore Prime Minister Lee Hsien Loong (李顯龍) when he visited Taiwan in July. A delegation from the CNAIC was originally scheduled to meet up with Singaporean negotiators on the trade pact last month. \nThe meeting, however, was canceled after Minister of Foreign Affairs Mark Chen (陳唐山) rebuked Singaporean Foreign Minister George Yeo (楊榮文) in September for telling the UN that independence activities in Taiwan may lead to war with China. \nA survey CNFI conducted in August showed that industries desired an FTA with the US most. Southeast Asian countries are listed as the second most important partners for Taiwan to seek FTAs with. \n"Chemical, plastic and petroleum companies hope to sign an FTA with Indonesia as they believe the country, with a 220-million strong population, is a market with great potential. Petroleum companies particularly want to develop Indonesia's motor oil industry," the survey said. \nTextile factories told the survey that Hong Kong and ASEAN countries are their largest export markets. \n"China, Japan, South Korea and even India are all negotiating FTAs with ASEAN, which would have considerable impact on our textile industry. Taiwan's FTAs with countries in the region are matters of emergency," the textile companies said. \nSteel companies also urge the government to sign FTAs with ASEAN nations. Apart from China, ASEAN is the biggest export market for Taiwan's steel products. \n"We hope FTAs with ASEAN countries can boost our competitiveness," steel companies told the survey. \nPolitical problems loom large in Taiwan's quest to seek FTAs with Southeast Asian countries. \n"Political difficulties are huge. It is hard for Taiwan to reach an FTA with ASEAN before the body signs its FTA with China," a senior Ministry of Foreign Affairs (MOFA) official said. \nIn the case of ASEAN, it is more realistic for Taiwan to work toward trade pacts with individual member states separately, rather than aiming to reach a multilateral agreement with the regional body, the official said. \n"An FTA needs to be a government-to-government pact. We are also considering the possibility of signing CEPAs [Closer Economic Partnership Arrangement] with certain ASEAN members," the official said. \nJiang said Taiwan has tried to contact the ASEAN Secretariat regarding the FTA issue, but little progress has been made. \n"There were countries that are not our allies that were expressing their willingness to sign FTAs with us. However, these countries withdrew after China declared that its allies would bring themselves trouble if they sign FTAs with Taiwan," Jiang said. \nOwing to China's interference, these countries' ongoing FTA negotiations with Taiwan are mostly carried out by the private sector. \n"If the country's business sector decides a FTA with Taiwan is a must, they would urge their government to sign the pact," he said. \nThe National Security Council has been involved in efforts to overcome political hurdles to sign FTAs, officials said. \nIn 2001, the government decided the US, Japan, New Zealand and Singapore were the priority nations to sign FTAs with. Taiwan signed its first-ever FTA with its ally Panama last year. The FTA remains the only one Taiwan has signed. \nThe government is currently in FTA talks with its ally Nicaragua. Taiwan's other allies in Latin American have also expressed interest in starting FTA negotiations. \n"Although Panama and Nicaragua are not our major trade partners, the trade pacts can still bring significant economic gains," Jiang said. \n"Since the Taiwan-Panama FTA was implemented on Jan. 1, bilateral trade volume between the two sides has grown by 126 percent from January to September. Our exports to Panama have increased by 116 percent and Panama's exports to Taiwan have grown by 364 percent," Jiang added. \nAs the government actively holds FTA talks with its allies, no timetables are set for its FTA negotiations with non-allies. \n"Unless these non-allies are keen on reaching FTAs with us, we cannot set any timetable," Jiang said. \nUnable to reach any FTA with its major trading partners in the near future, Taiwan, however, has felt pressure not only from the China-ASEAN FTA but also from the Japan-Singapore FTA, which was signed in 2002. \nSome of Taiwan's exports to Japan can no longer compete with similar goods Singapore exports to Japan, because the Singaporean products sell at much lower prices, being exempt from tariffs and testing fees, Wu said. \nTo maintain Taiwan's competitiveness, the MOEA Industrial Development Bureau has been committed to inventing new products and hopes Taiwan may be able to offer products that other countries cannot manufacture, according to the Bureau of Foreign Trade. \n"Apart from removing the tariff barriers, the Japan-Singapore FTA strengthens both sides' cooperation in the financial sector and the sharing of technology. Stock market information is immediately available to both countries' investors," the researcher added. \nThe prospect of a FTA between Taiwan and Japan, said Wu, concerns China a great deal. \nGiven the existing US-Japan Defense Guidelines and a probable Taiwan-Japan FTA, China's future expansion in the Pacific will be seriously affected, Wu said. \nBeside economic and trade issues, an FTA can influence two countries' relationship in other ways, the researcher added. \n"An FTA can consolidate the emotional bond between peoples of the two countries and strengthen the two nations' cultural, political and diplomatic ties. The two nations, therefore, would tend to have the same position in the regional arena and international bodies such as the UN or the WTO," Wu said. \nAn FTA with Japan could have both positive and negative effects for Taiwan's economy, Wu added. Sluggish industries in Taiwan, such as car companies like China Motors Corp (中華汽車) and the Yulon Motor Co (裕隆汽車), may be stimulated by Toyota, one of the world's leading car manufacturers. \nThe car industry will have to seek improvement in order to compete with its Japanese counterparts, the researcher said. Meanwhile, Taiwan's tobacco and wine producers may find it hard to survive if the country signs an FTA with Japan, as consumers are likely to choose Japan's high-quality goods rather than domestic ones. \nJapan, despite repeated calls by top-ranking officials, including President Chen Shui-bian (陳水扁), has not been enthusiastic about signing an FTA with Taiwan, a MOFA official familiar with the negotiations said. \n"We depend on Japan more than it depends on us. Besides, after Japan and Taiwan both became members of the WTO, tariffs between both sides have been lowered," the official said. \n"What's more, Japan has to pay a huge political cost in signing an FTA with Taiwan. An FTA with Japan is unlikely to be achieved shortly, but it is still probable in the future," the official added. \nThe official, nonetheless, said he is not too pessimistic, despite the tremendous difficulties in signing FTAs. For example, the ASEAN-China FTA is not necessarily beneficial for ASEAN members, the official added. \nYen Ching-chang (顏慶章), the country's top representative to the WTO, has repeatedly questioned the necessity of Taiwan rushing to sign FTAs, suggesting that the WTO itself can provide sufficient space for bilateral or multilateral trade talks. \nMultilateral trade pacts under global trade bodies, if achievable, may help ease Taiwan's predicament of being largely excluded from the global trend of signing FTAs, according to Ho Chen-sheng (何振生), a TIER researcher. \nIn a paper presented at the APEC Study Center's Consortium Meeting in Chile in May, Ho said one of the challenges the body faces is that FTAs have proliferated in the APEC region. \nThe phenomenon "could indicate that APEC members are not satisfied with the current pace of trade liberalization and economic cooperation," Ho said in his paper discussing the possibility of an APEC FTA. \n"If an APEC FTA becomes a reality, trade liberalization would certainly reach a higher level than what can be reached at present with the WTO's multilateral trade liberalization," the researcher said.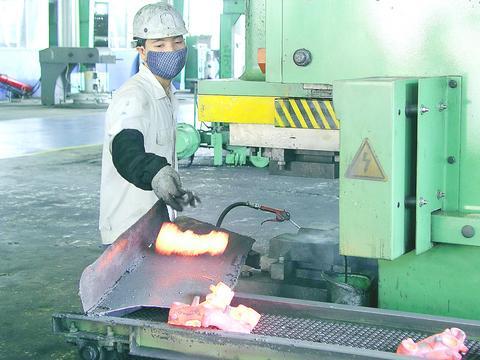 Some high risk jobs like press-forging, above, are now short of laborers in Taiwan. Many Taiwanese businessmen are considering hiring foreign laborers, or otherwise they may have to consider moving their factories to countries in Southeast Asia.
TAIPEI TIMES FILE PHOTO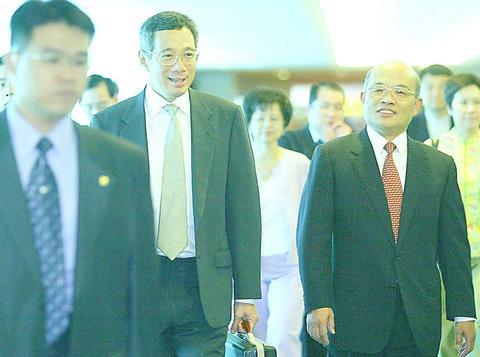 Former Singaporean Deputy Prime Minister Lee Hsien Loong, center, concludes his Taiwan visit this July accompanied by Presidential Office Secretary-General Su Tseng-chang, right, to see him off at CKS International Airport.
TAIPEI TIMES FILE PHOTO
Comments will be moderated. Keep comments relevant to the article. Remarks containing abusive and obscene language, personal attacks of any kind or promotion will be removed and the user banned. Final decision will be at the discretion of the Taipei Times.