Japanese politician with roots in Taiwan latest media darling
CROSSING BOUNDARIES A former reporter who has become a member of the Japanese Diet's House of Councilors is at the center of a deluge of coverage
Recent events seem to suggest that the line between entertainment and politics is easy to cross. In the US, Hollywood action hero Arnold Schwarzenegger took the California governorship. In Taiwan, former actress May Chin (高金素梅) now serves as a legislator, while television star and singer Jacky Wu (吳宗憲) is expected to run for office. And in Japan, newly-elected Councilor Ren Hou is the celebrity-turned-politician of the moment.
However, in Taiwan, Ren Hou's claim to fame is not her status as 1988's "Clarion Girl," an award generally seen as a springboard to other opportunities in the entertainment industry.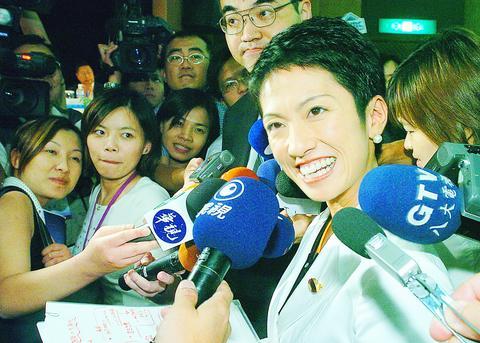 Ren Hou, a Taiwanese-Japanese member of Japan's Diet who was elected to represent a Tokyo constituency last month, was interviewed yesterday as she attended the Democratic Pacific Assembly conference at Taipei's Grand Hotel.
PHOTO: WANG MIN-WEI, TAIPEI TIMES
Nor is she known for her work as an information broadcast personality. In Taiwan, Ren Hou is known as the first ethnic Taiwanese to be elected to Japan's upper legislative house, the House of Councilors.
Ren Hou was born to a Taiwanese father and Japanese mother, and is a naturalized Japanese citizen, but she has been called Taiwan's native daughter nevertheless. She is known as Lien Fang (蓮舫) to most people in Taiwan, a shortened version of her Mandarin Chinese name Hsieh Lien-fang (謝蓮舫).
In Japan's legislative elections last month, the 36-year-old Ren Hou, a member of Japan's primary opposition party, the Democratic Party of Japan, took away the third highest number of votes in the hotly contested Tokyo district, beating out eight other candidates.
It is an indication of Ren Hou's status in Taiwan that she was ushered to sit next to Vice President Annette Lu (呂秀蓮) when she arrived yesterday at the Democratic Pacific Assembly. Lu had earlier expressed her anticipation to meet with Ren Hou.
Having worked as a reporter four years ago, Ren Hou traveled to Taiwan previously to cover President Chen Shui-bian (陳水扁) on the campaign trail leading up to the previous presidential elections and expressed yesterday her respect for Chen. Ren Hou will be seeing Chen again this year, but in a different capacity. Ren Hou is scheduled to meet the president today as a guest.
Asked what she plans to speak with the president about during the meeting, she responded that they would most likely touch upon issues of diplomacy and possibilities for future interaction between Taiwan and Japan.
"Japanese diplomacy is strange; it holds that Taiwan is not a country. However, my father is a native of Taiwan. Why isn't Taiwan a country?" Ren Hou said.
"Her father was born here and she is Japanese now. However, she feels that Taiwan is a complete country. What she said was very clear, even though she sometimes has an accent," National Policy Advisor Fan Jen-fei (方仁惠) said.
"Japan is too polite when dealing with China, taking a low profile. My father is Taiwanese and my mother Japanese, and I hope to play a role on behalf of Taiwan. The vice president [Lu] called on Japanese support. Japan will be the first to support Taiwan," Ren Hou said, while addressing the Democratic Pacific Assembly yesterday.
Ren Hou also told reporters yesterday that she brought her children, fraternal twins, with her to Taiwan, and she plans to show them her father's home in Changhua.
With crowds of reporters and government officials fighting to speak with Ren Hou yesterday as she got up from her seat next to the vice president, Ren Hou confessed that she was a bit nervous being back in Taiwan.
"Because I am now a councilor in Japan's Diet now, my status is a bit different. Thus, I am a bit nervous," Ren Hou confessed.
Comments will be moderated. Keep comments relevant to the article. Remarks containing abusive and obscene language, personal attacks of any kind or promotion will be removed and the user banned. Final decision will be at the discretion of the Taipei Times.