Taiwan no stranger to foreign aid work
TAIWAN'S `MISSIONARIES' Since the 1960s, aid workers have been rolling up their sleeves to help the needy in those countries diplomatically allied with Taiwan
Santiago Huang (黃天行) loved listening to his friends' stories about working abroad when he was an employee in a Kaohsiung agriculture center more than two decades ago.
So in 1983, Huang, then 28, made a bold decision to join Taiwan's technical mission in Nicaragua, a country struggling with civil war. Since the 1960s, Taiwan has sent technical missions to help its diplomatic allies develop their agricultural industries.
"I was single at that time and did not have a family burden. I decided to work abroad out of curiosity," Huang said.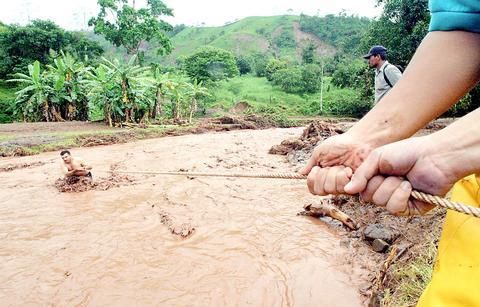 Nicaraguan peasants try to help an inhabitant of Musun to cross the river Bilanpi, whose stream is overwhelmed due to the heavy rains in this June file photo. Taiwan has established aid missions in several developing countries to help in natural disasters not unlike this one.
PHOTO: EPA
Huang was excited to go to Nicaragua even though it was a poor country. Two years later, Nicaragua cut diplomatic ties with Taiwan and the technical mission left. Huang was deployed to help in another technical mission in Ecuador, where his two children were born.
His real challenge came in 1999. That year, Hurricane Mitch destroyed farms owned by Taiwan's technical mission in Honduras. The hurricane had devastated most Central American nations.
"In Honduras, agriculture returned to what it was like 50 years ago," Huang said.
The Ministry of Foreign Affairs' International Cooperation and Development Fund (ICDF) -- the body in charge of Taiwan's overseas technical missions -- appointed Huang leader of the Honduras mission after the hurricane.
Huang started rebuilding the farms from ground zero. Life in Honduras, listed by the UN as one of the world's poorest countries, has not been safe. Produce from the mission's plantation was frequently stolen. One day, several armed people stormed into the mission's pig farm and pointed their guns at two mission members, demanding money.
"One member managed to escape and the other hid himself behind our national flag," Huang said.
"The guy hiding behind the flag later told me if he was shot, at least he would have died with the national flag covering his body," he added.
Working with Taiwan's technical missions also means Huang moves frequently. "My son went to five different schools in his first five elementary school years," he said.
His children now study in a bilingual school in Honduras, which teaches subjects in English and Spanish.
"At home, my wife and I talk to our kids in Mandarin and Taiwanese," Huang said, eyeing photos of his children he keeps in his wallet.
As leader of the mission, Huang felt constant pressure from China. "[PRC] officials do everything they can to win over our allies," he said.
Despite the hardships he has experienced in his mission work, Huang loves his job.
"When I was a young man working in Taiwan, I busied myself all day long to earn a living ? I felt like getting lost in the sea," he said.
"But in my current job, I feel I really can help people. When you help someone, you feel that your life and your job mean something. I find joy in my job," he said.
After Hurricane Mitch, Huang began teaching local people to grow eggplant and bitter gourd -- vegetables enjoyed by Asian consumers in North America. "When they make money, they can buy cars and other things," Huang said.
Robert Pan (潘生才), leader of Taiwan's technical mission in the Solomon Islands since 2002, also began the mission's farm work from scratch. Farms there were heavily damaged during the Solomon Islands' ethnic conflict in 2000, which forced the mission to temporarily leave the nation.
Pan, a duck expert, was interested in working in third world countries when he was young. He was sent to Panama to help develop a duck-breeding project when he was 28.
He stayed in Panama for seven years. In 1998, the ICDF deployed him to Nauru. The duck-breeding project did so well the mission decided to let local people run it.
"I was looking for Nauru on the map and couldn't find it. It took me a long time to figure out where it is," Pan said.
Pan brought his wife and two young children, aged two and seven months, with him to Nauru.
"In the third week after our arrival, I got hemorrhagic dengue fever. I had fever at night and felt cold and tired," he said.
Despite his illness, Pan had no luck finding the appropriate medicine or a good doctor in Nauru. He eventually went to see a Chinese doctor on the island. After getting a blood test, the doctor confirmed Pan had hemorrhagic dengue fever.
"He said I had to stop working and gave me some pills. I stayed at home for more than a week and used a mosquito net when I slept. I was afraid I would infect my kids," he said.
"At one stage, my blood capillaries broke and my skin turned red," he recalled.
Pan eventually recovered, and later began working on the mission's chicken farm, where he said swarms of mosquitoes would attack him. He had to wear long-sleeve shirts to protect himself from bites.
"It was really hot. In the daytime the temperature often rose to 42?C," he said. "My wife and kids stayed indoors with the air conditioner working 24 hours a day," he added.
Pan and his family returned to Taiwan in 1999. Two years ago, the ICDF wanted Pan to take over the technical mission in Solomon Islands because the mission leader at that time was old and wanted to leave the country, which had degenerated into virtual anarchy after fierce ethnic conflict.
Pan accepted the post. After his arrival, he set up fences to protect mission farms where he grew rice. He is now starting a pig-breeding project in the Solomon Islands.
Jeffery Chen (陳志福), a dentist in the Tri-Service General Hospital, was recruited by the ICDF to work in a hospital in Guinea Bissau in 1991. Chen learned to speak Portuguese and a local dialect in Guinea Bissau. He led a medical team to the African country, where he stayed until it broke diplomatic ties with Taiwan in 1997.
Shortly after the country severed ties with Taiwan, Chen was ordered to lead a five-member medical team to establish a medical mission in Sao Tome and Principe. Chen established a clinic in the Western African islands and went deep into the jungle to set up 40 medical stations, where he practiced medicine and taught local villagers basic medical knowledge.
"People in Taiwan tend to think Africa is a terrible place. It is true life there is not as convenient as in Taiwan, but you have more time to reflect on life," Chen said.
"I thought a lot about what people really needed. People feel content if they have clothes to wear and food to eat. This is enough," he said.
Chen loves Africa so much that he brought his son there when he was only two months old. His son stayed with him in Africa for 8 years.
"It was really amazing that my son and me never fell sick, while most of my colleagues suffered various diseases. Some of them even caught malaria twice a year," he said.
Chen regarded his health as a gift from God and felt encouraged by his luck. "God is too kind to me ? I want to give while I am still able to give," he said.
"My patients' gratitude for me is my great reward," he added.
Chen befriended many local politicians during his, as many of them were his patients.
Last November, Chen returned to Guinea Bissau to see his old friends.
As he arrived at the small city he used to call home, he said almost the entire city came out to welcome him.
"One of them told me they felt part of the country's soul was lost after our medical team left," he said.
Chen is now back in Taiwan and is learning to speak French to prepare for a possible deployment to French-speaking Chad.
Comments will be moderated. Keep comments relevant to the article. Remarks containing abusive and obscene language, personal attacks of any kind or promotion will be removed and the user banned. Final decision will be at the discretion of the Taipei Times.