Forget Lien Chan: the KMT's future is Ma Ying-jeou versus Wang Jin-pyng
NEW GENERATION Analysts say that it's time for KMT Chairman Lien Chan to resign, but his would-be successors both have their own political baggage to worry about
With another pan-blue rally degenerating into violent clashes, the Chinese Nationalist Party (KMT), seemingly confused about its future direction, can no longer put off the thorny question from which it has tried to hide: Who can be a leader capable of opening the KMT up to become a democratic party and facilitating a comeback in 2008? \nTaipei Mayor Ma Ying-jeou (馬英九) and Legislative Speaker Wang Jin-pyng (王金平) are KMT vice chairmen and are the two most promising candidates to take up positions of leadership and vie for the party's nomination for president in the 2008 election. \nAlthough KMT Chairman Lien Chan (連戰) has refused to concede defeat to President Chen Shui-bian (陳水扁) in the bitterly contested March 20 poll, and has used delaying tactics such as calling mass protests to shirk responsibility for the KMT's defeat, it is time -- pending the result of the recount -- for Lien to step down as party chairman and hand power to the next generation. \nThat step is based on the assumption that Lien can practice what he preached to former president and KMT chairman Lee Teng-hui (李登輝): Take responsibility as party chairman for Lien's defeat in the 2000 election. \nLien's resignation as chairman is an important step in the KMT's reform and revival, said Chin Heng-wei (金恆煒), a political commentator and editor-in-chief of Contemporary Monthly magazine. \n"Lien understands that he can't get around the inevitable and that he has to hand power to Ma or Wang -- even though he is reluctant to do so," Chin said. \nAlthough Ma was the first to say the party should "consolidate the leadership of the KMT" at its first Central Standing Committee after the election, Lien seemed dissatisfied with Ma -- as reflected in the trouble the mayor is having dealing with the pan-blue camp's protests, Chin said. \n"Lien did not even glance at Ma during the [meeting] when he made the suggestion," Chin said. \nMeanwhile, Ma's conflict of interest in dealing with the protests in Taipei City also exposed the problems of his political philosophy: He tries to please everyone and not to offend anyone. \n"Ma, who served as the pan-blue camp's national campaign manager and Taipei City Mayor, pleased nobody this time," Chin said. "His indecisive attitude and buck-passing in dealing with the rallies has vexed many middle-class people." \nAlthough Ma, who at 54 is considered the leader of the middle generation of the KMT, has huge media charisma and is praised for his image of integrity, criticism of how he handled the pan-blue protests would be crucial in determining whether he could become party chairman, said Hsu Yung-ming (徐永明), an assistant research fellow at the Institute of Social Sciences of the Academia Sinica. \n"Ma needs to understand that he can't just take care of his supporters who gathered on the square in front of the presidential office, while neglecting the TV audience who have been judging his handling of the pan-blue rallies," Hsu said. \n"Ma has been distant from the KMT's policymaking core because his advice was never adopted by Lien and Soong," Hsu said. \nPeople First Party (PFP) Chairman James Soong (宋楚瑜) has also caused Ma considerable trouble, allowing a PFP lawmaker to blast Ma for ordering police to disperse the protesters on Sunday morning, an act that reveals Soong's enmity toward Ma, Chin said. \nMa also faces the threat of a recall drive by DPP city councilors because of his vacillation in handling the pan-blue rallies. \nCompared with Ma, who has few friends in his party, Wang, 63, stands at the helm of the pro-localization faction in the KMT and seems to enjoy more political advantages than Ma, boasting more diplomatic acumen and greater access to party resources. \nWith the rise of Taiwanese identity and forces of localization, Wang seems to lay claim to a wider range of weapons to defeat a Ma challenge. But Wang, who tries to curry favor with both political camps, has also hampered his drive for the KMT chairmanship, said Chen I-shen (陳儀深), a research fellow at the Institute of Modern History at Academia Sinica, and also deputy chairman of the Northern Taiwan Society (台灣北社). \nChen I-shen said the KMT's new political line would determine its new leader. \n"The KMT has to make up its mind to revise its party program and change its name to the Taiwanese Nationalist Party. Otherwise, no matter if it's Wang or Ma who takes over, the KMT will not be able to survive," Chen I-shen said. \nJudging from the performance of KMT lawmakers after the election, it was doubtful if there was a pro-localization faction in existence in the KMT, he said. \n"Wang kept such a low profile during the protests held by the pan-blue camp. This may show that the KMT's pro-localization faction was suppressed since Lien took over as KMT chairman," he said. \nOnly when the KMT can confirm that its new political line is pro-localization will Wang be able to carve out a new power base and consolidate his candidacy for the 2008 presidential election, Chen I-shen added. \nHowever, Chin warned that Wang has lost Lee Teng-hui's support because Wang was not responsive to Lee's request that he cooperate with the pan-green camp.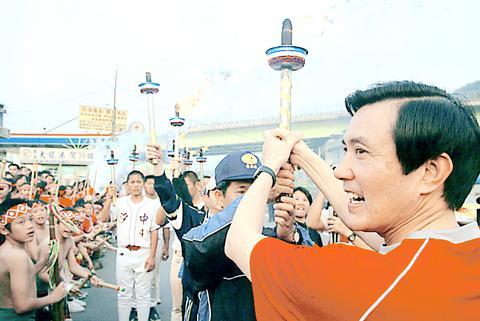 Taipei Mayor Ma Ying-jeou raises the torch to pose for cameras as he receives it from a sportsman. The torch passed from Taipei County to Taipei City is to promote the upcoming nationwide Junior High School Sport Contest held in Hualien.
PHOTO: CNA
Comments will be moderated. Keep comments relevant to the article. Remarks containing abusive and obscene language, personal attacks of any kind or promotion will be removed and the user banned. Final decision will be at the discretion of the Taipei Times.