Former envoy seeks to convey message of peace
SERVICE TO THE PEOPLE Retired ambassador Raymond Tai said he was happy to cap off his 36-year career of public service by serving as the envoy to the Vatican
Raymond Tai (戴瑞明), former ambassador to the Holy See, shares a common hope with St. Francis of Assisi -- to be the Lord's channel of peace.
Before retiring from a 36-year career of public service last year, Tai, 70, served in various government positions, including presidential spokesman and representative to the UK.
He spent the last seven years of his diplomatic career in Vatican.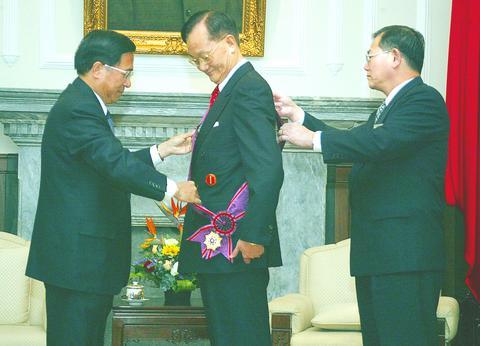 Former ambassador to the Holy See Raymond Tai, center, is seen receiving the Order of the Brilliant Star from President Chen Shui-bian, left, at the Presidential Office in this file photo from Feb. 19. Tai was awarded the honor in recognition of his service to the country.
PHOTO: CNA
Taiwan's ties with the Holy See, its only diplomatic ally in Europe, have not been smooth. The Vatican recalled its last ambassador to Taiwan in 1980 and never sent one to fill the place, instead sending a succession of papal nuncios.
Therefore, first lady Wu Shu-chen's (吳淑珍) handshake with Pope John Paul II during a public mass in Rome last July was hailed as a significant diplomatic breakthrough for the nation.
Tai, the chief architect of that historical meeting, holds a radically different view from that of the government regarding how the Vatican might handle its ties with China.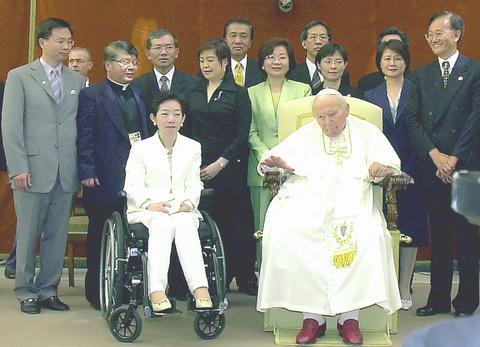 First lady Wu Shu-chen poses with Pope John Paul II in this file photo taken at the Pope's summer residence on Lake Gandolfo during her visit to Italy last July. Former ambassador Raymond Tai is on the far right.
PHOTO: CHU PEI-HSIUNG, TAIPEI TIMES
The former envoy said he did not oppose the Holy See's dialogues with Beijing because the talks would "promote China's religious freedom."
"Tai's remarks sound bold and abrupt for those who believe Taiwan and China stand as hostile rivals," said Cardinal Paul Shan (單國璽).
Shan, who hosted a prayer service during Fu Jen Catholic University's ceremony last Friday to confer an honorary doctor of law on Tai, called the former ambassador "the messenger of peace."
"You are not afraid to express your thoughts. It is your belief that both sides of the Taiwan Strait shall make peace, for cross-strait peace is the way to bring greatest benefits for Chinese and other people in the world," Shan told Tai in the ceremony.
Pursuing peace was Tai's sincere hope. The former envoy, who once said he hated war, did not express his love for peace only to "hypocritically follow the Holy See's diplomatic principles," Shan said.
When working in the Vatican, the first thing Tai did every day was read the newspapers.
"He was looking for opportunities to help those in need," Shan said.
Tai has given Taiwan's donations to various countries through the Holy See and built good relationships with non-allies such as Algeria, Egypt and Turkey, according to Shan.
Proper explanations of cross-strait relations could reduce non-allies' concerns about making friends with Taiwanese diplomats, Tai said.
"Love and peace are the Pope's greatest expectation for people on both sides of the Taiwan Strait," Tai said. "I am so happy the last job in my public-service career was to be the ambassador to the Holy See."
"It was the greatest joy in my life to be able to work for churches in Rome and Taiwan during my term in Vatican. The Holy See's diplomacy is absolutely different from that of other countries in the world," Tai said.
The Vatican has no worldly aims to pursue. As the pope is the leader of the world's Catholics, what he cares about is Catholic churches and their congregations around the world, Tai said.
The purpose of the Vatican's building diplomatic ties with other countries is to protect and promote local churches' benefits and seek peace in the international community through dialogues, he said.
Tai said he could not agree with a Taiwanese proverb that says: "Only fighters can be the winners" (要拼才會贏).
Taiwan is too small a country, so "With whom can we fight? We will never win," he said.
"The Holy See teaches us to love our neighbors. We shall seek peace among nations; so shall we do with people," he said.
"The highest level of diplomacy is to end wars and seek peace. As a diplomat, I have been devoted to my job, which is to protect and promote the benefits of the Republic of China," Tai said.
Tai was a hard-working man, according to a former colleague in the Government Information Office (GIO), who said Tai's subordinates found him an extremely demanding boss.
However, although describing Tai as a man hard to please, his colleague showed admiration for his serious attitude towards his work.
Paul Koh (葛保羅), secretary to Straits Exchange Foundation Chairman Koo Chen-fu (辜振甫), said he has hardly seen a government official work so hard as Tai.
"He was so serious about his job. When he signed on official documents, he would note down the time he signed his name," Koh said, recalling that one time Tai jotted down "2:30am" next to his signature.
In his school years, Tai underwent very difficult circumstances.
"The Lord refined him through the hard situations and developed his ability to serve others," said Archbishop Ti Kang (狄剛).
Ti said before Tai was sent to Vatican, he had little knowledge of the Holy See or Taiwan's Catholic churches.
"However, he was able to get deep understanding of churches in a very short period of time by visiting Catholic leaders. He knew not only the outward church rituals but also the inner spirit of the religion," Ti said.
"I believe all people who know Tai will agree that he is very diligent," Ti said.
After the government accepted Tai's resignation last year, he wrote a letter to the Pope asking him to declare St. Francis the patron saint of diplomats. In St. Francis' famous prayer, he said: "Lord, make me a channel of thy peace, that where there is hatred, I may bring love."
Pope John Paul replied through an agent to Tai's letter, saying he hoped the envoy could be a peace promoter and peacemaker after he returned home.
Comments will be moderated. Keep comments relevant to the article. Remarks containing abusive and obscene language, personal attacks of any kind or promotion will be removed and the user banned. Final decision will be at the discretion of the Taipei Times.