Treatment of homosexual men caught at party outrages gay rights activists
Television footage of nearly 100 homosexual men dressed in their underpants and hiding their faces after a police raid has triggered a storm of controversy over the rights of gay people with HIV. \nThe saga has outraged gay rights and AIDS awareness groups who have criticized the media's role and say it shows lingering anti-gay sentiment in Taiwan, which is working towards becoming the first country in Asia to legalize gay marriages. \nThe pictures were first broadcast by major news networks last week after police said they showed a weekend raid on a drug and sex orgy. \nThey were rebroadcast again and again after blood tests ordered by authorities found that 28 of the 92 men had HIV, which causes AIDS. \nThen neighbors of the men were shown saying they were so scared of being infected with HIV that they had disinfected their homes, and police officers who had questioned the men said they had cleaned their seats immediately afterwards. \nThe episode shows that homosexuality is stigmatized in Taiwan as synonymous with AIDS, Gender-Sexuality Rights Association of Taiwan spokeswoman Wang Ping (王蘋) said. \nIronically the discovery in the raid of condoms, an important protection against AIDS, has become evidence of their "crime" in this case, Wang said. \nHundreds of used condoms were found, but health authorities have insisted the men were engaging in "dangerous sexual behavior" under the influence of drugs. \nThey have said they would recommend the prosecution of 14 of the HIV-positive men for knowingly spreading the disease to others. \nPeople convicted of this offence can be jailed for up to seven years under an anti-AIDS law which also empowers authorities to order blood tests on high-risk groups, including the sexual partners of HIV carriers and drug users. \n"While paying concern to the rights of HIV/AIDS patients, we also want to urge people to cherish their own lives and respect others,'" said Department of Health Director Chen Chien-jen (陳建仁). \nBut Wang said: "The case has caused panic in local society through the media coverage. But the government has failed to give the public the correct information on the disease, which does not transmit through mere physical contacts." \nTaiwan has a low rate of HIV/AIDS infection compared with other countries in the Asia-Pacific region, with just over 5,000 people infected since 1984 out of a population of 23 million, according to the Center for Disease Control (CDC). \nIt says 911 people have died from AIDS. \nActivists say the implementation of the anti-AIDS law could violate the rights of homosexuals and HIV patients, as shown by the weekend raid, and discourage people from testing themselves for HIV/AIDS. \nThis was shown to be true when the Department of Health breached the privacy of the men who tested positive for HIV by leaking their personal information to police, said Ivory Lin (林宜慧), secretary general of a group called Persons with HIV/AIDS Rights Advocacy Association of Taiwan. \n"A gay friend e-mailed me today saying he had given up on a plan to go for a blood test after the incident," Lin said. \n"The men should at least have been allowed to put on their clothes before police exposed them to cameras," Lin said. \nActivists said that while the incident may have alerted the public to the large number of HIV carriers among homosexuals, it did not tell the whole story -- that heterosexual couples are not any safer from infection than their gay counterparts. \nOf Taiwan's 5,221 HIV/AIDS patients, 2,080 were infected through heterosexual contact, 1,896 of them homosexual and 622 bisexual, according to CDC data. \n"People almost forgot the heterosexual community would expose themselves to the same risk unless practising safe-sex," said Wu Hsu-liang (巫緒樑), a spokesman for the Taiwan Tongzhi Hotline Association that promotes gay rights. \nThe incident perhaps shows that the majority of Taiwanese are not ready to fully accept homosexuals, even as the cabinet is drafting a bill which will allow gay marriages and grant gay couples the right to adopt children, said Wu. \n"The way the news was handled was typical of a discriminatory, voyeuristic mentality, designed to send viewers the message, `Yuck! it's disgusting. Everybody come have a look!'" he said.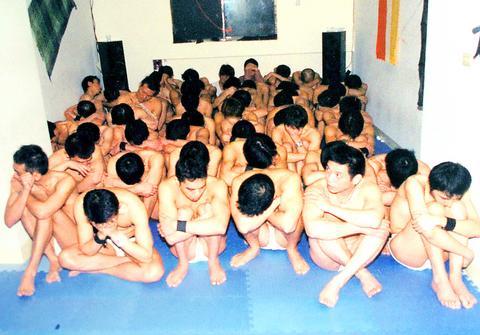 At an apartment in Taipei City, 93 men sit on the floor following a raid by police last week.
PHOTO: WANG SHU-HUNG, TAIPEI TIMES
Comments will be moderated. Keep comments relevant to the article. Remarks containing abusive and obscene language, personal attacks of any kind or promotion will be removed and the user banned. Final decision will be at the discretion of the Taipei Times.