Teenager makes first appearance since operation
A heavily bandaged African teenager made his first public appearance yesterday since undergoing a double surgery to remove a large tumor from his face. \nFifteen-year-old Vincent Kabore, who suffers from Von Reckling-hausen's disease, also known as "elephant-man syndrome," appeared alongside his father at the launch of a bilingual Web site for Taiwan's non-governmental organizations in Taipei. \nWith much of his face wrapped in a mask, Kabore, nicknamed "Ah Fu, the African elephant man," expressed through a translator his thanks to the Taiwanese medical team that removed the tumor. \nReceiving a football from Minister of Foreign Minister Eugene Chien (簡又新) as a gift, the boy from Burkina Faso said: "I feel very well and relieved. I am very grateful to the medical group and all those that have taken care of me. I am very happy. I have a lot of friends here. Everybody is very friendly to me. I am being very well treated in the hospital." \nAmidou Toure, deputy counselor of the Embassy of Burkina Faso in Taipei, said Kabore feels at home in Taiwan, although he does miss his native country sometimes. \nChen Yu-ray (陳昱瑞), a senior doctor at the Department of Plastic and Reconstructive Surgery of Chang Gung Memorial Hospital, where Kabore received treatment, said the boy's mask will be removed for a short time next week so that he can see his new face. \n"But he will have to wear the mask for at least another six months. The tumor has caused him to go blind in his right eye," said Chen, who participated in the two surgeries to remove Kabore's tumor. Each surgery lasted 13 hours. \nKabore was scheduled to check out of the hospital next weekend and return to Burkina Faso to celebrate New Year with his family, Chen said. \nChen added that Kabore would not need to return to Taiwan for further treatment because the Taiwanese medical team serving in Burkina Faso had been taught how to do any follow-up treatment. \nKabore was born with a normal face, but a pigmented spot above his right eye began to magnify and eventually grew to cover half of his face, according to the Taiwanese man who discovered him. \nThe man, who prefers to remain anonymous and is known only by the name "Luc," served in an alternative diplomatic-service program in Burkina Faso and saw Kabore for the first time in a local hospital. \n"He [Kabore] sat on the floor, said nothing and was without any facial expression, as if he was all by himself. I was shocked and kept watching him, looking at his unimaginable face," Luc said. \nKabore once moved with his parents to Ivory Coast and enrolled in an elementary school. But his tumor had grown so big that he dropped out of the school because his classmates had laughed at him, Luc said. \nKabore arrived at Taiwan for treatment early last month. The main sponsors of his medical trip include the Ministry of Foreign Affairs, the Noordhoff Craniofacial Foundation, Accton Technology Corp and EVA Airways.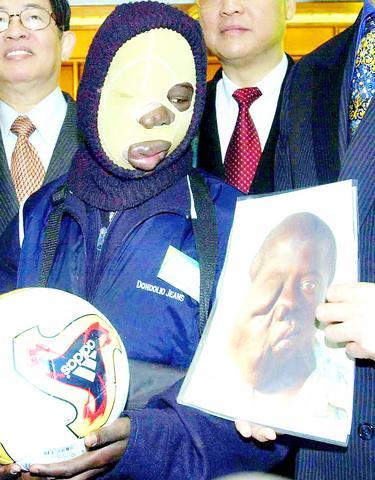 Vincent Kabore, appearing in public for the first time since surgery to remove a tumor from his face, was presented with a football yesterday by the organizers of an exhibition presenting bilingual Taiwanese Web sites. The exhibition was held in an exhibition halls in Taipei World Trade Center.
PHOTO: CHIANG YING-YING, TAIPEI TIMES
Comments will be moderated. Keep comments relevant to the article. Remarks containing abusive and obscene language, personal attacks of any kind or promotion will be removed and the user banned. Final decision will be at the discretion of the Taipei Times.