Hualien Election: You vows to keep up the fight
NEVER SURRENDER The DPP candidate says that he will always remain committed to Hualien, but some believe he was sunk by a strategy that couldn't win
DPP candidate You Ying-lung (游盈隆) yesterday had to face his third straight loss in Hualien County commissioner elections \nWhen conceding defeat to KMT-PFP alliance candidate Hsieh Shen-shan (謝深山), You said he remained determined that he would never forsake his love for Hualien and would continue working to give the county a better future. \nAs well as the commissioner elections, You also lost in a bid to become a legislator in the county. \n"I have run in elections for a fourth time in Hualien, but my lofty aspirations were unrealized. However, I never regret that I've fought this battle and I will keep working for Hualien forever," You said. \nAnalyzing his defeat, You said, "The only thing I regret is that we failed to win the support of Hualien residents in our appeals to establish better public policy for Hualien." \n"What I feel most sorry about is that our campaign ... was unable to surmount the barrier of ideological differences," You said. \nYou yesterday reassured his supporters that he would never abandon his aspirations to serve Hualien and that his future career would be dedicated to the county. \n"Former British prime minister Winston Churchill once said, `As the tavern closes, I would leave,' but this is not the case for me. I will never stop trying for Hualien," You said. \nDPP Legislator Lu Po-chi (盧博基), director-general of You's campaign team, yesterday denounced what he said were the vote-buying practices of the KMT. \n"The DPP's White Paper for Hualien's development couldn't beat the vote-buying attempts aimed at Hualien people," Lu said. \nDPP Secretary-General Chang Chun-hsiung (張俊雄) yesterday reiterated that this election was never a precursor to the next presidential election and condemned the opposition parties for undermining the independence of the local election by portraying it as a preliminary skirmish in next year's presidential poll. \nCrowds of supporters yesterday gathered at You's campaign office, some weeping and others shouting words of encouragement for You. \nWith tears in eyes, a supporter of You said, "We really want someone young, capable and well-educated to lead Hualien for a change. All the KMT could offer was a bunch of flunkies." \nA poster prepared in advance at You's campaign office to congratulate him on his victory was quietly put away after the count showed that You had lost the race. \nAnalyzing You's defeat, his local supporters suggested that the campaign strategies of the party's leadership did not fit the real situation in the county. \n"Apparently the strategy for Hsieh to urge voters to vote against independent candidate Wu Kuo-tung worked, which means we didn't do enough to prevent this situation from happening," a You campaign worker said yesterday. \n"To prevent a `dump Wu and save Hsieh' effect from happening, we should have avoided attacking Wu. However, the early stage of our propaganda attacked Wu, which proved to have the opposite effect, as some people gave up supporting the DPP," the worker, who wanted to remain anonymous, said. \nThe unprecedented intense electoral atmosphere and the three-way tussle between the main candidates in the election left many Hualien people with mixed feelings. \nA Hualien-based lawyer, Cheng Tai-yuan (曾泰源), said the election itself was good for Hualien in terms of boosting the county's profile as well as revitalizing its key tourist industry, which had suffered as a result of the SARS outbreak in April and May. \n"The attention from the media and big-gun politicians nationwide has made Hualien an extremely popular place after SARS damaged Hualien's tourism business. Campaigners from outside Hualien also contributed to the rebound in the tourism industry," Tseng said. \nTseng also denied media reports that Hualien residents were lukewarm about the vote. \n"It's not necessarily true when observers said that outsiders were more zealous about the election than locals. The close attention from across the country made Hualien people realize it's the moment of truth for Hualien people to ask for a better future," Tseng said. \n"As the by-election brought an overwhelming number of party officials to Hualien, officials could see clearly what Hualien really needs to develop," said Tseng, who has lived in Hualien for 10 years. "The campaign process was a comprehensive examination of Hualien's developments. \n"No matter who won the election, I believe it's the biggest turning point for Hualien in the past 50 years," the lawyer said. \nCommenting on Hsieh's victory last night, Tseng said "It's an omen for the DPP to pay attention to the upcoming presidential election." \nHowever, some people regarded the excessive attention on the by-election as unnecessary and fake. They suggested the heavyweight politicians who made frequent visits to the county were not sincere in their concern for Hualien. \n"On Friday night, one day before Saturday's poll, the streets were packed to the rafters in downtown Hualien. But on Saturday morning, it was deadly quiet. All these politicians who claimed to care about Hualien left. Is this what they meant by truly caring for Hualien?" said Yang Shou-chuan (楊守全), publisher of The East Coast Commentary (東海岸評論).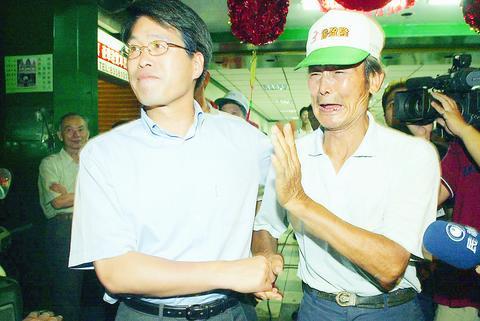 A saddened supporter shakes hands with You Ying-lung, left, the DPP's losing candidate in the Hualien County commissioner by-election.
PHOTO: CHIANG YING-YING, TAIPEI TIMES
Comments will be moderated. Keep comments relevant to the article. Remarks containing abusive and obscene language, personal attacks of any kind or promotion will be removed and the user banned. Final decision will be at the discretion of the Taipei Times.