Big guns keep firing in Hualien
BY-ELECTION Taipei Mayor Ma Ying-jeou and Premier Yu Shyi-kun were there today, and tomorrow the heads of the KMT and PFP will be stumping for their candidate
Candidates in the Hualien County commissioner by-election yesterday courted the vote of Aborigines as heavyweight politicians continued to stream down from Taipei. \nIn a bid to attract support from younger voters, Taipei Mayor Ma Ying-jeou (馬英九) traveled to Hualien to join Hsieh Shen-shan (謝深山), who is representing the KMT and PFP, in a street procession. \nLast week, about 60 supporters of Wu Kuo-tung (吳國棟), a KMT renegade who is running an an independent candidate, went to Taipei City to dissuade Ma from coming to Hualien and stump for Hsieh. \nThe group said that they "want no Taipei people intervening the Hualien voters' decision." \nMa nevertheless turned up in the county yesterday and went with Hsieh and his supporters through Meilun, an industrial region in the northern suburbs of Hualien City. \nMa then joined Hsieh at a rally in Nanpin Park, where an Aboriginal festival was taking place, before wrapping up the campaign activities with a gathering held in front of Hsieh's campaign headquarters. \nMa's visit comes a week after PFP Vice Chairman Chang Chao-hsiung (張昭雄) went to the county in a bid to reinforce Hsieh's image as a true pan-blue representative. \nToday, Hsieh will campaign with PFP Chairman James Soong (宋楚瑜) and KMT Chairman Lien Chan (連戰). \nDPP candidate You Ying-lung (游盈隆) has also had no shortage of big guns from his party campaigning for him. Last night Premier Yu Shyi-kun showed up at You's campaign rally. \nVying for votes from Aborigines, one of the area's four major ethnic groups along with Hakka, Taiwanese and mainlanders, You yesterday made public his welfare policies for the county's Aborigines. \nHe promised to create 2,000 jobs for Aborigines and offer NT$5,000 per month to Aboriginal chiefs, of which there are 200 in the county, so they can provide better services to their communities. \nA campaign team made up of Aborigines was also created yesterday to support You's campaign. \nWu, the only other candidate in the race, yesterday held a street procession before staging a campaign rally in the evening, during which he laid out his policies and vision for the county. \nWu told the rally he was the only one who could truly represent the voice Hualien's people. \n"Does the Hualien by-election need all those people from Taipei to tell us Hualien people who is the best one to bring Hualien a promising future?" Wu said. \n"There is no need for Taipei people to intervene in Hualien's affairs," he said.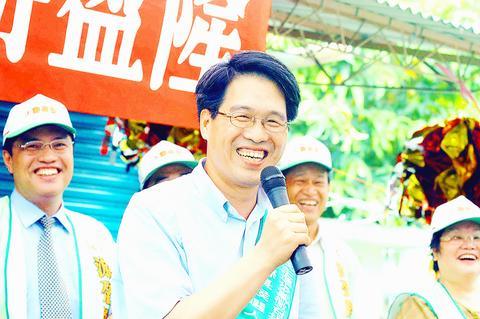 You Ying-lung, the DPP candidate in the upcoming Hualien County commissioner by-election, speaks at a campaign rally yesterday. You has promised a NT$5,000 monthly allowance for Aboriginal tribal chiefs.
PHOTO: YANG YI-CHUNG, TAIPEI TIMES
Comments will be moderated. Keep comments relevant to the article. Remarks containing abusive and obscene language, personal attacks of any kind or promotion will be removed and the user banned. Final decision will be at the discretion of the Taipei Times.