DPP's candidate gets fired up
GETTING STARTED You Ying-lung said that a recent poll, which suggested he has picked up support in the 24 hours since he announced his candidacy, offers encouragement
The DPP's candidate in the Hualien County commissioner election You Ying-lung (游盈隆) yesterday registered for the election, and pledged that he wouldn't disappoint his supporters in his third attempt to win the post. \nYou completed the registration in the company of hundreds of supporters and expressed confidence in his campaign as a poll showed the gap in support between the KMT's Hsieh Shen-shan (謝深山) and You had slightly closed. \nA poll conducted by a local TV station indicated yesterday that Hsieh led the poll with 40 percent of the vote, and You had 22 percent while independent candidate Wu Kuo-tung (吳國棟) had 16 percent. Undecided voters account for 22 percent of the respondents. \nThe poll results show that You's support has improved by 5 percentage points one day after he announced that he would join the race. \nA previous poll conducted on Wednesday by another local Chinese-language newspaper indicated that 17 percent of respondents favored You, while Hsieh and Wu had about 31 percent and 19 percent respectively. \nYou said yesterday, "I am very encouraged by the gains we are seeing. I definitely will not disappoint my supporters this time." \nYou had campaigned for the Hualien County commissioner post twice, and failed in both attempts. \n"I have started to sense the dynamism of this election. Each candidate is full of potential. All three candidates have a great chance, but it is yet not known who will win," You said. \nDPP Deputy Secretary-General Lee Ying-yuan (李應元) yesterday said the party would stay on message about the government's construction efforts in the area in a bid to emphasize development brought by the DPP to Hualien. \n"For decades, Hualien has been ruled by a KMT-administrated government. It has never experienced a change of political power, and therefore its development can never be on par with those cities and counties in western Taiwan," Lee said. \n"As the ruling government, the DPP can promise Hualien residents solid construction projects. For example, the completion of the eastern Taiwan electrically powered railway is the first gift for the people of Hualien from the government," Lee said. \nIn addition to Hsieh, Wu and You, a fourth candidate in the election is Chi Shu-ying (齊淑英), an environmentalist representing the Green Party. Chi, whose support is estimated to be around 1 percent, had lost a similar election and said she only wished to promote environmental awareness through the campaign. \nHsieh's support base comes primarily from the late KMT Hualien commissioner Chang Fu-hsing (張福興) and PFP's supporters, while Wu is sharing part of the PFP's support base with Hsieh. \nThe election hinges on who the pan-blue voters end up supporting. If Wu, a splinter candidate from the pan-blue camp, loses his support to Hsieh, then Hsieh will probably win the election. \nHowever, if pan-blue voters don't support Hsieh, then You has a chance of winning. \nIn the last election, the KMT garnered 40 percent of the vote, while the DPP only had 32 percent -- all of which were from traditional DPP supporters. \nIf You wants to win, he has to boost his support rate to 35 percent -- that means You not only has to secure support from DPP stalwarts, but also fight hard to attract undecided voters.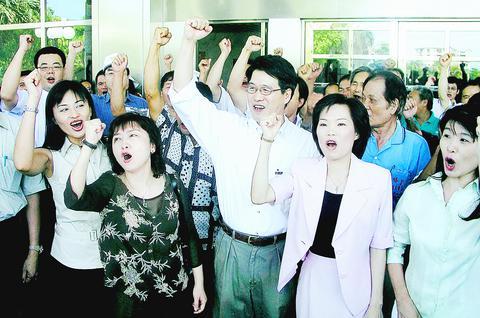 You Ying-lung, center, the DPP candidate in the Hualien County commissioner by-election, is accompanied by his wife, Shih Chia-ling, second left, and a number of female legislators as he sets off from the county council building to register his candidacy yesterday.
PHOTO: YANG YI-CHUNG, TAIPEI TIMES
Comments will be moderated. Keep comments relevant to the article. Remarks containing abusive and obscene language, personal attacks of any kind or promotion will be removed and the user banned. Final decision will be at the discretion of the Taipei Times.