Taipei health chief deflects blame bug
REVERSAL Chiou Shu-ti was applauded for alerting the government to the dangers of SARS but now finds herself blamed for an outbreak at a Taipei hospital
In a whirlwind reversal of fortune, Chiou Shu-ti (邱淑媞), director of the Taipei City Bureau of Health, has been accused of negligence over the outbreak of severe acute respiratory syndrome, or SARS, at Taipei Municipal Hoping Hospital (TMHH). \nOnce praised for her farsightedness in urging the Cabinet-level Department of Health to list SARS as statutory communicable disease in March, Chiou is under fire a month later for belatedly reporting SARS cases at TMHH, leading to the first mass infection of SARS and escalating jitters across the nation. \nWhen TMHH was accused of sitting on reports of seven SARS cases in the facility earlier last week, Chiou refuted the accusation, saying it was the health department that should be held accountable for delays in determining probable SARS cases. \nHowever, deputy director of the health department Lee Lung-teng (李龍騰) said TMHH was four days late in reporting the SARS cases to the health department. \n"The first suspected SARS case at TMHH occurred on April 18, but the hospital did not report the case until April 21. The hospital not only delayed the reporting process, but also failed to impose any necessary quarantine measures in the mean time," Lee said. \nLee said it was the responsibility of the city's Bureau of Health to continue reporting all SARS-related cases immediately to the health department no matter how much time the agency required to process previous cases. \nChiou, a 41-year-old Tainan native, was originally a family doctor. She then switched her specialty to preventive medicine and later earned a masters degree in public health from National Taiwan University. \nIn 1995, she moved with her husband Yang Tseng-hui (楊增慧), also a doctor, to Ilan County where she started her civil post as the director of the Bureau of Health after being recommended to the then Ilan County Magistrate Yu Shyi-kun. \nHer post in Ilan lasted four years before being recruited in 2001 by Taipei City Mayor Ma Ying-jeou (馬英九) to head the capital's Bureau of Health. \nIn Taipei, Chiou was considered one of the most capable aides among Ma's administrative cadre. \nDescribing herself as simply not interested in politics, Chiou said she is simply using the post to help her carry out her expertise. \nHowever, the outbreak of SARS at TMHH has found Chiou caught up in accusations of overseeing a chaotic hospital management system in the city. \nWhen SARS first struck in March, Chiou acted quickly to curb the disease by advising the health department to list the mysterious atypical pneumonia as a statutory communicable disease to allow for tougher prevention efforts. \nOn March 27, when the health department finally decided to heed the advice after four employees of CTCI Corp were diagnosed with SARS, Chiou won tremendous applause for her forethought. \nAt that time, Chiou also warned of potential local transmissions within one month. Sure enough, her prediction came true at TMHH, which is under her jurisdiction. \nThe resultant chaos at the hospital, which a US Center for Disease official in Taiwan described as "out of order," has tarnished Chiou's reputation and even to calls for her resignation. \nTaipei City Councilors blasted loopholes in Taipei's preventive system and blamed Chiou for creating them. \nDPP city councilor Lee Wen-ying (李文英) said, "Chiou has positioned herself as a top decision-maker since the very beginning of the SARS crisis, rather than a policy executor," implying that Chiou exaggerated her role as a core policy-maker. \n"She didn't do her job well enough to carry out the policy, but when problems occurred, she never hesitated to blame the government first," Lee said. "Whenever it comes to merits, she accepts, but when troubles come out, she dodges the flak." \nAnother DPP city councilor, Liu Yao-ren (劉耀仁), said Taipei is the worst-hit area in Taiwan with more than half of the total SARS patients around the nation. However, Liu accused the city of imposing an ineffective household quarantine measure. \nBefore TMHH's quarantine was announced, Taipei City had only delivered 37 household quarantine notices, while Taipei County had 92 household quarantine cases and Hsinchu City 84, Liu said. \n"Some staff from the city's health bureau even confessed that the city's quarantine measures were poorly implemented," Liu said. \nDespite harsh criticism and calls for Chiou to step down, Taipei City Mayor Ma defended his official by saying the city administration will not conceal or sit on any SARS-related cases. Ma added that now is not the time to engage in a war of words. \nChiou's appearances have been relatively low-key of late, compared to her previous confrontations with the government. \nHer only response to the criticism surrounding her was, "My priority is to contain the spread of SARS. It's not up to me to decide what criticisms or merits I deserve." \nNevertheless, she also said that certain medical staff in the city, including TMHH, were ineffective in imposing quarantine measures.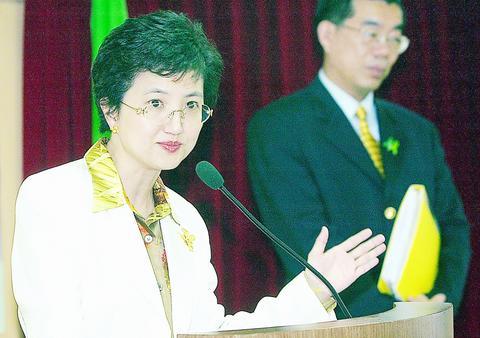 Chiou Shu-ti, director of the Taipei City Bureau of Health, reports on the mass infection of severe acute respiratory syndrome within Taipei Municipal Hoping Hospital at a press conference held last Wednesday.
TAIPEI TIMES FILE PHOTO
Comments will be moderated. Keep comments relevant to the article. Remarks containing abusive and obscene language, personal attacks of any kind or promotion will be removed and the user banned. Final decision will be at the discretion of the Taipei Times.