Unusual soldier learned how to go by the book
TURNING TAIWANESE T.C. Locke was not the first foreigner to have served in Taiwan's military, but what makes him different is that he is willing to talk about it
For most Taiwanese men, military service is a common experience and one of the most popular topics in conversations when meeting new acquaintances or getting together with old friends. \nIt is not something that most foreign men in Taiwan would be able or willing to talk about -- unless that foreigner happens to be an American called T. C. Locke. \nLocke, whose Chinese name is Lin Dao-ming (林道明), became a citizen of this country in 1994 and was drafted at the beginning of 1996. As with any other conscript, he had to serve two years in the military. \nDespite his obvious distinctness, Locke's experience -- as told in his recently published book, Counting Mantou: An American in the Taiwanese Army -- was much the same as that of other conscripts. In his retelling of those common experiences, Locke manages to transcend the cultural and ethnic differences, making him, in Taiwanese eyes, "one of us." \nLocke was not the first naturalized foreigner to serve in the Taiwan military. What makes him different from his predecessors is that he is willing to share his experiences with the public. \nIn a recent interview, Locke said that he considers Taiwan as his home and that his military service here could have been "the most important part of my life." \nLocke's experiences in the military are not so different from those of other conscripts who went before him. After all, life in the military does not really change that much over the years. \nAs a draftee, Locke first had to receive several months' basic training at a boot camp in Hsinchu. Days at the boot camp are vividly remembered by most conscripts because of constant yelling from drill sergeants who have a reputation for dishing out a steady diet of verbal abuse \nAt the boot camp, Locke had his first experienced with political education -- military style. The curriculum included a watching a weekly TV program and writing a short essay that would be read by his commanding officers. \nWatching the weekly political education program is compulsory for service members of all ranks and is a practice which has been enforced for several decades. \nThe program, essentially military propaganda, runs each Thursday morning on television station CTS, which is owned and controlled by the Ministry of National Defense. \nFor most conscripts, including Locke, the program is very boring but still welcome because it provides a 90-minute escape from daily chores. \nWriting a short essay each week is another part of the political education. The job did not seem to be difficult for Locke, since he was able to write in Chinese. \nOne of the essays Locke wrote at the camp was called How to Prevent Escapes from Happening. In the essay, Locke wrote that there were, of course, service members who wanted to escape. However, he wrote, if all the rules were fair and reasonable, no one would feel a compelling need to attempt an illicit escape. \nThe political education Locke received at the boot camp stayed with him for the rest of his service. But what he experienced after the boot camp is the part most conscripts talk about among themselves, even many years after they have been discharged. \nAfter the boot camp, Locke was assigned to an army division in Miaoli and thus began his life as a regular soldier. \nLike any other rookie soldier who reported to his unit, Locke experienced that first night what most new soldiers feared: "the shock and awe education." \nThis initiation ritual visited upon the newcomers by the senior soldiers has been around for many years and is almost the same from one unit to another across the three services. \n On the night the rookie soldiers arrive at their posts, the senior soldiers would ask these recruits to unpack all their personal belongings for inspection and to do as many push-ups as possible. \nSuch practices, though technically not allowed, has been tolerated in the military since commanding officers are few in number and have to rely on senior soldiers to help keep things going. \nLocke does not complain about the practice, which seems to him to be only part of the process of becoming accepted in the military. \n"Military service helped me learn how to deal with things. I met both bad guys and good guys in the military," Locke said. \n"I learned from the military the spirit of comradeship and cooperation," he said. "This spirit seems to be missing from people outside the military." \nAnother observation that Locke makes is that the Taiwan military has copied a lot from the US military, but only superficially. \n "The Taiwan military is in essence still a Confucian hierarchy," he said.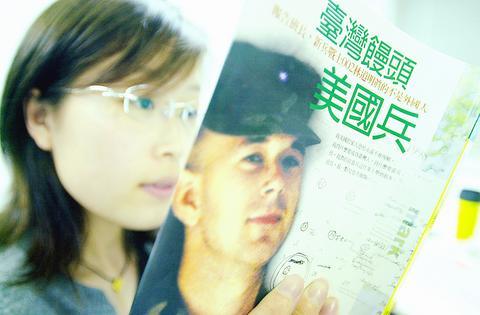 A reader peruses the Chinese-language book, ``Counting Mantou: An American in the Taiwanese Army, '' by T.C. Locke, who also goes by the Chinese name Lin Dao-ming.
PHOTO: TAIPEI TIMES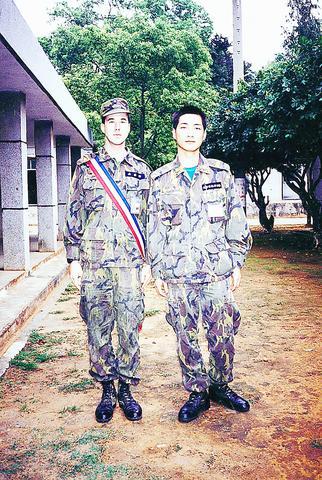 Soldier-turned-author T.C. Locke is seen here with one of his army buddies.
PHOTO: COURTESY OF T.C. LOCKE
Comments will be moderated. Keep comments relevant to the article. Remarks containing abusive and obscene language, personal attacks of any kind or promotion will be removed and the user banned. Final decision will be at the discretion of the Taipei Times.