China and Taiwan `two countries': Zhu
SLIP OF THE TONGUE The Chinese premier wanted to voice a softer position on Taiwan in a speech, but he went further than intended thanks to a verbal gaffe
In a speech to China's legislature yesterday, Chinese Premier Zhu Rongji (朱鎔基) referred to China and Taiwan as "two countries," but he quickly backed up and referred to Taiwan and China as "two sides."
"We should further expand the scope of personnel visits between the two countries," Zhu said in a swan-song speech to the last session of China's parliament before he retires.
He swiftly corrected himself to say "between the two sides of the Strait".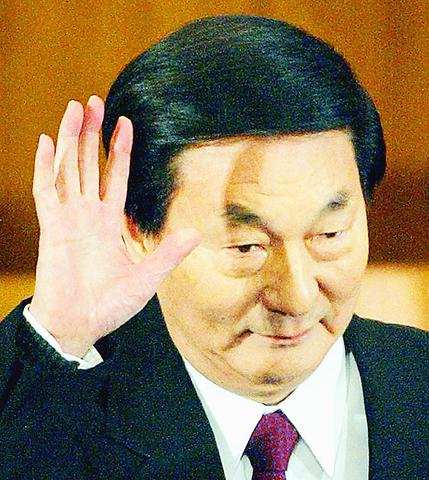 PHOTO: APN
Zhu's slip of the tongue reminds people of the political row between Taiwan and China in 1999, when then president Lee Teng-hui (李登輝) described cross-strait links as state-to-state relations. China angrily cut off all official dialogue in retaliation for Lee's remark.
Last year, China also lashed out at President Chen Shui-bian's (陳水扁) remark that there is one country on each side of the Strait.
Only three years ago, China's premier scowled and wagged his finger as he warned Taiwanese voters that electing an independence-minded president could mean war with China.
But on the eve of his retirement, Zhu yesterday voiced a different message about Taiwan -- an appeal void of threats and filled with soft language that urged the two sides to unify peacefully.
Zhu's remarks came in a lengthy report that opened the annual meeting of the National People's Congress. His speech appeared to be part a new strategy to abandon the old threats and use kind words to lure Taiwan back to what China says is its motherland.
"We must implement the basic principles of peaceful reunification," the premier said in an address heavy with the jargon of China-Taiwan relations.
He said China would "strive for an early resumption of dialogue and negotiation between the two sides."
Beijing would also further expand economic and cultural exchanges as well as promote restoring direct shipping and aviation links, Zhu said.
"We should increase our exchange of views with all political parties and prominent people of various circles in Taiwan," he said.
Zhu did not repeat Beijing's longstanding threat to attack Taiwan if it seeks formal independence or drags its feet too long on unification.
"The strategy is working in the international arena because China is giving the world the impression that it's being reasonable with Taiwan," said Cho Hui-wan, an assistant professor of international politics at National Chung Hsing University in Taichung.
"China is also winning points with some people living in Taiwan," Cho added.
Cho doubts any friendlier approach will bring substantial improvement in relations. Zhu still emphasized that both sides must agree on the "one China" principle.
"Even though China's tone has become softer and more relaxed," Cho said, "they haven't relaxed their principles."
Taiwan said Zhu's speech yesterday didn't show any change in China's policy toward Taiwan, but noted relations between the two were improving.
"Zhu Rongji's speech reiterates communist China's persistent political stance, but we see a continuation of an improving atmosphere from his report," an official at the Mainland Affairs Council said.
"Both sides want to maintain peaceful interaction," said the official, Jan Jyh-horng (詹志宏) of the council's planning department.
Comments will be moderated. Keep comments relevant to the article. Remarks containing abusive and obscene language, personal attacks of any kind or promotion will be removed and the user banned. Final decision will be at the discretion of the Taipei Times.