KMT sours to former police head
DISCIPLINED Yao Kao-chiao had his party membership revoked after supporting the DPP's Frank Hsieh in the Kaohsiung mayoral race rather than the KMT's choice
Former National Police Adminis-tration director-general Yao Kao-chiao (姚高橋) was the most high-profile of the 11 people who had their KMT memberships revoked on Wednesday by the party's Evaluation and Discipline Com-mittee.
Yao was expelled, with the approval of the KMT Central Standing Committee, for throwing his support behind the DPP's Frank Hsieh (謝長廷) in the recent Kaohsiung mayoral race.
The KMT's candidate in the race, Huang Jun-ying (黃俊英), secured 47 percent of the vote, losing to Hsieh, who won 50 percent support.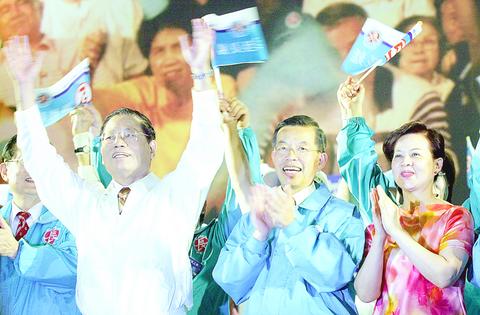 Former National Police Administration chief Yao Kao-chiao, left, stumps for Kaohsiung Mayor Frank Hsieh, center, in the run-up to the Dec. 7 mayoral election.
PHOTO: GEORGE TSORNG, TAIPEI TIMES
Prior to Huang's nomination as a candidate, Yao had been a possible KMT nominee, along with Kaohsiung City Council speaker Huang Chi-chuan (黃啟川).
Chen Kang-chin (陳庚金), director-general of the discipline committee, said that Yao was subject to disciplinary action because his stumping for the DPP was an obvious, harmful act that defied KMT policy.
"Members of the party's Evaluation and Discipline Committee were filled with indignation with regard to Yao's conduct," Chen said.
"All felt that expulsion was not a severe enough punishment."
Committee members were not the only ones angry with Yao. The KMT Union, in a statement last week, called on Yao to return all his paychecks for the past two years while he was vice convener of the internal affairs department at the National Policy Foundation, a KMT-sponsored think tank.
The KMT Union urged Yao to do so in order to demonstrate his honesty and integrity.
"Yao has been cultivated by the party for his entire life [in police work], yet now he's turned to the enemy's camp," Chen said, adding that Yao has lost his integrity in recent years.
Yao was once a member of the party's Central Standing Committee, the party's highest decision-making body.
Although Yao expressed regret for having been expelled, he defended his decision to support Hsieh and said that he is willing to forgive the KMT's accusations that have been made since the party lost the Kaohsiung race.
"As a faithful KMT member, I am not the only one who has been expelled or had to leave the party. I believe people can judge right from wrong," Yao said in a statement responding to the disciplinary action. "And time will prove I am right."
Yao said that of all the Kao-hsiung mayoral hopefuls, he found only Hsieh placed importance on public order, safety and police officers' well-being.
While Huang Jun-ying had never mentioned a word to Yao about public order, Yao said Hsieh had visited him several times to discuss the issue.
"That was why I offered him [Hsieh] my advice [with regard to public order]. I did so simply from my position as a citizen," Yao said.
"Unfortunately my decision was cruelly insulted by some KMT members. I had no choice but to show my public support for Hsieh," he said.
During Yao's decades-long career in police work, he has served as a director of Kaohsiung City Police, president of the Taiwan Police Academy and deputy director-general of the National Police Administration.
Yao was president of the Central Police University from 1995-1996 before he was made director-general of the National Police Administration in June 1996.
Yao, however, resigned form his post in August the following year along with the then premier Lien Chan (連戰) over a series of crimes which sparked widespread public outrage and led to two mass demonstrations in Taipei.
Former Taoyuan County commissioner Liu Pang-you (劉邦友) and seven others were assassinated at Liu's home in November 1996; the DPP women's affairs department chief and a women's rights activist Peng Wan-ru (彭婉如) was raped and killed in December, 1996; and Pai Hsiao-yen (白曉燕), the 17-year-old daughter of a TV celebrity, was kidnapped and murdered in April 1997.
Yao then served as an adviser to the Executive Yuan before being tapped by then premier Vincent Siew (蕭萬長) in February 2000 to take on the job as the director of the newly established Coast Guard Administration.
Along with other Cabinet-level officials, Yao turned over his post in March 2000 when Chen Shui-bian (陳水扁) won the presidency.
Last December, Yao unsuccessfully ran for a legislative seat.
Although Chinese-language media have reported the possibility that Hsieh might invite Yao to join his Kaohsiung administrative team, Hsieh said that he has never talked about such issues with Yao.
"As long as a person is talented, I am open to any recommendations," Hsieh said on Saturday. "Regardless of my party affiliation, I welcome talented people with good character who are willing to be public servants."
Comments will be moderated. Keep comments relevant to the article. Remarks containing abusive and obscene language, personal attacks of any kind or promotion will be removed and the user banned. Final decision will be at the discretion of the Taipei Times.