Lighthouse keepers part of Pengchia Islet history
A LONELY PLACE Not deterred by the boredom that goes along with the job, Peng Hsing-shih followed in his father's footsteps to become a lighthouse keeper
While members of the public are prohibited from taking up permanent residence on Pengchia Islet (彭佳嶼), Keelung, one man has made the island his life.
Born in 1950 on Pengchia, the lighthouse keeper, Peng Hsing-shih (彭興世), took up the same profession as his father.
Peng has served in the lighthouse for 28 years, making him the most senior person on Pengchia.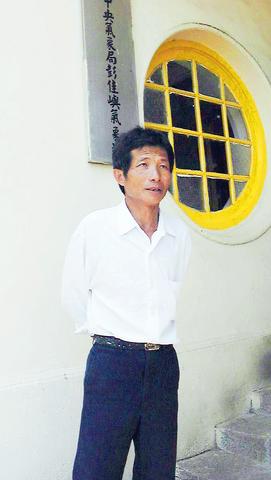 Peng Hsing-shih is known as the ``lord of the island'' of Pengchia.
PHOTO: CNA
With his family name (彭) sharing the same character as the first word of the islet's name, the military personnel stationed there have dubbed him the "lord of the island."
During the Japanese colonial era, some Taiwanese residents are said to have relocated to the islet to seek shelter from Japanese rule.
They then gradually moved back to Taiwan proper after Japanese rule ended.
Given that Pengchia Islet remains a controlled zone under military rule , the public is not allowed to tour the island.
But more than 40 people are stationed on Pengchia, including officers of the Coast Guard Administration and marine corps, as well as personnel for marine radar observation stations and officials with the Central Weather Bureau.
There are seven lighthouse keepers on Pengchia, with one acting as the chief, four as regular keepers and the remaining two serving on a rotational basis.
But life for the lighthouse keepers can be boring.
Their wives and children are not allowed to stay live on Pengchia, and giving birth to a child on the island would be impossible.
But Peng said he is comforted by the fact that he has to work only two weeks a month.
When asked if his children will follow in his footsteps and one day serve as lighthouse keepers, the father of three daughters and one son said he is not sure.
Pengchia, also known as Tachihshan Islet (大峙山嶼), is located 55km from Keelung's harbor.
The islet is around 114 hectares in area and has a terrace-like topography, with precipices on the east, south and north ends.
A makeshift jetty on the southern shore allows boats to land. According to military servicemen, a walk around the island takes about two hours.
The islet is covered with wild grass but lacks trees, due to its thin layer of topsoil.
Pengchia depends on Taiwan proper for regular water supplies, while power generators provide only enough electricity to run the instruments at the weather station.
The government is planning to upgrade the electricity and water supplies to the islet.
Comments will be moderated. Keep comments relevant to the article. Remarks containing abusive and obscene language, personal attacks of any kind or promotion will be removed and the user banned. Final decision will be at the discretion of the Taipei Times.