Lawmakers call for heads to roll after air disaster
REFORM PLAN Politicians want to see a thorough reform of China Airlines and are calling on two officials in a supervisory capacity to step down
Lawmakers yesterday demanded that high-ranking officials in charge of China Airlines step down after Saturday's fatal crash to enable a comprehensive reform of the nation's oldest airline.
Among others, Tsay Jaw-yang (蔡兆陽), the chairman of the China Aviation Development Foundation (CADF, 航發會), which is the largest shareholder in the company, and Taiwan's Civil Aeronautics Administration (CAA, 民航局) Director-General Chang Kuo-cheng (張國政) are facing the most pressing calls to resign.
DPP lawmaker Chen Chong-yi (陳宗義) said that China Airlines has close connections with air-force officials from the KMT era and most of its pilots and maintenance staff are decommissioned and retired officers.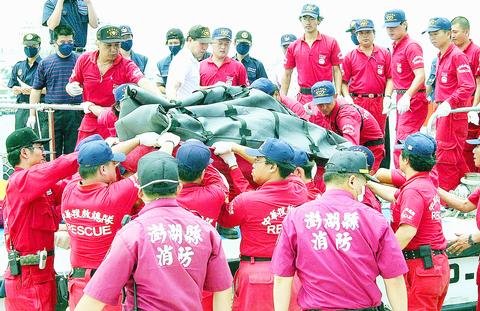 Rescuers from a fire department in Penghu and the International Association for Search and Rescue, Republic of China, yesterday at noon recover three more bodies from the China Airlines flight CI611 disaster.
PHOTO: SUNG CHIH-SHIUNG, TAIPEI TIMES
According to Chen, faculty of the airline's supervisory units, such as the CAA and Aviation Safety Council (ASC, 飛航委員會), are also from the same background.
"It is impossible for the overseeing departments to thoroughly carry out their tasks because they are all friends with each other. In order to allow self-examination, Tsay should step down to take the blame," he said.
Echoing Chen's view, several PFP and KMT lawmakers expressed their discontent to Tsay, saying he had long been a target of critics in the legislature for his arrogant manner. They threatened to launch a motion today to ask Tsay to resign.
In addition, DPP lawmakers Tsai Huang-liang (蔡煌瑯) and Wang Tuoh (王拓) directed their attacks at Chang. They maintained that, even though Chang had assumed his current post only a month ago, for the past 10 years Chang served as the CAA's deputy general director.
"Chang should be blamed because it is known that with a military background, he was in full control of the office's personnel, almost all of whom hail from the army," Tsai said.
"It is out of the question that the CAA can fulfill its duty as a supervisor given that people from the CAA and China Airlines are old-time pals."
On Tuesday, lawmakers also demanded the resignation of the Vice Transportation Minister Tsai Duei (蔡堆) and Yung Kai (戎凱), managing director of the ASC.
Tsay and Tsai resigned from their posts as transportation minister and chief of the CAA, respectively, following the airline's 1994 crash, which killed 264 people.
It his first press conference since Saturday's tragedy, Tsay said yesterday that it was not an opportune time to discuss who should resign because "the cause of the incident is still being investigated."
Responding to Premier Yu Shyi-kun's comments on Tuesday when he urged the privatization of the airline, Tsay said "the company is already privately owned."
A quasi-governmental organization, the CADF has a 71 percent stake in the former state-run carrier. Many of the foundation's board members are retired government or military officials. They manage about NT$50 billion (US$1.45 billion) in assets.
Tsay said the CADF should not be considered an official organization because it is "a privately owned corporate body."
Comments will be moderated. Keep comments relevant to the article. Remarks containing abusive and obscene language, personal attacks of any kind or promotion will be removed and the user banned. Final decision will be at the discretion of the Taipei Times.