Premier apologizes to Tao tribe
NUCLEAR WASTE Yu Shyi-kun says he's sorry for the government's past actioins and promised to try his best to eventually remove the material from Orchid Island
Premier Yu Shyi-kun apologized to members of the Tao tribe on Orchid Island for things the government has done there in the past and promised that the government would do its utmost to eventually move nuclear waste off of the island. \nYu made the comments while on an inspection tour of the island yesterday. \nYu first visited the scenic island's only kindergarten -- Lan Eng -- where he donated NT$1 million (US$28,571) in cash to the preschooler educational center on behalf of President Chen Shui-bian (陳水扁). \nIn return, the kindergarten gave Yu two loin cloths -- one for him and another for Chen. \nYu then went to Langtao Bay (朗島灣) and Tungching Bay (東清灣) to view Tao tribesmen's specially designed wooden boats and their floating houses. \nLater in the day, Yu attended the opening of an annual Orchid Island athletic meet and watched Tao tribal dance performances and special folk sports competitions, including canoeing. \nIn a gesture to welcome Yu, the young tribesmen practiced a traditional ceremony in which they throw the boat above their heads several times to show their hospitality. \nIn the afternoon, Yu inspected the controversial nuclear waste dump where 97,000 barrels of low-radiation nuclear waste from Taiwan's three nuclear power plants has been stored since 1982. \nFor years, Tao tribesmen have been pushing state-owned Taiwan Power Co (Taipower, 台電) to move the hazardous waste out of their homeland. \nYu held face-to-face talks with members of a Tao anti-nuclear association. Yu said he fully understands Tao tribesmen's feelings about the continuing presence of the nuclear waste. \n"I feel sorry for what the government did to [the residents of] Orchid Island in the past. I apologize for that, and will try my best to move the site away," Yu said. \nAlso yesterday, the tribe listed Vice President Annette Lu (呂秀蓮), who is scheduled to visit the island later this month, as persona non grata in protest over Lu's "unfriendly" remarks about the nuclear waste stored on the island. \nSi-Jalalan (希傑勒吉藍), a representative of the tribe, announced the decision in the company of independent Aborigine lawmaker May Chin (高金素梅). \nAccording to Si-Jalalan, Lu, during a visit to Orchid Island some time ago, claimed that the nuclear waste stored on the island was safe and criticized the island's residents for "stirring up trouble" by pressing the government to remove the waste from the island. \nLu has even offered to sit at the site of the nuclear-waste landfill for a day to prove the safety of the site, Si-Jalalan said. He urged Lu not to use the island for a political show and instead pay more attention to the rights of the island's residents. \nAlso See Story: \n \nEditorial: Environmental ignorance soiling Taiwan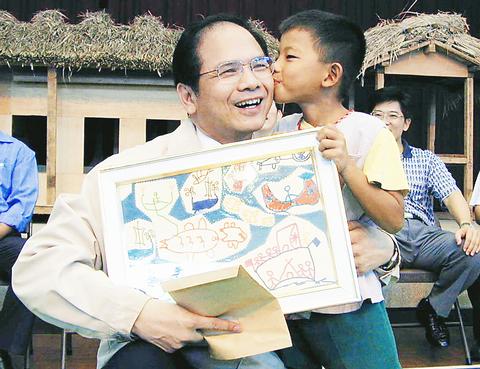 On behalf of children in the Lan En kindergarten on Orchid Island, 6-year-old Yi Jung-hua gives his heartfelt thanks to Premier Yu Shyi-kun for his donation of NT$1 million behalf of President Chen Shui-bian during Yu's visit yesterday.
PHOTO: CHANG TSUN-WEI, TAIPEI TIMES
Comments will be moderated. Keep comments relevant to the article. Remarks containing abusive and obscene language, personal attacks of any kind or promotion will be removed and the user banned. Final decision will be at the discretion of the Taipei Times.