Cabinet grapples with crisis response
LOW LIQUIDITY A central government clearinghouse for drought-emergency measures went into service yesterday, as officials sought to impose order on local government actions
The Cabinet yesterday established a national drought disaster relief center responsible for formulating plans to assist local governments.
To fight the worst drought in 20 years, several local governments imposed drought-emergency measures last month.
Premier Yu Shyi-kun yesterday designated Kuo Yao-chi (郭瑤琪), chairwoman of the Cabinet's Public Construction Commission, executive-general of the task force to be in charge of formulating the government's strategy. Her purview includes water-rationing, water distribution and related compensation.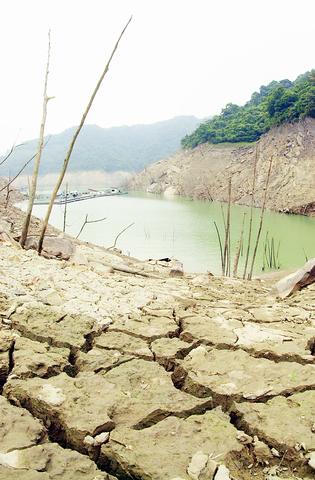 Due to the severe drought, the bottom of the Feitsui Reservoir -- located in northern Taiwan -- is now full of cracks, as the water level yesterday dropped to a new all-time low of 133.25m.
PHOTO: GEORGE TSORNG, TAIPEI TIMES
"To avoid disputes between different polities over the distribution of limited water resources, the task force is to coordinate all of the nation's drought emergency measures," Kuo said.
Premier Yu said that during the crisis period, governing agencies will be authorized to utilize all possible water resources, including underground water and water designated for agricultural use. In addition, Yu stressed, the government has the right to levy residents' ponds for national use.
Based on the most recent weather forecasts that predict little rainfall in the beginning of this month, Yu yesterday commanded the Ministry of Economic Affairs (MOEA) to come up with measures which have "as little impact as possible upon economic activities and people's lives."
Taking advantage of water levels that are alarmingly low, Yu urged the Water Resources Agency (WRA) under the MOEA to seize the opportunity to remove years of accumulated silt from the nation's reservoirs.
The water level at the Feitsui Reservoir (翡翠水庫) yesterday dropped to the lowest levels ever recorded, 133.25m, or 24 percent of capacity. Records have been kept since 1993.
Taipei City Mayor Ma Ying-jeou (馬英九) called on people to use water more wisely, adding that trees on public property were now being tended to with wastewater from municipal treatment plants.
Ma said that Taipei City on average consumes three million tonnes of water per day and that it was time for change.
"If we keep consuming water at present rates, we will run out. Then, crying for more water will do no good," Ma said.
The second stage of rationing was imposed in Taipei City and part of Taipei County yesterday. Western counties affected by the first stage of water-rationing, including Taoyuan, Hsinchu, Miaoli and Chiayi, might face stricter measures soon, WRA officials said.
"Sooner or later, water-rationing, one zone at a time, will be imposed in northern Taiwan," Chen Shen-hsien (陳伸賢), the WRA's spokesman and deputy director, said yesterday.
TWSC officials said yesterday that a meeting held by the MOEA today would discuss the possibility of suspending water services in the counties of northern Taiwan from 11pm to 5am.
Comments will be moderated. Keep comments relevant to the article. Remarks containing abusive and obscene language, personal attacks of any kind or promotion will be removed and the user banned. Final decision will be at the discretion of the Taipei Times.