Veteran diplomat tells it like it was
NEW BOOK Loh I-cheng has now, at the age of 78, published his memoirs, recalling many historic experiences -- like his ouster from the US after he wrote to US papers
An agonizing foot ailment has forced 78-year-old retired ambassador Loh I-cheng (陸以正) to walk with a stick for some time now.
And yesterday, one of his occasional memory lapses managed to make Loh, a man known for his punctuality, tardy. He was nearly an hour late for his own book-launching press conference.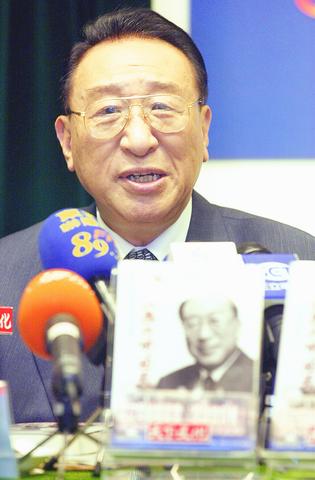 Former Taiwan ambassador to South Africa, Loh I-cheng, promotes his new book in Taipei yesterday.
PHOTO: GEORGE TSORNG, TAIPEI TIMES
But despite his age, Loh remains lucid. His decades-long experience in the foreign service proved an asset during the past four years as he composed his memoirs -- which were formally released yesterday.
"The majority of the episodes revealed are fresh to outsiders," Loh said of his book, entitled Valiant but Fruitless Endeavors,the Memoirs of I-Cheng Loh (微臣無力可回天--陸以正的外交生涯)."
The book compiled information from diaries that he kept since 1979 -- with added information collected from government files.
The book details his role on Taiwan's diplomatic frontline, a job that spanned the past four decades.
Loh said he wanted his book to serve as "a witness to history" instead of being seen as a product of "instant history."
The three major diplomatic events Loh witnessed enjoy in-depth coverage in the memoir. These three events are Taipei's loss of the "China seat" at the UN, the US' severance of diplomatic ties with Taiwan and South Africa's switching of recognition from Taipei to Beijing.
"These are not glorious experiences at all," said the retired journalist-turned-ambassador who was removed from his US post in 1979, after being blacklisted by the US government.
An editorial he contributed to The Wall Street Journal on Feb. 6, 1979 -- which is included in his 453-page book -- questioned the US move to force his removal.
"Now we learn of the removal of a Taiwanese diplomat, I Cheng-loh, because he wrote letters and columns outlining his government's position to US newspapers ... His real offense was in being too eloquent a spokesman for the State Department bureaucracy to tolerate," the editorial said.
The memoir also describes Loh's encounters during his early days -- such as his work as an interpreter-interrogator for the US during the Korean War, an experience that won him the Medal of Freedom from then US president Dwight D. Eisenhower in 1954.
Although Frederick Chien (錢復), the president of the Control Yuan, urged Loh in his preface to the book to reveal other telling stories behind his career as a diplomat, Loh had his reservations.
"I've brought about many big troubles in the past," Loh said, adding that he would decline to unravel these parts of the "black box" in fear of tarnishing Taiwan's national interest.
The candid diplomat also expressed his worries in regard to Taiwan's future.
"I've been deeply concerned with the question as to which path Taiwan should embark on as far as its future is concerned," said Loh, who finished his 41-year civil service career in 1997 and formally ended work in the government last year after serving two terms as Taipei's ambassador-at-large.
What worries Loh most is the increasing polarization within Taiwanese society, the confusion between US national interest and Taiwan's national interest by some in Taiwan -- and China's rising power in contrast with that of Taiwan.
"It's wrong to assume that the US will put our interests above their own national interests," Loh said.
Loh also noted what he termed "the three new no's" in the US policy toward China and Taiwan. They include: no support for Taiwanese independence as expressed by the pro-independence "pan green camp;" no backing for reunification as expressed by the pro-reunification "pan blue camp;" and no approval of the use of force against Taiwan when addressing China.
"Contemplating how Taiwan should move on under the US' `new three no's' is to me the most challenging and difficult task Taiwan has faced," Loh said.
While taking note of the diplomatic truce between Taipei and Beijing during the past two years or so, Loh urged the two rivals to continue the truce. "The two sides should indeed stop the tug-of-war in the race to snatch one or two diplomatic allies," he said.
Comments will be moderated. Keep comments relevant to the article. Remarks containing abusive and obscene language, personal attacks of any kind or promotion will be removed and the user banned. Final decision will be at the discretion of the Taipei Times.