Harden helps snap Clippers' skid
James Harden on Friday hit a tiebreaking three-pointer while getting fouled with six seconds to play, sending the Los Angeles Clippers to their first victory since his arrival with a 106-100 win over the Houston Rockets in the NBA In-Season Tournament.
Harden dramatically drew the foul from Jae'Sean Tate and drilled his shot from atop the key before completing the four-point play to secure the win.
The Clippers had lost six games in a row, including their first five since acquiring Harden from Philadelphia.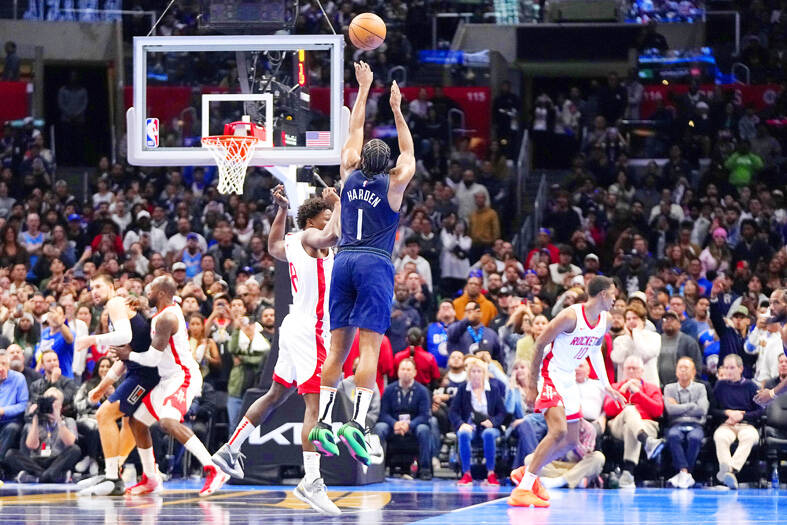 The Los Angeles Clippers' James Harden puts up a shot as Jae'Sean Tate of the Houston Rockets defends during their NBA In-Season Tournament game in Los Angeles on Thursday.
Photo: AP
"We've still got a long way to go, but obviously it felt good to get a win," Harden said. "You can't take those for granted, but like I continue to say, it's a building process, and I can see a lot of [areas for] improvement on both sides of the ball to correct and get used to."
Jabari Smith Jr forced Kawhi Leonard to give up the ball on the decisive possession, but Harden came through with the biggest shot of his short tenure with his hometown team.
Harden finished with a season-high 24 points and nine rebounds against the Rockets, his team for nine seasons from 2012-2021.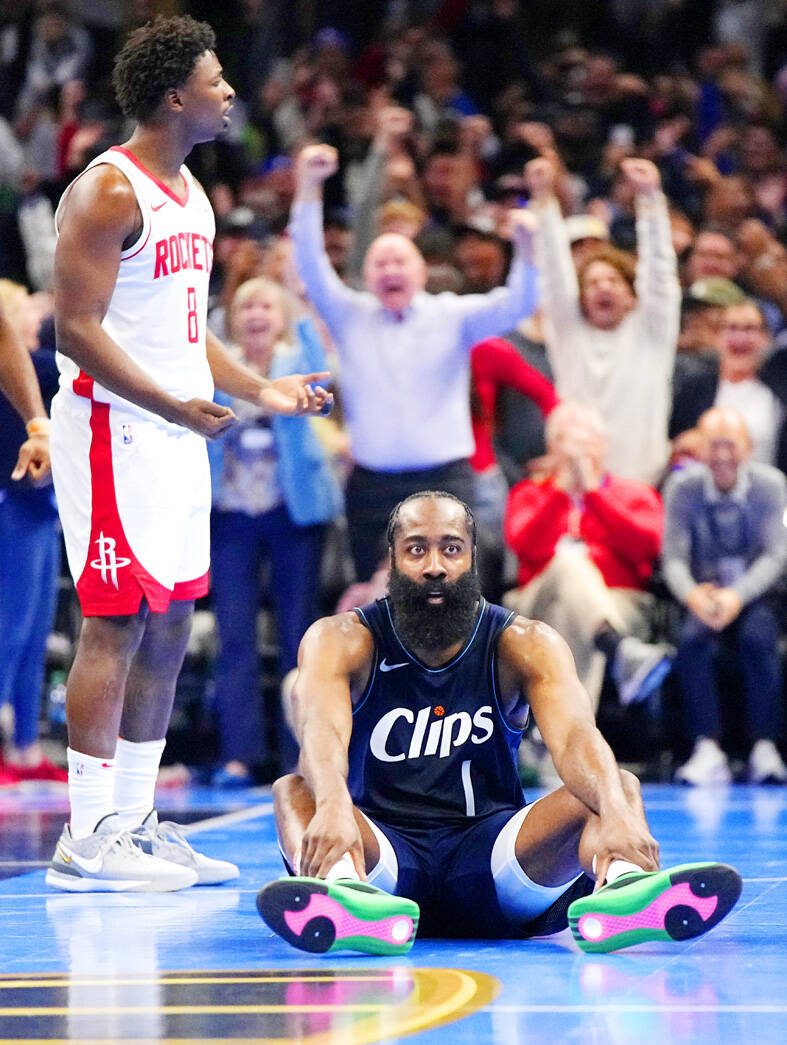 The Los Angeles Clippers' James Harden sits on the court after making a shot as Jae'Sean Tate of the Houston Rockets looks on during their NBA In-Season Tournament game in Los Angeles on Thursday.
Photo: AP
"He played great," Leonard said, mentioning Harden's eight-of-11 shooting with seven assists and just three turnovers. "That's a great ratio with as much as he has the basketball. We know how good he is."
Leonard added two free throws in the final second and finished with 26 points as the Clippers avoided their longest losing streak since the 2019 arrivals of Leonard and Paul George, who added 23 points and eight rebounds.
"I feel like Kawhi was their first option," Smith said of Harden's four-point play. "But with three All-Stars and Hall of Famers on their team, I feel like the job wasn't done, and he just made a tough shot."
Alperen Sengun had 23 points and eight rebounds for the Rockets, whose six-game winning streak ended because they allowed the Clippers to finish the game on a 12-1 run.
Jalen Green added 20 points, while Fred VanVleet had 19 points and 10 assists in the opener of Houston's three-game California road trip.
Russell Westbrook had eight points in just 17 minutes after coming out of the Clippers' starting lineup at Westbrook's suggestion in an attempt to balance their rotation.
The changes appeared to help for stretches, but Los Angeles still struggled to pull away until their stars took charge late.
"Just got to get Russ comfortable," Clippers coach Tyronn Lue said. "Just switching units and playing with different guys, got to get him used to it. It's tough to go from starting to the bench, especially the caliber of player he is. We've just got to make sure we've got the right people on the floor with him."
The Clippers got their first victory in three tournament games, while the Rockets dropped to 1-1 in tournament play.
Elsewhere on Friday, it was:
‧ Bulls 97, Magic 103
‧ Cavaliers 108, Pistons 100
‧ Hawks 116, 76ers 126
‧ Hornets 99, Bucks 130
‧ Jazz 128, Suns 131
‧ Raptors 105, Celtics 108
‧ Pelicans 115, Nuggets 110
‧ Trail Blazers 95, Lakers 107
‧ Spurs 120, Kings 129
‧ Wizards 99, Knicks 120
Comments will be moderated. Keep comments relevant to the article. Remarks containing abusive and obscene language, personal attacks of any kind or promotion will be removed and the user banned. Final decision will be at the discretion of the Taipei Times.