F1 scrambles to recover from first-day jitters
Formula One is hoping to turn its luck around on the Strip, like so many other Las Vegas visitors who blow a big bankroll on arrival.
The elite global motorsports series placed a US$500 million gamble on a new event in Sin City promoted for the first time by F1 and owner Liberty Media, but it now must recover after an opening-night debacle in which the first practice was ruined just nine minutes in when Carlos Sainz ran over a water valve cover on the temporary street course.
"Judge us by what happens when the checkered flag falls," Williams team principal James Vowles said.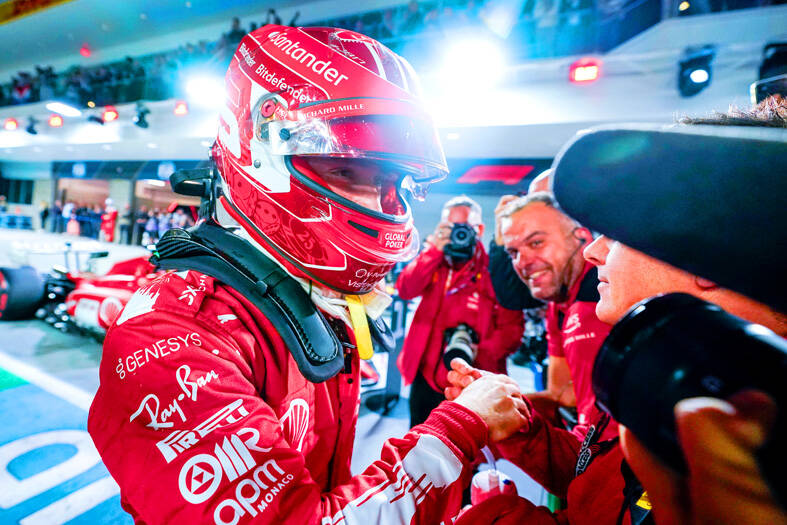 Ferrari driver Charles Leclerc reacts following a qualifying session for the Las Vegas Grand Prix yesterday.
Photo: EPA-EFE
When Sainz bottomed out on the drainage valve minutes into Thursday night's first practice, it caused extensive damage to the underbody of his Ferrari and Sainz said the piece broke through far enough to damage his seat.
F1 then closed the course to inspect the entire 6.2km circuit, which utilizes a long portion of the Strip.
By the time the next practice started, 2.5 hours late at 2:30am, those in attendance had been ordered to leave fan viewing areas.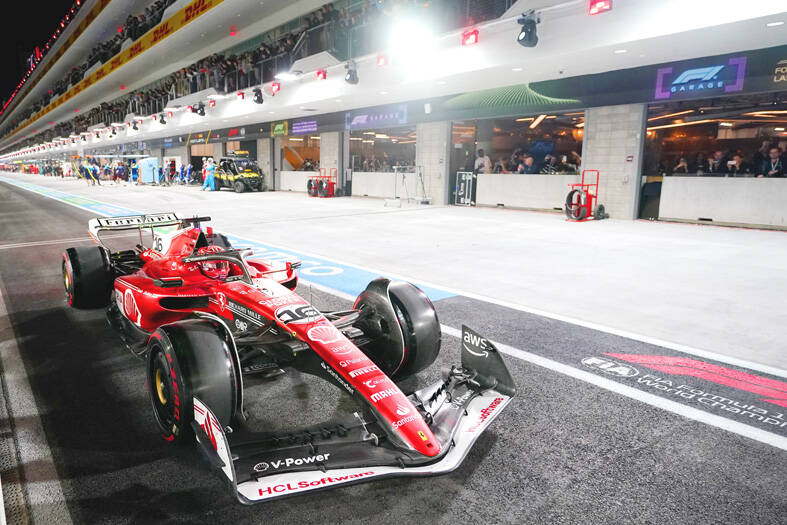 Ferrari's Charles Leclerc drives his car into the pits following a qualifying session for the Las Vegas Grand Prix yesterday.
Photo: AP
F1 ran a 90-minute session until 4am, when preparations had to begin to re-open the streets to morning commuter traffic.
F1 president Stefano Domenicali and Las Vegas Grand Prix chief executive officer Renee Wilm issued a joint statement on Friday night to explain the debacle because "this is important for those who are new to racing to understand."
A second statement from the LVGP offered a US$200 credit to Thursday-only ticket holders — most sales have been three-day packages — to be spent at the official merchandise store. The gestures only further angered fans already feeling ripped off.
The statement from Domenicali and Wilm said organizers had to close to spectators out of concern for safety workers and security officials who still had to work the rest of the event.
They also said that F1 was up against federal law regarding the amount of time transport workers taking spectators back to hotels "can legally and safely drive buses."
They added that hospitality staff needed to begin preparing for the next two days of activities.
"We know this was disappointing. We hope our fans will understand based on this explanation that we had to balance many interests, including the safety and security of all participants and the fan experience over the whole race weekend," the statement said. "We have all been to events, like concerts, games and even other Formula 1 races, that have been canceled because of factors like weather or technical issues. It happens, and we hope people will understand."
And without an apology or offer of a refund, F1 went racing as if nothing had happened. Ferrari rebounded with a 1-2 in Friday night qualifying led by Charles Leclerc with Sainz in second.
Red Bull's champion Max Verstappen joined them on the front row.
It was a remarkable comeback for Sainz after Ferrari initially said his car was so damaged he could not participate in second practice.
However, his team used the lengthy delay to prepare him a new car.
That effort was punished with a 10-place penalty for Sainz on the starting grid.
Additional reporting by Reuters
Comments will be moderated. Keep comments relevant to the article. Remarks containing abusive and obscene language, personal attacks of any kind or promotion will be removed and the user banned. Final decision will be at the discretion of the Taipei Times.