Dodgers take NL West title for 10th time in 11 years
Clayton Kershaw does not know how many more celebrations he will get the chance to enjoy inside the Los Angeles Dodgers' clubhouse, but wrapping up an National League (NL) West title still feels special.
"You have to embrace it. You have to enjoy it. Like I've been saying, this could be the last one for a long time. Every year I say that, but you just can't take it for granted," Kershaw said.
The Dodgers secured yet another NL West crown Saturday night with a 6-2 victory in 11 innings over the Seattle Mariners. It was Los Angeles' 10th division title in the past 11 seasons.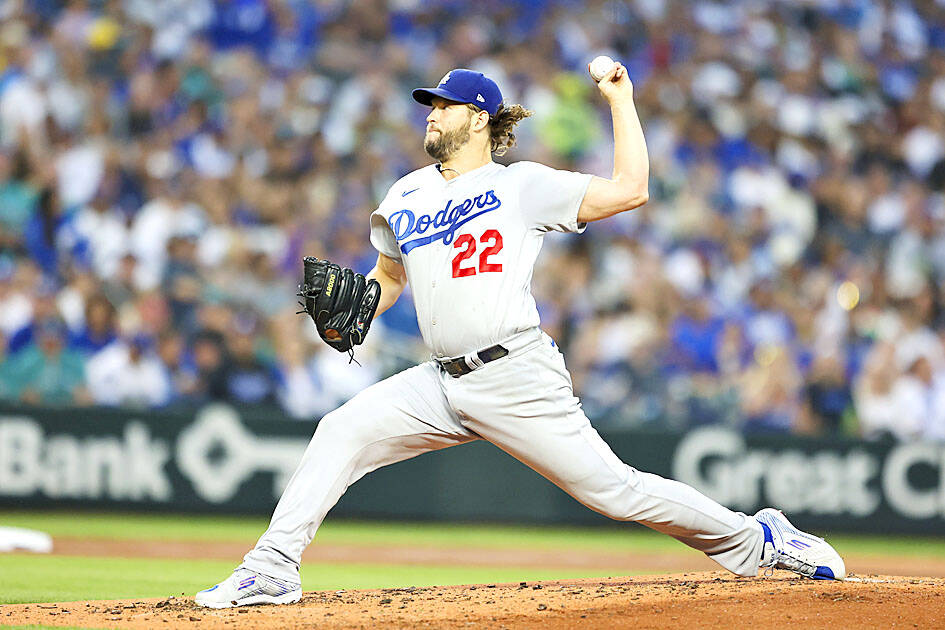 The Los Angeles Dodgers' Clayton Kershaw pitches during their MLB game against the Seattle Mariners in Seattle on Saturday.
Photo: AP
The celebration featured hugs and championship T-shirts on the field before bubbly was popped in the clubhouse.
"Winning the division is something always special, but doing it by winning a baseball game and not by default makes it more special," Dodgers manager Dave Roberts said. "Tonight we get a chance to celebrate with one another, celebrate with our fans."
This clincher had a very October feel — a packed stadium, a tense nine innings filled with terrific pitching on both sides and some unexpected heroics in extra innings.
Max Muncy's single off Gabe Speier (2-2) scored Mookie Betts from second base with one out in the top of the 11th to give the Dodgers a 2-1 lead. Chris Taylor and Kike Hernandez followed with two-run singles off Isaiah Campbell, and the numerous fans in Dodger blue roared their approval as Seattle fans headed for the exits.
Evan Phillips (2-4) pitched the 10th inning and Joe Kelly got the final three outs.
"This is one of the most special teams I've been a part of," Dodgers first baseman Freddie Freeman said. "I've had a great time this year. What a fun experience."
There was debate before the season if San Diego might be ready to take over the NL West from the Dodgers after its heavy off-season spending, but Los Angeles again proved the class of the division and wrapped up the crown with a couple of weeks remaining in the regular season.
"Every year is different, but for me this is the most fun I've had managing," Roberts said. "Certainly the players are a big part of it, and to watch those guys celebrate one another, pull for one another, sacrifice for each other makes my job that much more enjoyable."
Meanwhile, Shohei Ohtani is to have surgery soon on a ligament tear in his pitching elbow after the Los Angeles Angels' two-way star was ruled out for the rest of the season on Saturday due to an oblique injury.
Ohtani and the Angels, out of playoff contention, decided to wrap up his season after a magnetic resonance imaging exam showed persistent irritation in his oblique muscles, Angels general manager Perry Minasian said.
The injury was likely to prevent Ohtani, who had already missed 11 consecutive games, from hitting effectively in the season's final two weeks.
"We kind of had a feeling that something was coming," Angels manager Phil Nevin said. "He fought it. He tried. He's upset by it, but it just got to a point, an understanding that he just wasn't going to be able to go again this year."
Comments will be moderated. Keep comments relevant to the article. Remarks containing abusive and obscene language, personal attacks of any kind or promotion will be removed and the user banned. Final decision will be at the discretion of the Taipei Times.