Bobrovsky stars as Panthers shut out Canes
The chants of fans in Florida on Monday night drowned out the public-address announcer at the end of Game 3 of the NHL Eastern Conference Finals, making it impossible to hear his call of the first star of the game.
Then again, they already knew who it was going to be — "Bobby."
Sergei Bobrovsky earned those cries from the 20,000 or so who chanted in unison, after putting the Panthers on the brink of their first trip to the Stanley Cup Final in 27 years.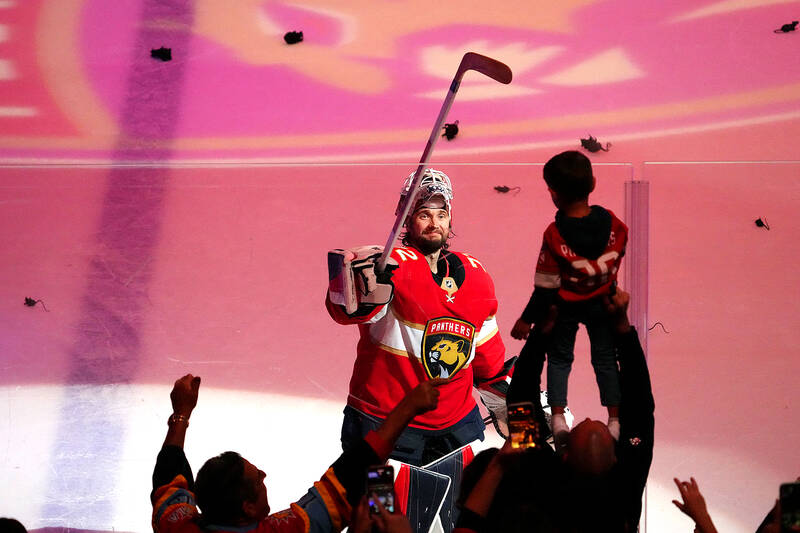 The Florida Panthers' Sergei Bobrovsky hands a stick to a young fan after defeating the Carolina Hurricanes in Game 3 of the NHL Eastern Conference Finals at FLA Live Arena in Sunrise, Florida, on Monday.
Photo: Jasen Vinlove-USA TODAY
Bobrovsky stopped 32 shots for his first playoff shutout, and the Panthers blanked the Carolina Hurricanes 1-0 on Monday night.
"No matter what the score is, we're just trying to make it as easy as possible for him," said Panthers forward Sam Reinhart, who got the game's lone goal on the power play midway through the second period.
He has rewarded their work, and then some. Bobrovsky is 10-1 in his past 11 appearances and has been almost perfect in the past eight games.
Going back to Game 1 of the second-round playoffs against the Toronto Maple Leafs, Bobrovsky has not allowed more than two goals in any contest, with 296 saves on 309 shots — a .958 save percentage.
If that does not sound absurd enough, try this one: Out of the past 110 shots he has faced, Bobrovsky has stopped 109 — starting in the third period of the four-OT win in Game 1.
"We're happy with the 'W,' we're happy with the win, but the next game is going to be a big game," Bobrovsky said.
It could be Florida's biggest since 1996. That was the last year in which the Panthers played for the Stanley Cup, but they can clinch a trip to the title round with a win in Game 4 today.
This marks the 205th time that a team has taken a 3-0 series lead in NHL playoff history. Of the first 204, 200 went on to win the series. The Panthers are 2-0 when taking the first three games of a series. The Hurricanes are 0-5 when dropping the first three.
"We can't do much more," Hurricanes coach Rod Brind'Amour said. "We like how we're playing, clearly. It's just, we've got to find a way to put one in."
Comments will be moderated. Keep comments relevant to the article. Remarks containing abusive and obscene language, personal attacks of any kind or promotion will be removed and the user banned. Final decision will be at the discretion of the Taipei Times.