Saudi Arabia deal does not align with vision for Cup: FA
Football Australia (FA) and its stakeholders have reached an "overwhelming consensus" that a reported Saudi Arabia sponsorship deal does not align with their vision for the FIFA Women's World Cup, FA chief executive James Johnson said on Monday.
The FA and New Zealand Football last month said that they had not been consulted by FIFA after reports that Visit Saudi would join international brands such as Adidas, Coca-Cola and Visa as major sponsors.
The 32-team tournament, which started in July, is being cohosted by Australia and New Zealand.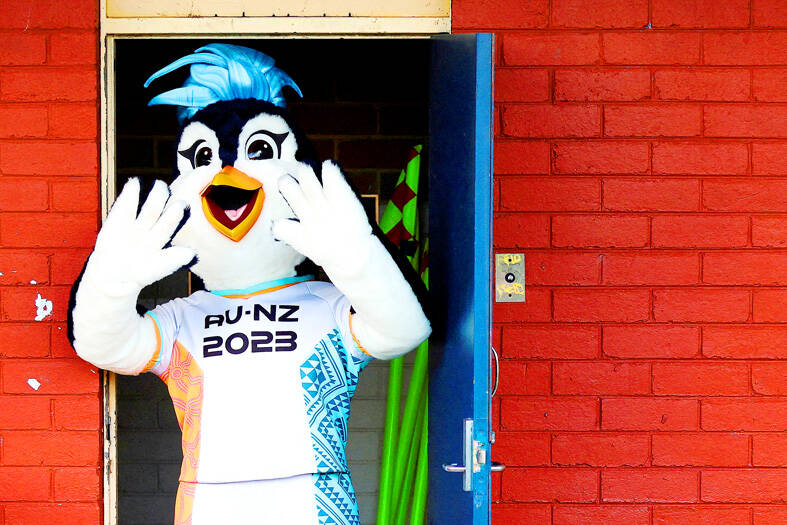 Tazuni, the FIFA Women's World Cup mascot, waves in Melbourne on Nov. 9 last year.
Photo: Reuters
The FA had consulted on the matter with the government and commercial partners, Johnson said.
"It was an overwhelming consensus that this partnership does not align with our collective vision for the tournament and falls short of our expectations," he said in a statement.
"Whilst the partnership has not been confirmed by FIFA, based on the consultations we have had with our community, key stakeholders and our own position, we would not be comfortable with it," he said.
"While we await further clarity and information as to the details of the partnership from FIFA, we continue to convey this clear message on behalf of Football Australia, New Zealand Football and our community," he added.
Initial reports of the sponsorship deal were met with stinging criticism from several quarters, including former players and human rights activists.
Former Australia international and media pundit Craig Foster said the deal would be "disgraceful in the extreme," while veteran US forward Alex Morgan said it "morally" did not make sense.
Amnesty International Australia said there was an "irony" in a Saudi Arabian tourism body sponsoring the women's tournament as Saudi Arabian women "can't even have a job without the permission of your male guardian."
Comments will be moderated. Keep comments relevant to the article. Remarks containing abusive and obscene language, personal attacks of any kind or promotion will be removed and the user banned. Final decision will be at the discretion of the Taipei Times.