Kenya's only ice hockey team dare to dream of glory
Kenya might only have one skating rink and almost no coaches, but that has not stopped 28-year-old Benjamin Mburu from following his dream of ice hockey glory.
His team, the Kenya Ice Lions, hone their skills at Nairobi's Panari Hotel.
When they cannot get in there, they take to the rooftops and train on inline skates to make up for a lack of "ice time."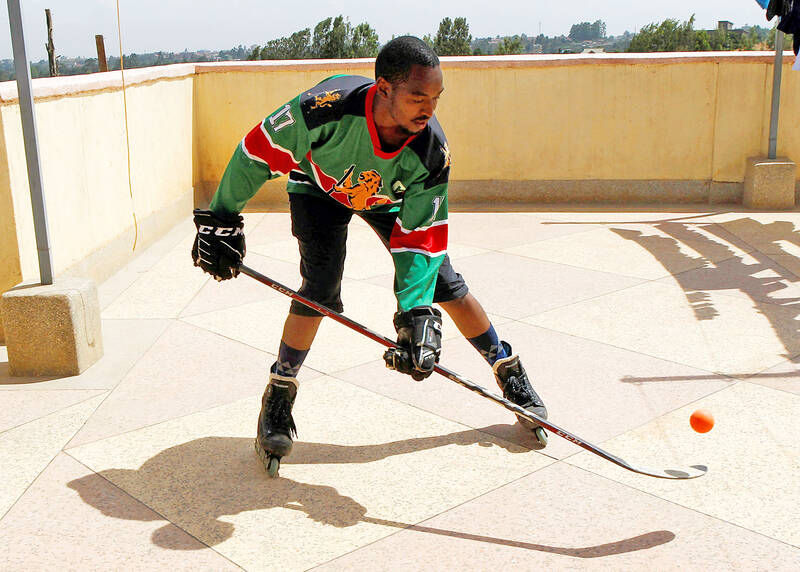 Kenya national ice hockey team captain Benjamin Mburu trains on the roof of his apartment building near Kikuyu, Kenya, on Tuesday last week.
Photo: Reuters
As the only team in the country, they usually organize games between themselves.
"One day a few of my friends invited me to go and play ice hockey and that was the beginning of this beautiful journey," Mburu, an architect, said from his hometown of Kikuyu, 20km northwest of Nairobi.
Eventually, Mburu hopes Kenya will join the International Ice Hockey Federation.
The Ice Lions have already played friendly matches against teams from the US and Canada.
They watch online tutorials and get lessons from volunteering expatriate coaches.
They are hungry to succeed, head coach Tim Colby said.
Comments will be moderated. Keep comments relevant to the article. Remarks containing abusive and obscene language, personal attacks of any kind or promotion will be removed and the user banned. Final decision will be at the discretion of the Taipei Times.