Kyrgios fights case on mental grounds
JAPAN OPEN: The Australian did not say much about his assault charge after beating Taiwan's Tseng Chun-hsin yesterday, while a burnt-out Casper Ruud made an early exit
Tennis star Nick Kyrgios is to seek to have an assault charge against him dismissed on mental health grounds, Australian media reported yesterday.
Kyrgios' lawyer appeared for him at a hearing in the magistrates' court of the Australian Capital Territory, where he faces a charge of common assault.
The 27-year-old Australian player, who was not required to appear for the largely administrative hearing, is in Tokyo taking part in the Japan Open.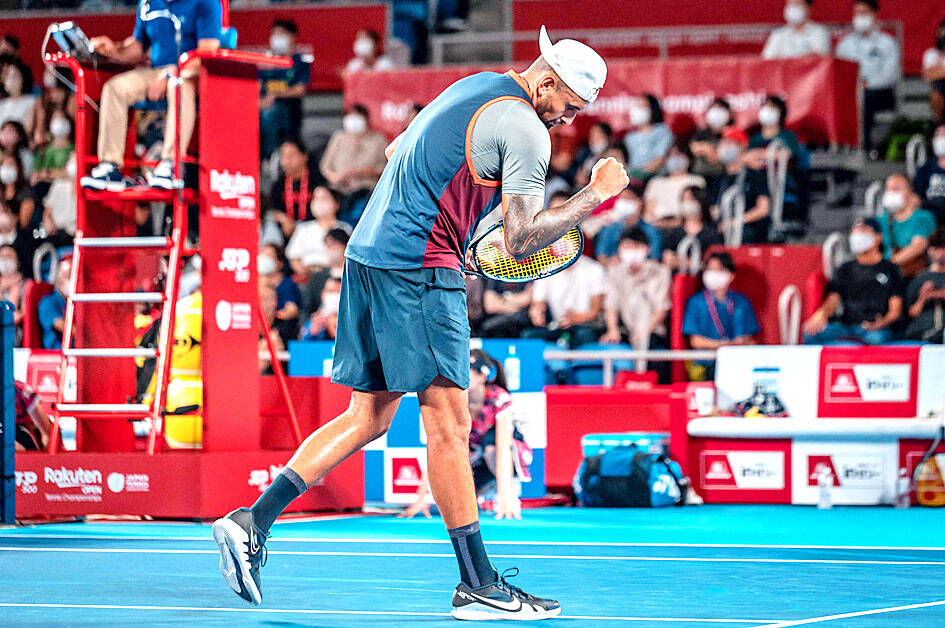 Australia's Nick Kyrgios reacts after scoring a point against Taiwan's Tseng Chun-hsin during their Japan Open men's singles match in Tokyo yesterday.
Photo: AFP
Kyrgios beat Taiwan's Tseng Chun-hsin 6-3, 6-1 in his opening match yesterday, and then told reporters there was "only so much I can say about" the court case.
"I'm here in Japan playing tennis, I'm not back home at the moment so what will be will be with that," he said. "The next meeting will be on Feb. 3 so that's all that I can really say about it now."
His lawyer, Michael Kukulies-Smith, sought an adjournment to allow time for a mental health assessment to be carried out, reported media outlets, including Australian Broadcasting Corp and the Sydney Morning Herald.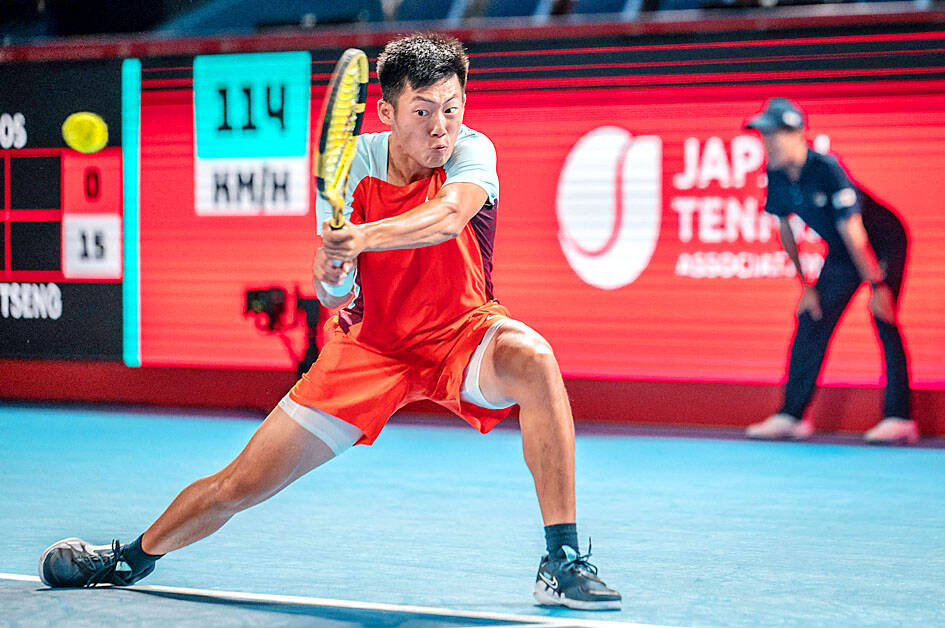 Taiwan's Tseng Chun-hsin returns against Australia's Nick Kyrgios during their Japan Open men's singles match in Tokyo yesterday.
Photo: AFP
Kukulies-Smith said his client's mental health issues were well known and he would seek to have the charge dismissed at a later date, they reported.
The Wimbledon finalist wrote about his previous mental health struggles in an Instagram post earlier this year, and has said that he battles depression.
"I felt as if I couldn't talk or trust anyone," he wrote alongside a photograph of himself from 2019. "I've been through those times when it seemed as if those positive energetic vibes were never ever going to be reality," he wrote.
The world No. 20 is playing at his first tournament since losing in the quarter-finals of the US Open last month. He cruised past world No. 87 Tseng in front of a Tokyo crowd that cheered his name and clamored for the signed balls that he hit into the stands after the match.
"I had a match today and I thought I was able to get it done and just play some good tennis, and that's my job, to move forward and continue to try and be better every day," he said.
Meanwhile, US Open finalist Casper Ruud admitted he was running on fumes after losing 6-3, 6-3 to Spain's Jaume Munar in the first round of the Japan Open yesterday.
The Norwegian lost to Carlos Alcaraz in the Flushing Meadows final last month and has hardly taken his foot off the gas since then, playing in the Davis Cup and Laver Cup before heading to last week's Korea Open.
Top seed Ruud finally hit the wall in Tokyo against world No. 58 Munar, having his service broken twice in the first set and dumping shot after shot into the net all match.
Ruud admitted he had been trying too hard after his US Open run.
"I might have pushed a little too much and tried to go for too many tournaments and too many matches in a row, but I really wanted to come to Asia and play these tournaments," the world No. 3 said.
Ruud said he was looking forward to returning to Norway and that it would be "good for my body and soul to have some days and weeks off."
Comments will be moderated. Keep comments relevant to the article. Remarks containing abusive and obscene language, personal attacks of any kind or promotion will be removed and the user banned. Final decision will be at the discretion of the Taipei Times.