Mbappe in image rights dispute with French federation
A dispute between Kylian Mbappe and the French Football Federation over the use of image rights resurfaced on Monday as the team prepared for Nations League matches.
The months-long disagreement and an ongoing extortion scandal involving Paul Pogba are threatening to disrupt France's preparations for the World Cup in Qatar.
ESPN reported that the Paris Saint-Germain star refused to participate in a team photo session and sponsor activities set for yesterday because he did not want to endorse some brands, including fast food chains and betting companies, that are under contract with the national team.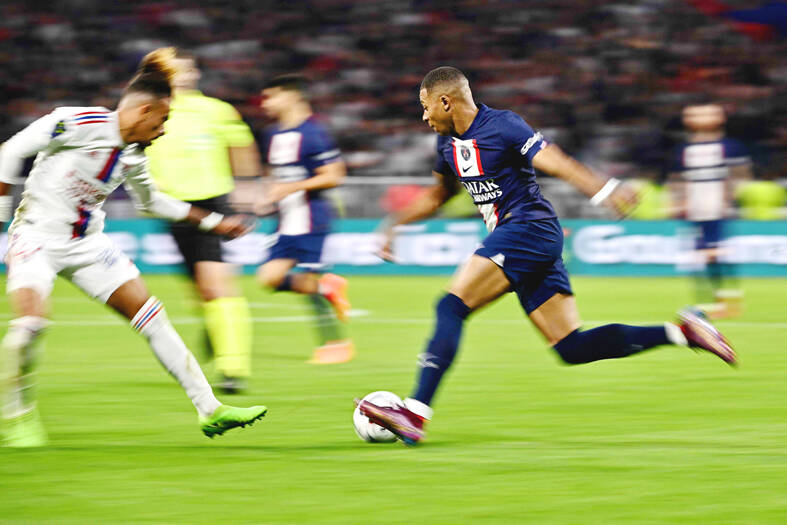 Paris Saint-Germain's Kylian Mbappe, right, runs with the ball during their Ligue 1 match against Olympique Lyonnais in Decines-Charpieu, France, on Sunday.
Photo: AFP
"I have decided to not take part in the photo shoot after the French federation's refusal to change the image rights agreement with the players," Mbappe said in a statement.
The current agreement that dates back to 2010 requires players to participate in marketing operations with the team's sponsors. In return, players receive 25,000 euros (US$25,032) for every international match they play.
Mbappe and his advisers say that deal is unfair because images of some high-profile players are used more often than others. They also want the right to review the brands with which players are associated.
Mbappe boycotted a marketing event for the federation in March.
The federation wrote on Twitter on Monday that it held discussions with the team's executives, the president, the coach and a marketing manager.
"The French Football Federation undertakes to review, as soon as possible, the image rights agreement between it and its selected players," it said, adding that it "is looking forward to working on the outlines of a new agreement that will allow it to secure its interests while taking into account the legitimate concerns and convictions unanimously expressed by its players."
France plays Austria tomorrow and travels to Copenhagen three days later to take on Denmark. Les Bleus face relegation to the second tier of the Nations League. The defending champions are in last place in Group 1 with two points from four games. Denmark leads with nine.
Additional reporting by Reuters
Comments will be moderated. Keep comments relevant to the article. Remarks containing abusive and obscene language, personal attacks of any kind or promotion will be removed and the user banned. Final decision will be at the discretion of the Taipei Times.