Taiwan pull in fourth gold medal
Taiwan on Sunday pulled in their fourth gold medal at the Tug of War World Outdoor Championships in the Netherlands with a win in the women's 540kg category, which also tied the team's best record at the tournament.
Taiwan headed into the semi-finals on Sunday in second place, but muscled past Sweden and the Netherlands to win gold in the category.
The Taiwan team were unfazed by heavy rain during the competition, as they had been training in wet weather shortly before the tournament, when Typhoon Muifa brushed past Taiwan, national Tug of War Association secretary-general Cho Yao-peng said.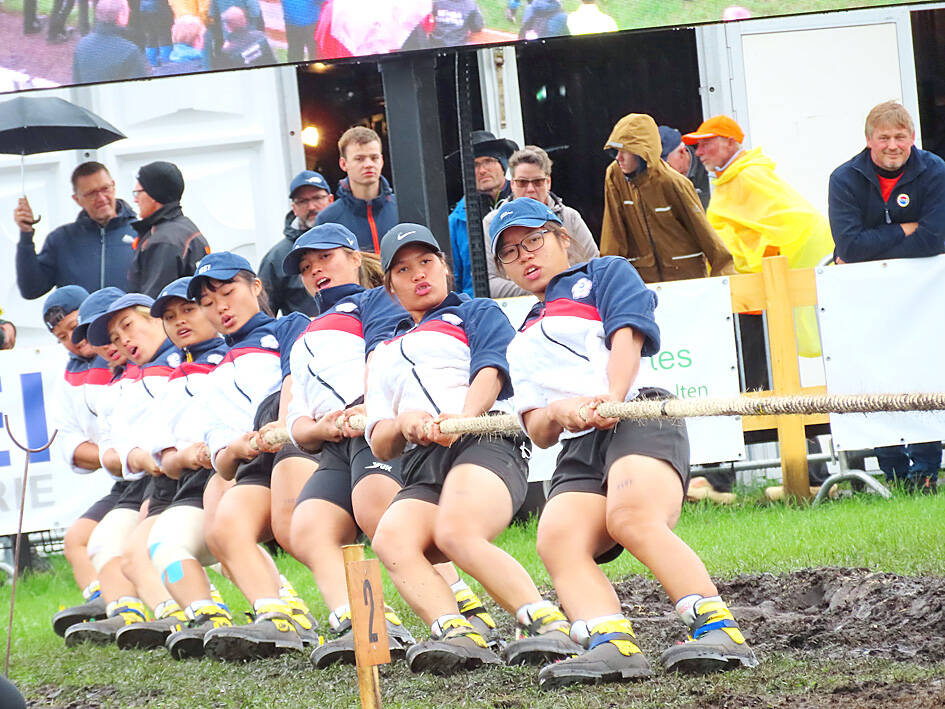 Taiwan's women's 540kg tug of war team competes at the Tug of War World Outdoor Championships in the Netherlands on Sunday.
Photo: CNA
The gold medal in the women's 540kg category was Taiwan's fourth at the tournament, following wins in three other women's competitions — the 500kg, under-23 500kg and U18 mixed 520kg categories — which equaled their best record at the biennial tournament.
The four golds, in addition to one silver and a bronze, were beyond expectations this year, as the athletes had not been competing much over the past two years due to the COVID-19 pandemic, Cho said.
The Taiwan squad comprises mainly the same athletes who brought home five titles from this year's World Games in Birmingham, Alabama.
Cho said he hopes Taiwan would soon lift its quarantine requirements for arriving travelers, which would make it easier for the national tug of war squad to participate in overseas tournaments and win more medals.
Taiwan is expected to host the World Indoor Championships in 2026, Cho said.
Comments will be moderated. Keep comments relevant to the article. Remarks containing abusive and obscene language, personal attacks of any kind or promotion will be removed and the user banned. Final decision will be at the discretion of the Taipei Times.