Astros clinch berth in playoffs
ALVAREZ'S THREE: Justin Verlander said of Yordan Alvarez's home runs that it is cool 'when a major-league player can make other major-league players be in awe'
Ace Justin Verlander had just wrapped up another strong start on Friday and was in the dugout in the fifth inning when Yordan Alvarez launched his third monster home run of the night in the Houston Astros' 5-0 win over the Oakland Athletics.
The cameras panned to Verlander, eyes wide as he admired his teammate's handiwork.
"It's pretty cool when a major-league player can make other major-league players be in awe," Verlander said. "It's not something that happens all too often. And that was kind of one of those moments where everybody is just like: 'My goodness.' It's just incredible what he's able to do."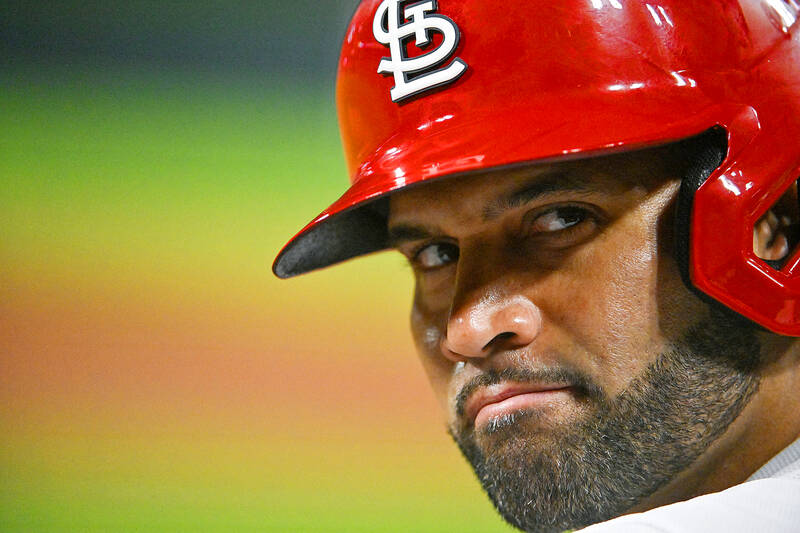 St Louis Cardinals designated hitter Albert Pujols looks on before an at-bat during their MLB game against the Cincinnati Reds at Busch Stadium in St Louis, Missouri, on Friday.
Photo: Jeff Curry-USA TODAY
Alvarez homered in his first three at-bats, while Verlander threw five hitless innings in his return from the injured list as the Astros clinched a post-season berth.
The Astros (95-50) won their sixth straight game to join the Los Angeles Dodgers as the first two teams to secure playoff spots, reaching their sixth straight post-season.
There was no big celebration for this team with much bigger goals, but the Astros did share a quiet toast in the clubhouse post-game.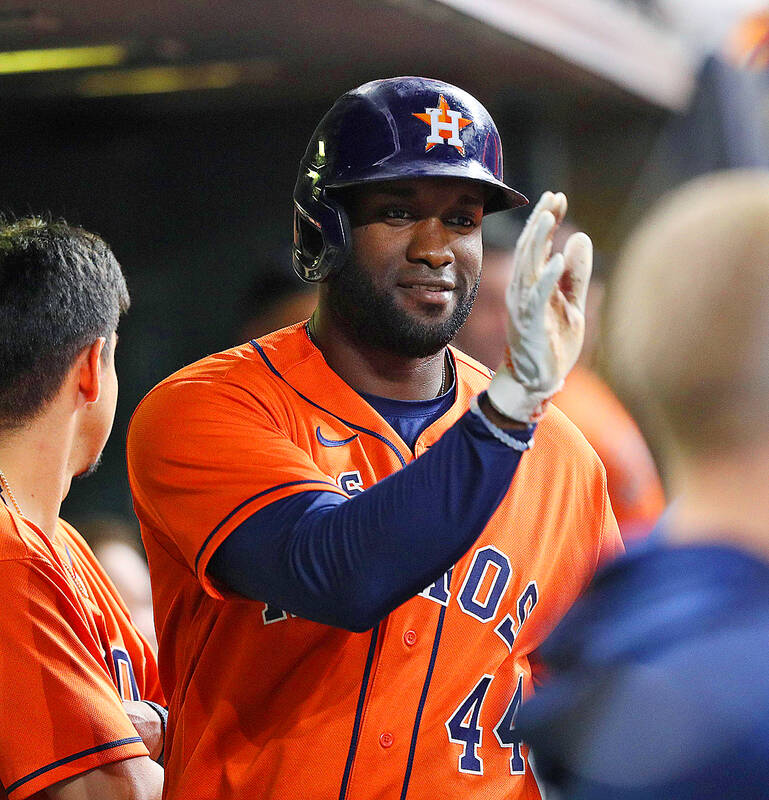 Yordan Alvarez of the Houston Astros celebrates his third home run of their MLB game against the Oakland Athletics at Minute Maid Park in Houston, Texas, on Friday.
Photo: AFP
"You've got to keep in perspective ... how hard it is to get to the playoffs and to stay on top like this for a while," Verlander said. "It's not easy. So I'm glad we were able to take a moment."
Alvarez, who is tied for second in the American League with a career-high 36 home runs, had solo shots off Adrian Martinez in the first, third and fifth innings. He capped his big night with a single in the seventh to tie his career high with four hits.
"Hitting one home run feels great, imagine hitting three," Alvarez said in Spanish through a translator. "Just a very special night."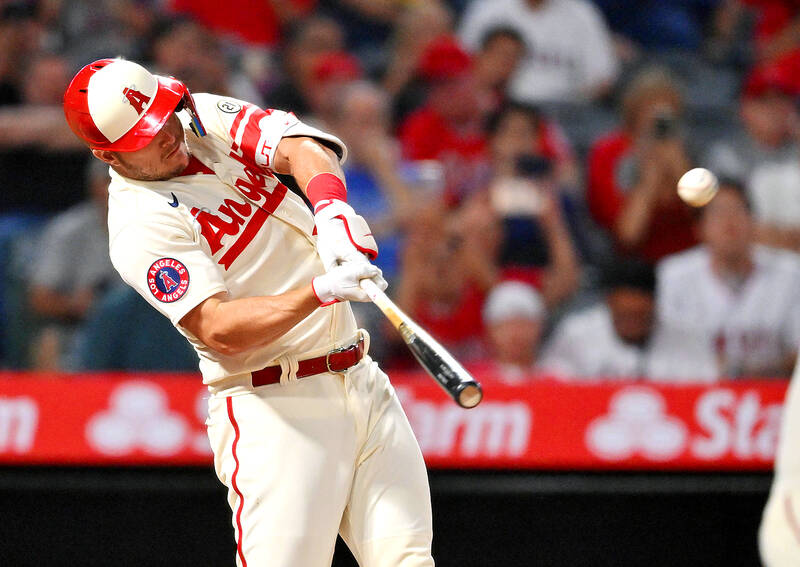 Mike Trout of the Los Angeles Angels hits a solo home run during their MLB game against the Seattle Mariners at Angel Stadium in Anaheim, California, on Friday.
Photo: AFP
TWO TO 700
In St Louis, Missouri, Albert Pujols hit his 698th home run, a tying two-run drive in the sixth inning that sparked the St Louis Cardinals over the Cincinnati Reds 6-5.
Pujols hit a first-pitch slider from Raynel Espinal into the left-field stands for his 19th home run this season, tying the score at 4-4.
Pujols trails only Barry Bonds (762), Hank Aaron (755) and Babe Ruth (714) on the career list.
"It's just being out there and contributing to this ballclub and this organization," Pujols said. "I think just getting every opportunity that I've been getting, especially lately, and just trying to help this ballclub to win."
BIG TROUT
In Anaheim, California, Mike Trout homered for the eighth time in 10 games as the Los Angeles Angels tripped up the Seattle Mariners' AL wild-card run with an 8-7 victory.
Trout homered in seven straight games, one shy of the big-leagues record, before failing to hit one on Tuesday and Wednesday against the Cleveland Guardians.
He put the Angels ahead 5-3 when he led off the fifth with his 36th home run of the season, tying an Angel Stadium record by homering in a fifth straight game.
Seattle (80-63) dropped one game behind the Toronto Blue Jays (82-63) for the top AL wild card and remained a half-game in front of the Tampa Bay Rays (80-64), who are in the third and last wild-card spot.
In other games on Friday, it was:
‧ Braves 7, Phillies 2
‧ Mets 4, Pirates 3
‧ Giants 0, Dodgers 5
‧ Red Sox 2, Royals 1
‧ Nationals 5, Marlins 4
‧ Blue Jays 6, Orioles 3
‧ Guardians 4, Twins 3
‧ Brewers 7, Yankees 6
‧ Diamondbacks 3, Padres 12
‧ Tigers 3, White Sox 2 (10i)
‧ Rays 3, Rangers 4
‧ Cubs 2, Rockies 1
Comments will be moderated. Keep comments relevant to the article. Remarks containing abusive and obscene language, personal attacks of any kind or promotion will be removed and the user banned. Final decision will be at the discretion of the Taipei Times.