Ohtani reaches 400 MLB strikeouts
After eight strong innings from Shohei Ohtani on Saturday night, the last thing Matt Duffy and the Los Angeles Angels wanted was to make sure that effort was in vain. Thanks to Duffy, it was not.
Duffy's bloop single in the 12th inning drove in Taylor Ward with the winning run as the Angels rallied for a 2-1 victory over the Houston Astros.
Earlier in the game, Ohtani reached 400 major league strikeouts. The Japanese two-way phenom threw a season-high 111 pitches, allowing six hits and striking out five. It was the fourth time in the majors — and second this year — he has gone eight innings.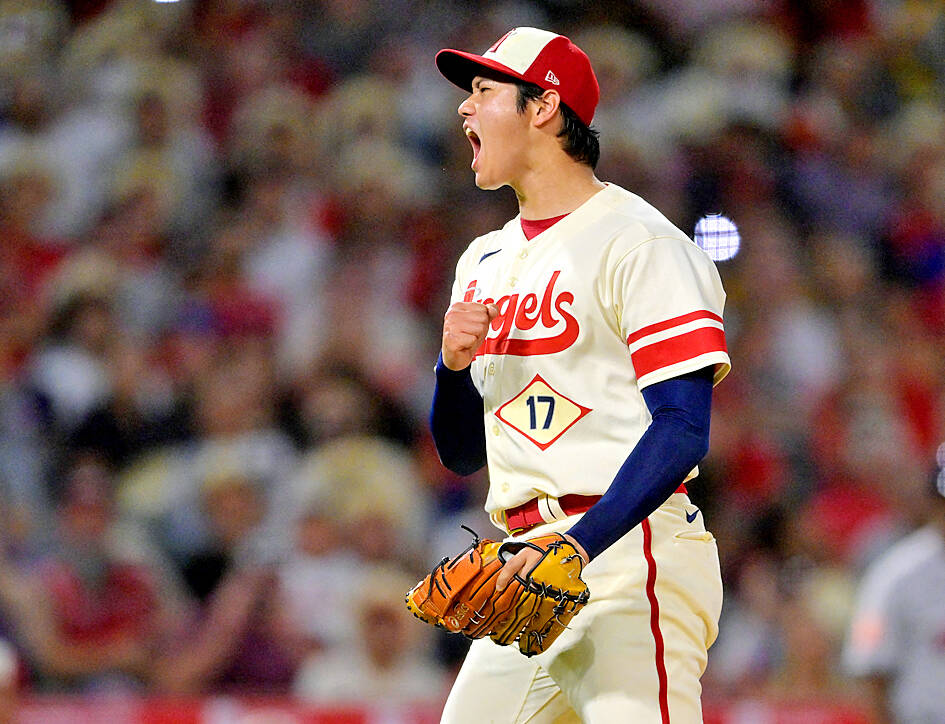 The Los Angeles Angels' Shohei Ohtani reacts after the final out of the seventh inning in their game against the Houston Astros in Anaheim, California, on Saturday.
Photo: Jayne Kamin-Oncea-USA TODAY
"You never want to waste an outing like that. What he does on the mound, it's crazy," said Duffy, who had the fourth walk-off hit of his career and first since 2018. "People were talking about [New York Yankees slugger Aaron] Judge for MVP [Most Valuable Player], but he's got to break [Roger] Maris' [home run mark] to be in the conversation for me. I mean, some people might think that's ridiculous in New York, I'm sure. But what Ohtani does on both sides of the ball. I mean, just because it's boring to you doesn't mean it isn't exceptional."
Ohtani and Houston's Luis Garcia were locked in an entertaining pitchers' duel as each just allowed one run. Garcia went seven innings, struck out seven and gave up only three hits with two walks.
"That's a tough one to lose. You're not gonna keep beating these guys over and over and over. But, we'd like to," Astros manager Dusty Baker said.
Through 23 starts this year, Ohtani has 181 strikeouts, which is eighth in the majors, and his 2.58 ERA is ninth.
Just 10 pitchers in MLB history have reached 400 strikeouts faster than Ohtani. The list includes Dwight Gooden, Hideo Nomo, the San Diego Padre's Yu Darvish, the Cleveland Guardian's Shane Bieber and Noah Syndergaard, who began the year with the Angels before being traded to Philadelphia Phillies.
In Chicago, Dylan Cease came within one out of his career no-hitter, and the streaking Chicago White Sox pounded the Minnesota Twins 13-0.
Cease received a huge ovation when he came out to start the ninth. With fans on their feet, he struck out Caleb Hamilton swinging on a 1-2 slider and retired Gilberto Celestino on a fly to center.
Luis Arraez then dumped a line-drive single into right-center on a 1-1 pitch, ending Cease's bid for Chicago's third no-hitter in as many years.
After a meeting on the mound, Cease struck out Kyle Garlick to finish his first career nine-inning complete game. He threw a seven-inning shutout against the Detroit Tigers last year.
Teammates lined up outside the dugout and high-fived Cease as he walked off. Fans chanted "Cease" and he came back out for more cheers.
Cease had seven strikeouts — none until the fifth inning. He threw 103 pitches, 68 for strikes.
In other games on Saturday, it was:
‧ Giants 5, Phillies 4
‧ Red Sox 5, Rangers 3
‧ Royals 12, Tigers 2
‧ Rays 2, Yankees 1
‧ Blue Jays 4, Pirates 1
‧ Orioles 8, Athletics 1
‧ Nationals 7, Mets 1
‧ Cardinals 8, Cubs 4
‧ Mariners 4, Guardians 0
‧ Braves 2, Marlins 1
‧ Brewers 8, Diamondbacks 6
‧ Dodgers 12, Padres 1
Comments will be moderated. Keep comments relevant to the article. Remarks containing abusive and obscene language, personal attacks of any kind or promotion will be removed and the user banned. Final decision will be at the discretion of the Taipei Times.