Nets nix Nuggets, 76ers perfect at home
REBOUNDS: Nikola Jokic had only taken 18 shots in the past four games, but surged back to form with 37 points, while the 76ers' Ben Simmons finished with 22 points
Caris LeVert on Friday nailed a clutch shot with 0.3 seconds left to spoil a slump-breaking night by Nikola Jokic, as the Brooklyn Nets defeated the Denver Nuggets 112-110.
Jokic got hot for a change, but the Nuggets still could not cool off the Nets, who have won four of their past five games.
The 23-year-old Jokic is normally a dynamic playmaker, but he has lately been out of sorts and reluctant to score.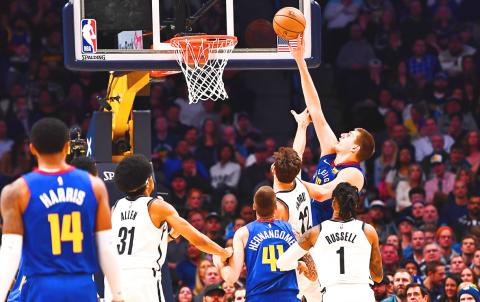 Denver Nuggets center Nikola Jokic, top, shoots over Brooklyn Nets forward Joe Harris during their game on Friday in Denver, Colorado.
Photo: Ron Chenoy / USA Today Sports
That was not the case on Friday, as the Serbian All-Star finished with a season-high 37 points and tied a career-best 21 rebounds.
However, the Nets played to the final buzzer by scoring the final six points, including LeVert's game-winning floater in the lane. D'Angelo Russell led the Nets with 23 points and Jarrett Allen had 18.
After averaging 21.6 points last month, Jokic saw his offense disappear. He has taken only 18 shots in four games, and the only one he took on Wednesday in a loss to Memphis was a missed three-pointer in the final seconds that would have won it.
Before the game, he was slapped with a US$25,000 fine for a derogatory joke made after a win in Chicago on Oct. 31.
"I just wanted to make the last shot and the shot that I wanted. I pretty much knew it was going in," LeVert said.
Elsewhere, Joel Embiid finished with 42 points and 18 rebounds, as the Philadelphia 76ers improved to 7-0 at home with a 133-132 overtime win over the Charlotte Hornets.
Embiid scored 16 points in the fourth, including a game-tying three-pointer with 34 seconds left.
"They call me 'clutch' for a reason, so got to make them," Embiid said. "Sometimes I want to show my finesse. I can do everything on the basketball court. I try to mix it up."
Ben Simmons, who has been struggling of late, returned to form and finished with 22 points, 13 assists and eight rebounds for the 76ers.
Kemba Walker scored 19 of his 30 points in the fourth quarter for the Hornets, who were coming off back-to-back victories over Cleveland and Atlanta.
Charlotte stormed back from a 21-point deficit and led by five points with 78 seconds remaining, but the Hornets squandered an opportunity to win it after they were called for a shot-clock violation with time winding down.
Embiid welcomes going to the free-throw line, where he is shooting 81.8 percent this season, up from 76.9 percent last season.
"He's a really good shooter and he's confident by nature, so that's a pretty good collision of skill and mind," 76ers coach Brett Brown said. "You trust him going to the line and shooting a high percentage. He's not afraid of the moment."
In Salt Lake City, Joe Ingles tied his career high with 27 points to help the Utah Jazz beat the Boston Celtics 123-115 in Gordon Hayward's return to Utah.
Hayward had 13 points and seven assists in his first game back in Utah since leaving the Jazz after becoming a free agent following the 2016-2017 season.
Comments will be moderated. Keep comments relevant to the article. Remarks containing abusive and obscene language, personal attacks of any kind or promotion will be removed and the user banned. Final decision will be at the discretion of the Taipei Times.