Refugees find belonging in HK race
Refugees yesterday took to Hong Kong's trails in one of the newest fixtures in the territory's busy race calendar as they carve out a place in its running community.
Hong Kong does not give refugees a permanent home in its own territory and they could spend years hoping for sanctuary in a third country, with most cases unsuccessful.
In the meantime, they are unable to work because of government restrictions and subsist on handouts from authorities and non-governmental organizations in a place with spiraling living costs.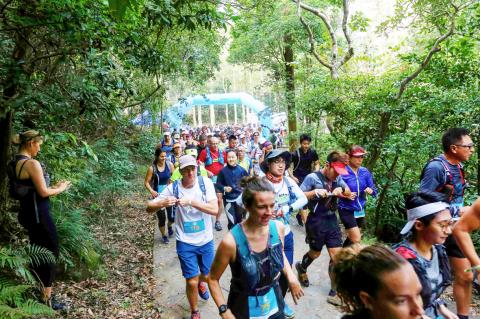 Participants set off from the starting line during the RUN charity race for refugee rights in Hong Kong yesterday.
Photo: AFP
However, they have been embraced by Hong Kong's tight-knit trail running community and regularly compete on its mountainous routes.
Yesterday's RUN charity race said that refugees were instrumental in organizing the event as well as competing in it.
Now in its second year, 25 refugees, mainly from Africa, lined up in a field of more than 300 people who were running either 14km or 19km distances.
"I love running — if I have any opportunity to do it, I don't hesitate," African refugee and competitor Ali, 35, said. "It makes me feel free, have less stress and be healthy."
Another African refugee and runner, Sam, in her 40s, said the sport was "in her blood" and RUN had given her the opportunity to do it in Hong Kong.
"It makes us feel like we are accepted, it makes us feel like we have another community apart from what we left back home," she said.
RUN said it seeks to help refugees over trauma through sport, as well as provide education and training.
"When people run alongside refugees, people realize they're normal people like you and me — all the barriers fall away," RUN cofounder Virginie Goethals said. "Sport and nature is really a human equalizer."
Hong Kong resident Joyce Li, 35, who ran yesterday, said she was aware refugees had a "hard time" in the territory and wanted to support them.
There are about 6,000 refugees and asylum seekers in Hong Kong.
"They are always unfairly being associated with human trafficking or abusing welfare," Li said.
An international refugee Olympic team made a historic debut in Rio in 2016 and a refugee team is to again compete at the Games in Tokyo in 2020.
Comments will be moderated. Keep comments relevant to the article. Remarks containing abusive and obscene language, personal attacks of any kind or promotion will be removed and the user banned. Final decision will be at the discretion of the Taipei Times.