Lamigo victory to put them one from title
The Lamigo Monkeys were on the way to a lead in the Taiwan Series after they lead the Uni-President Lions 10-2 in the eighth inning of Game 4 in Tainan at press time last night.
Both sides got early runs, with Lamigo first baseman Chen Chun-hsiu slamming a two-run homer against the Lions' US starter Ryan Verdugo in the top of the opening frame.
The Lions roared back against Lamigo lefty Wang Yi-cheng, grabbing two runs on two hits — a bunt and a sacrifice fly — to make it 2-2.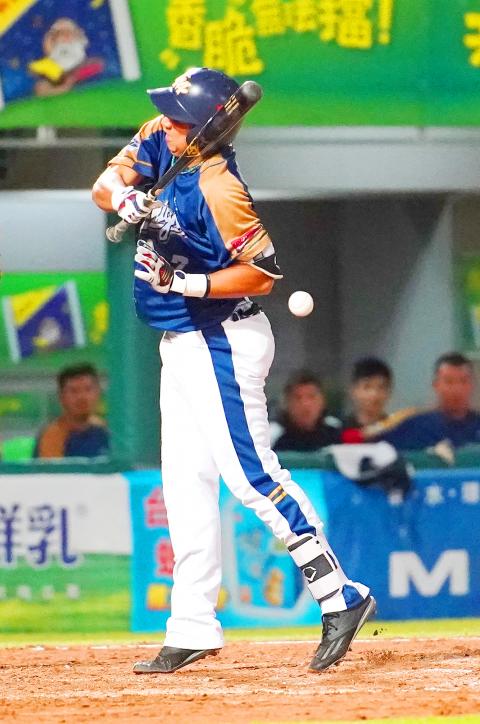 The Lamigo Monkeys' Kuo Yung-wei reacts to a pitch during Game 4 of the Taiwan Series against the Uni-President Lions in Tainan yesterday.
Photo: Huang Chih-yuan, Taipei Times
After the initial assault, Wang, who previously played in Japan with the Yokohama DeNA BayStars, did not allow another run through the seventh inning.
The Monkeys kept up their attack, chasing Verdugo in the fourth and scoring eight unanswered runs from five Lions pitchers.
After pushing one run across in the third and fourth innings, the Monkeys broke the game open in the fifth frame, piling up four runs, with key RBI hits by shortstop Lin Cheng-fei and pinch-hitter Liao Chien-fu.
With a victory last night, the Monkeys would be one win from the Taiwan Series after taking a point into the series by winning both half-season titles, with Game 5 tomorrow at the Taoyuan International Stadium.
If the Lions level the series tomorrow, the finale is to be played on Sunday in Taoyuan. Both games are to begin at 5pm.
The Monkeys opened the Taiwan Series at home in Taoyuan by routing the Lions 16-5 on Saturday last week.
The Lions in Game 2 on Sunday fought back, winning 4-2 and leveling the series with a 10-4 win in Game 3 on Tuesday.
In other developments, the Brothers Baseball Club are to have a new manager next season after club officials announced they would not extend Cory Snyder's contract.
Scott Budner, who had been the pitching coach for Brothers, is to take over as manager.
"We thank Cory Snyder for his contributions in the past two seasons," Brothers general manager Liu Chih-wei said in a news release.
"Snyder and his team had brought many new ideas to the organization," he said.
During his time with the Brothers, Snyder accumulated 95 wins, 123 losses and four draws for a .436 winning percentage through the this season and last season.
Comments will be moderated. Keep comments relevant to the article. Remarks containing abusive and obscene language, personal attacks of any kind or promotion will be removed and the user banned. Final decision will be at the discretion of the Taipei Times.